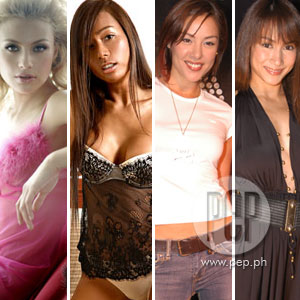 IMAGE 0
---

San Miguel Pale Pilsen steadily climbed the market ofFilipino beer drinkers since its launching in 1890. A century later, it hasbecome one of the world's top 20 beer brands.
The famous product is smooth, cool, sexy, and deliciouslyfulfilling—so goes a typical San Miguel commercial. And you better believe it,coming as it does from equally famous personalities who endorse the beer during"happy hours."
Some showbiz celebrities today were discovered by acting asSan Miguel Beer ladies. Others lent their star power to endorsements. Frombeauty queens like Marilen Espino and Jeanette Fernandez to showbizpersonalities like Ina Raymundo, Nanette Medved, and Kris Aquino, San Miguel Beer's TV ads mixedand matched these ladies with the best theme for them. And so, rememberingtheir faces meant remembering the beer brand as well.
As SMB celebrates its annual Oktoberfest, let's recall thosememorable commercials that featured remarkable ladies.
"Siboom"-1988
Rachelle Lobangco. A crowded beach finds comedian Bert Marcelo, the Apo HikingSociety, and a fiesta-loving crowd going gaga over Rachelle Lobangco. And, ofcourse, San Miguel Beer. The song "Siboom," sung by APO, became so popular thatit was synonymous with Rachelle's name, thus introducing her as Rachelle"Siboom" Lobangco.
Rachelle debuted in showbiz afterwards via her first film Dugong Pusakal (1988). She became known in showbiz circles, and eventuallylanded more films like Kokak (1989), and a string of sexy films.Recently, Rachelle appeared in GMA-7's Etheria as As'nan. Rachelle nowconcentrates on modeling and fire dancing, and was recently featured as one ofFHM magazine's cover girls.
"Bilmoko"-1988 and "Sabay Tayo"-1989
Rowena Moran and Angela Luz. "Sabay Tayo" was SMB's commercial that teased the sensualside of the audience with a collage of different clips featuring two of thehottest stars of the time: Rowena Moran(Lovi Poe's mom) and Angela Luz.
ADVERTISEMENT - CONTINUE READING BELOW
The Pamboy Lorenzo song "Sabay Tayo," accompaniedthe commercial's visuals perfectly as it evoked the romantically sensual air ofa young fellow yearning for his love-with only San Miguel Beer for company.
Angela Luz appeared in another SMB ad called "Bilmoko"(1988) opposite Boboy Garovillo of the APO. The ad depicted Boboy fantasizing aboutbeing rich, and his dream showed him with the beautiful Angela asking him tobuy this and that-from clothes to jewelry, hence her label "Bilmoko girl." Thesong in the ad, "Turistang Bilmoko", was an original from Fred Panopio. By theway, "Bilmoko" raised the hackles of feminists who said it painted a negativeimage of women as mere gold-diggers.
Rowena and Angela's good looks caught more attention as theyeventually made appearances in films like Isang Dakot ng Bigas (1988)and Smith & Wesson, respectively (1988).
Some people say that action star Fernando Poe Jr. noticedRowena in this commercial, which eventually led to a relationship. Angela, onthe other hand, met and became the girlfriend of Vic Sotto.
"Sabado Nights"-1995
Ina Raymundo (with Cutie del Mar). Who can ever forget the rock-themed commercial of San Mig'sSabado Nights, with Paolo Abrera gearing up for a Saturday night date withCutie del Mar? It starts off with a good-looking Paolo gearing up for a dateand hopping into his sports car to fetch his girlfriend (Cutie). Even thoughhis girlfriend starts hanging out with another guy, Paolo, unbothered andfondling his beer, says, "Ok, lang!"
And then, sexy Ina Raymundo makes her entrance at the bar,sits beside Paolo, and of course, he gets lucky to get the hottest girl around.Ina Raymundo perfectly fits that commercial with her rocker-chic looks andcurvaceous bod.
After the fiesta-and-romance-themed commercials, San Mignow focused on the bar-hopping generation, highlighting sex appeal and freespirit; hence the commercial's theme, "Sabado Nights."
ADVERTISEMENT - CONTINUE READING BELOW
Ina's appearance paved the way for more projects, includinga movie from the commercial aptly called Sabado Nights and starring Inaherself. After the commercial, Ina's career skyrocketed and she became one ofthe 90's sex icons via the movies Burlesk Queen Ngayon (1999) and MadameX (2000).
Cutie del Mar appeared in the film Mahal Kita, WalangIwanan (2000).
"Binibini"-2002
Cindy Kurleto and Cristina Garcia. Ah, the Philippines takes pride in its beautiful women, andthat is exactly what SMB rode on in its 2002 TV ad. This commercial bringsviewers into the perspective of probably two of the luckiest guys on the planetwho take in the wonderful view-that is, the Filipina- while sipping beer.
Aptly titled "Binibini," the commercial gave viewers theimpression that, aside from the Filipina, there's no other beer in the worldlike SMB.
Among the beautiful women in the commercial are CindyKurleto as the pedestrian, and CristinaGarcia as the rollerblading gal. Though both women were already known at thetime this commercial was released, fact is, the short TV ad gave Cindy andCristina some mileage for future TV and print appearances.
"Driver"-2006 and "Painom"-2006
Kris Aquino. Two years ago, an SMB commercial, "Driver," featured DerekRamsay in a red Ferrari with an unknown woman at the wheel. The ad clearlyteased the viewers' attention about the assets of this mysterious woman. As thecommercial progressed, the woman turned out to be no other than Kris Aquino,SMB's latest female celebrity endorser.
Kris, who looked nothing less than sexy in the commercial,gave TV viewers a close- up on how hot she can be, even without the coolFerarri.
SMB, which shifted to choosing well-known celebrities overfresh faces, made the brand as popular as ever when Kris appeared in one morecommercial, "Painom," opposite Manny Pacquiao.
ADVERTISEMENT - CONTINUE READING BELOW
"Painom," which aired the same year as Driver, was about MannyPacquiao offering to buy a few drinks for some friends and the word spread likewildfire. In the end, Kris confronts Manny with, "Magpapainom ka daw?" Mannyasks back, "Sino may sabi?" Kris replies "Sila!" nodding towards a huge crowdof merrymakers.
From the colorful culture of the Pinoys to the simplicity and beauty of Filipinas to the fun and lasting friendships, it's truly "iba ang may pinagsamahan" with San Miguel Beer.
And you, who's your most favorite Beer lady?