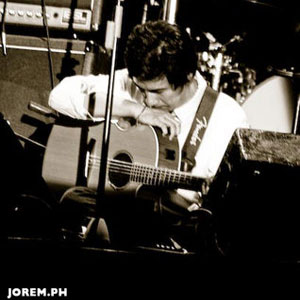 IMAGE 0
---
Pupil and ex-Eraserheadsfrontman Ely Buendia needs to stay in the hospital for two more weeks afterundergoing another angioplasty to clear his blocked arteries.
His manager, Day Cabuhat, announced in a radio interview yesterday, September 1, that Ely is nowresting to regain strength and that his newly-operated blood vessel is now "100percent fully restored."
Despite the success ofthe operation, Ely is required to go through cardiac rehabilitation, according to GMA-7 News.
Ely's recent heartsurgery was his third. He underwent the same procedure two times early lastyear after a heart attack during an out-of-town gig with hiscurrent band, Pupil.
The enigmaticsinger-songwriter reportedly collapsed backstage while in the middle of theEraserheads' well-attended reunion concert last Saturday, August 30, held atthe Bonifacio Global City Open Field in Taguig. Ely, along with former bandmatesMarcus Adoro, Buddy Zabala, and Raimund Marasigan rocked anew as one cohesive unitduring the concert after not playing together for six years following the band'sbitter fallout due to personal and creative differences.
The band managed toperform 15 songs straight out before calling for a break to give the quartet a fewminutes' rest before the second set. The Eraserheads originally intended to perform 30 of their original songs, ranging from popular tunes to some obscure stuff. Buendia, however, sufferedchest pains after the first set, prompting the organizers to call off theconcert.
Ely's mom, Mrs. Lisette Buendia, passed awaytwo days before the concert, aggravating his already fragile physical and emotionalcondition during all the strenuous preparations leading to the concert.Regardless of the reported fat paycheck received by the four band members, they all declared that the concert was a gift to their fans who tirelessly clamored for them to share one stage again, even for a single night.