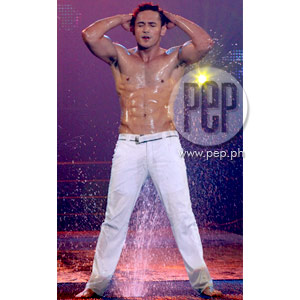 IMAGE 0
---
The party theme was "Wet and Wild!"
Guests of the 2008 Cosmo Bachelor Bash were equipped withplastic water guns that came in handy during the event lastnight, September 11. The A. Venue Events Hall in Makati City was packed with fun andfearless females who were all excited to see this year's Cosmo bachelors and celebritycenterfolds handpicked by the staff of Cosmopolitan Philippines magazine.
Around 9:45 p.m., EriNeeman and Gina Pangan of Wave 89.1 got the ball rolling for sexy games. Afterwards, the spotlight focused on Eric Tai, amodel-actor-host who wowed the mostly female crowd with his flexibilityand breakdancing moves. Steamy guys joined him on stage as they all walkeddown the T-shaped ramp.
Paolo Contis, the last centerfold to model last night,strutted down the ramp wearing a black T-shirt. Suddenly he raised his shirtand confidently showed off his well-defined abs and biceps. The crowd showedtheir appreciation by spraying him with their water guns. The GMA-7 star livedup to the wet-and-wild theme by kneeling down and playing in the mini-fountaininstalled on the ramp. Girls went loco, seeing the topless Paolo with waterstreaming down his torso and his impeccable white pants. The host of GMA-7's WorldRecords appeared uninhibited even though his girlfriend Isabel Oliwas in the audience.
Isabel was so supportive that she told PEP(Philippine Entertainment Portal) exactly what she told him prior to the event,"Wag mong isipin na nandun ako, gawin mo ang gusto mo. Baka kasi mahiya siya,e. Kaya nga sinasabi ko sa kanya, have fun, hindi ako magagalit!"
Paolo on the catwalk certainlytook Isabel's advice to heart.
Another celebrity centerfold who tantalized the crowd wasBruce Quebral, a former housemate of ABS-CBN's Pinoy Big Brother Season2. The moreno actor teased the crowd by lowering the front part of hispants, just enough to get everyone's imagination racing. Even in his Cosmopictorial, Bruce posed provocatively by using a towel to cover his privateparts.
ADVERTISEMENT - CONTINUE READING BELOW
Ron Morales, one of the finalists of the Be Bench/The ModelSearch, came out wearing a white sando but he took it off and triumphantlythrew his hands in the air.
International singer Billy Crawford—wearing a bull cap, a white polo, white pants, and a scarfaround his neck—performed his hit"Bright Lights." After his song-and-dance number, he returned on stage wearinga white sleeveless vest that showed off all his arm tattoos.
One of the most applauded performers that night was AkihiroSato, a Japanese-Brazilian model with a mix of Italian blood. His fans evenwore "I Love Akihiro" pins proudly to signify their support for the model.
Cager Macky Escalona carried a basketball ashe went down the ramp, while international model Rocky Salumbides brought out hisinner boxer by wearing gold-and-blue shorts.
Some celebrity centerfold models were unable to attend theevent: Derek Ramsay, Jon Avila, and Geoff Eigenmann.
Among those spotted at the venue were IC Mendoza, who took home a raincoat from one of the models; Maggie Wilson, whocovered the event for her MTV show; Andrew Wolff and Juliana Palermo.
As confetti rained down on the topless hunks, everyone who attended the event went home satisfied that they survivedthe sizzling September heat wave.
Get a copy of the Cosmo Men supplement when you buy theSeptember 2008 issue of Cosmopolitan magazine featuring Maja Salvador onthe cover.


Click HERE to view photos of the 2008 Cosmo Bachelor Bash.