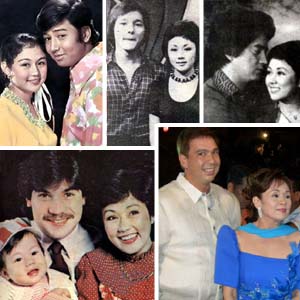 IMAGE 0
---
Early in her career, during her teen years, Vilma Santosproved that she could hold her own against a much popular competition. Whencritics doubted and belittled her abilities, she pushed herself to prove themwrong and gave out memorable performances.
By going beyond expectations, Vilma showed early signs thatshe would really make a name and have a long, durable career in show business.
And because of her persistence, determination, talent and ofcourse, beauty, it was inevitable for Vilma to attract the attention andaffection of almost every man in showbiz and in other fields of work.
There was a lot of talk about the men linked to Vilma. Somestories said the relationships were not real; these were just rumors that werespread to drum up publicity for her movie with whoever was her screen partner.
Here is PEP (Philippine Entertainment Portal)'s probe on thesecond Vilma urban legend: The Men of Vilma—who's real, who's just plain rumor?
ADVERTISEMENT - CONTINUE READING BELOW
TEEN STAR. From being a child star, Vilma wentthrough her teens without experiencing the usual problem of child starsentering their teens, particularly young girls—that is, lacking roles to playbecause of their "awkward no longer-a-girl, not-yet-a-woman" stage.
From ages 13 to 15, Vilma essayed roles in movies like theHollywood film The Longest Hundred Miles (1967), the heavy drama SinoAng May Karapatan (1968), and the Ferdinand-Imelda Marcos love storyPinagbuklod ng Langit (1969) where Vilma played the role of Imee Marcos.
By late 1969, movie producers had been tapping a VilmaSantos-Edgar Mortiz love team. Edgar was a Tawag ng Tanghalan winner.They started to be together in the movies, My Darling Eddie (1969) and TheJukebox King (1969).
THE VI & BOT ERA. In 1970, the love team of VilmaSantos and Edgar "Bobot" Mortiz was officially launched in the movie YoungLove, together with the another popular love team during that time, NoraAunor and Tirso Cruz III. The Vi and Bot love team went on to do 14 more moviesin 1970—The Young Idols, Songs andLovers, Sweethearts, Sixteen, Love Letters, Love is for the Two of Us, MgaBatang Bangketa, My Pledge of Love, Renee Rose, Baby Vi, Because You Are Mine,Edgar Loves Vilma, From the Bottom of My Heart, and I Love You Honey. All didwell at the box-office.
ADVERTISEMENT - CONTINUE READING BELOW
Jojo Lim, Vilma Santos Solid International, Incorporated(VSSI, Inc) president, told PEP, "Kahit love team na sina Vilma at BobotMortiz, ipina-partner pa rin si Vi sa iba't ibang sikat na male heartthrobsnoon."
Jojo mentioned singing sensation Eddie Peregrina (pairedwith Vi in Mardy and I Do Love You, both shown in 1970), showbizroyalty Jay Ilagan (Inspiration, Remembrance, Ang Konduktoraall shown in '72, and Sister Stella L in '84), young actor Paolo Romero(Ikaw Lamang in 1971), and even her rival's partners, Tirso Cruz III (Dingdong,Give Me Your Love, and Nobody's Child all in '73) and Manny deLeon (Teenage Señorita in 1971).
During her team-up with Edgar Mortiz, mestizo young starJimmy Morato was reported courting Vilma.
Asked by PEP to tell more about Jimmy Morato, Vilmaniantrivia guy Al Valencia said, "Hindi naman nakagawa ng movie 'yan with Ate Vi.Nanligaw lang. Pero gumawa pa siya ng kanta for Vilma entitled 'Vilma, Vilma.'"
ADVERTISEMENT - CONTINUE READING BELOW
Jay Ilagan and Paolo Romero were also reported to have gonebeyond the screen partnership with Vilma and individually tried their luck tohave Vi as their girlfriend.
But those who wanted Vilma to be their girl lost hope whenVilma gave her sweet "yes" to Edgar on April 7, 1971. They were not just reellovers now, but real lovers as well.
Al added, "Kung merong Maria Leonora Teresa [doll] sina Guyand Pip noon, sina Vi and Bot also, meron din silang symbol of their love—thecute puppy Honey na regalo ni Bobot kay Vi."
Vi and Bot starred in more movies, until they broke up onApril 28, 1974. With Vilma once again fair game, suitors lined up, hoping to beVi's next man.
Jojo said that among those who were reported to have courtedVi were Jojit Paredes (with whom Vi starred in the 1974 movie Tok TokPalatok. Joji was one-half of the popular '70s singing duo Two of Us,) andChinese kung fu superstar Meng Fei (he starred with Vilma in theinternationally released action movie Twin Fist for Justice in 1974).
ADVERTISEMENT - CONTINUE READING BELOW
RONNIE HENARES'S PROPOSAL. "But it was RonnieHenares, Jojit's partner in Two of Us, who became Vilma's next boyfriend afterEdgar Mortiz," Jojo told PEP. "Ayon sa mga balita noon, niyaya niya si Vi namagpakasal noon, kaya lamang ay hindi pa handa si Vi na lumagay sa tahimiknoong panahong iyon. After ng breakup nila ni Vi, he married Merce Henares [nalumabas bilang anak nina Rosa Rosal at Ronald Remy sa TV show na 'Yan angMisis Ko]."
Single again, a slew of suitors once again tried their luckwith Vi.
"Kabilang pa sa mga nanligaw kay Vi sina Richard La Torre napamangkin ni Sylvia La Torre, si Joey Sonora na only brother nina Susan Rocesat Rosemarie Sonora, yung mga basketball players na sina Dave Brodeth at AtoyCo, 'tapos U.S. Air Force lieutenant pa na si Les McCoy at yung Fil-Am na siNelson Anderson from San Francisco," narrated Jojo.
ADVERTISEMENT - CONTINUE READING BELOW
BOBBY, BOBBY, BOBBY. But it was with handsome actorRomeo Vasquez that Vilma Santos had her most controversial relationship. Romeowas the former husband of Philippine movie queen Amalia Fuentes. He and Vilmafirst paired in the movie Nag-aapoy na Damdamin (1976). It was alsoduring this year that they became a couple.
They made several movies together, all of which did well atthe box-office. Vi and Bobby (Romeo's nickname) became the most-talked aboutreel and real love team at the time.
The relationship was always on the pages of showbizmagazines and tabloid entertainment section pages because of the intrigues andthe personalities who got involved with them.
BETAMAX ISSUE. Also during Vi's relationship withBobby Vasquez, the nastiest issue about Vilma surfaced—"The Vilma Santos Betamax" issue.
It was rumored that Vilma and Romeo had a sex video beingsold around video shops.
"Napatunayan naman na walang katotohanan ang betamax issue,"trivia guy Al said in PEP's interview with him weeks ago. "Nagpalabas kasi noonng statement si Manay Marichu Maceda (who was then Vilma's business adviser) namagbabayad siya ng 1M pesos kung may makapaglalabas ng video na yun. Walanamang naglabas, walang lumitaw. Kasi wala naman talaga."
ADVERTISEMENT - CONTINUE READING BELOW
It turned out that the betamax issue was just a maliciousrumor out to destroy Vilma.
The rumor did not affect Vilma as she went doing box-officeand critically-acclaimed movies. In fact, the rumor just made Vilma even morepopular because she handled it well.
As for the relationship with Romeo—
"Nauwi rin sa hiwalayan, matapos mahuli ni Vi na may ibapang girlfriend si Bobby, bukod sa kanya," related Jojo.
RUMORED WITH THE KING. Fernando Poe Jr., the King ofPhilippine Movies, was not spared from being rumored with Vilma during the timetheir movies Batya't Palu-Palo (1974) and Bato sa Buhangin (1976)became successful.
"May mga tsismis pa noon na sinugod pa raw ni Susan Roces siVilma at nanampal pa raw si Susan. Diyos ko, magagawa ba ni Susan Roces yun? E,wala namang nangyaring ganun," Jojo related to PEP.
"Lumabas, ginawan lang ng isyu na naman. Siniraan na namansi Vilma. Kasi nga, napatunayan na hindi totoo.
ADVERTISEMENT - CONTINUE READING BELOW
"After Romeo, sina Matt Ranillo naman at si Junior ang mgananligaw kay Ate Vi," Jojo continued. Matt is the son of the King and Queen ofVisayan movies Matt Ranillo Jr. and Gloria Sevilla. Vi paired up with him inthe movie Dalawang Pugad Isang Ibon (1976) and Masarap, Masakit angUmibig (1977).
(AMB) Junior was a popular Spanish singer who became famousin the Philippines via his hit songs "But If You Leave Me" and "Yakap." Hestarred with Vilma in Rock, Baby, Rock (1979) and in Good Morning,Sunshine (1980).
TWO MARRIAGES. In 1980, Vilma made a movie with awell-known model who returned from the States after his tour with the U.S. AirForce. The balikbayan tried modeling and later on, acting. Edu Manzano starredwith Vilma in the movie Romansa. He also married her that same year inLas Vegas, Nevada. The following year, Luis Philippe Santos Manzano was born.Their marriage did not last. They divorced in 1985.
ADVERTISEMENT - CONTINUE READING BELOW
After her divorce, Vi met a young business economist at adisco house in Quezon City. Vilma thought the young man was too forward when heapproached her and asked for a dance. Vilma told him to wait.
Young Ralph Recto was so smitten with Vilma that he did waitfor her in Kingkong Disco, until almost 4 a.m. When he finally got her, henever let go.
Ralph Gonzalez Recto married Vilma Santos on December 11,1992. Their son Ryan Christian was born on March 29, 1996.
So there you have it. Setting the record straight and givingyou the facts: Vilma had only five real boyfriends (she married two of them).And the rest, suitors, rumors, showbiz gimmicks.
Next week: Why Vilma Santos truly deserves to be called "TheStar for All Seasons."