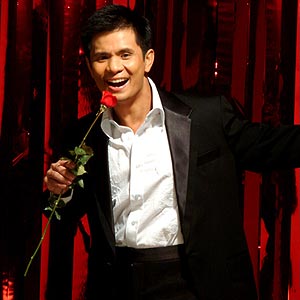 IMAGE 0
---
Ogie Alcasid is one of our most popular and prolificcomposers of Original Pilipino Music (OPM). Since the start of his career, he has written many songs not only forhis own performances but also for other Filipino artists to interpret.
Ogie releases a music album practically every year since hisdebut as a songwriter in 1989. Thatmakes 20 music albums in almost two decades. Five of these reached gold status:his debut album Ogie Alcasid, A Different Light (1995), Nowand Then (2000), I Am aSinger (2004), and Ogie Alcasid: Greatest Hits (2005).
But that's not the highest record his albums have achieved.He also received three platinum awards—A Step Ahead (1992), Ogie 10th:All the Best (1998), and The Songbird and the Songwriter(2004)—and three double plantinum awards: On Air (1994), A Better Man(2002), and Mga Kwento ng Pag-ibig (2003).
While local artists do covers most of the time, Ogiecontinues to create songs that capture the hearts of ever-romantic Pinoys.
How does an Ogie Alcasid work on his musical masterpieces?
Ogie tells Boy Abunda, "Songwriting for me is like apainting to a painter. I will startsomething and if I can't feel the flow, I will discard it and continue writinganother day. If the creative juice getsgoing, I finish a song in one sitting."
Before his songs are able to touch the emotions of thelisteners, he himself feels a song deeply. In his interview with YES!magazine, "Ogie Alcasid: 20 Years in the Biz, 20 Favorites" published thismonth, he reveals that he often sheds a tear after he finishes a song. "It affects me when the sentiments are sostrong or if it reminds me of a certain emotion."
ADVERTISEMENT - CONTINUE READING BELOW
Although Ogie prefers to be known more as a composer, he wassinging long before he joined showbiz. In high school he was a member of LaSalle's all-male singing group called Kundirana. In his interview with YES!the singer-composer says, "Kundirana is where I guess I really startedsinging. It's where I honed my craft asan artist."
In celebration of his 20th anniversary, PEP(Philippine Entertainment Portal) 'replays' some of Ogie Alcasid's most memorable romantic songs.
OGIE SINGS OGIEALCASID
"Nandito Ako" Ogie Alcasid introduced himself to the public by singing this song,which was one the singles of his debut album Ogie Alcasid in 1989. "Nandito Ako" was hailed as the "Song of theYear" by local radio station Magic 99.9 and received a Monster Hit Award by RX93.1 FM station.
This classic Ogie song is about a person who loves anotherwho's already taken. One who's deeplyin love but has no idea when his/her love would be reciprocated can surelyrelate to the song's second stanza:
"Ngunit mayro'n kang ibang minamahal / Kung kaya't ako'y dimo pinapansin / Ngunit gano'n pa man nais kong malaman mo /Ang puso kong ito'ypara lang sa 'yo"
"Nandito Ako" was used as the title of Ogie's first soloconcert held in 1990 at the Meralco Theater.
"Sa Kanya" This song can be considered as the second hit song of Ogie Alcasid inthe earlier part of his career. It hasbecome the favorite of lovers who can't move on after a broken relationship andwho still keep the flame burning.
ADVERTISEMENT - CONTINUE READING BELOW
"Sa kanya pa rin babalik sigaw ng damdamin / Sa kanya pa rinsasaya bulong ng puso ko / Kung buhay pa ang alaala ng ating nakaraan / Angpagmamahal at panahon alay pa rin sa kanya"
After more than a decade, "Sa Kanya" was revived by acousticduo MYMP in their second album Beyond Acoustic in 2005. Again, Ogie's song hit the airwaves as JurisFernandez gave his own rendition of this OPM classic.
"Pangako" Forthe younger generation, "Pangako" was first popularized by Asia's Song BirdRegine Velasquez. This was used as thetheme song for Regine's movie with Aga Muhlach Pangako...Ikaw Lang in2001.
Music lovers and fans who've followed Ogie's career,however, would know that the songwriter already performed his own version inhis second album, Pagkakataon (1990). Two versions were included in the album-his solo version and his duetwith former onscreen partner Manilyn Reynes. Both versions became the Most Requested song after hitting the airwaves.
Incidentally, while searching for more information aboutthis song, PEP chanced upon a music video in YouTube that has a melody similarto "Pangako." After follow-up searches,we found out that the song, titled "For Your Love" and sung by Korean singerJang Hye Jin, was used as a soundtrack for the Koreanovela Glass Shoes.
"Mahal Kita, Walang Iba" After "Pangako," Ogie Alcasid made another hit song that wasincluded in his third album A Step Ahead (1992).
Listeners clogged up telephone lines of different radiostatios to request for Ogie's single "Mahal Kita, Walang Iba," making it theMost Requested Song by two FM radio stations.
ADVERTISEMENT - CONTINUE READING BELOW
Who wouldn't fall in love with Ogie's lyrics? "Mahal kita, walang iba / Paniwalaan mo sanaako, sinta / Mahal kita, walang iba / Sa puso ko'y walang katulad mo, mahalko."
It was also through "Mahal Kita, Walang Iba" that Ogie washailed as the Best Male Performer by Awit Awards in 1993.
"Bakit Ngayon Ka Lang" Here's the anthem of people who are already attached orcommitted, but fall hard for someone else.
Its refrain captures the dilemma of one who is torn betweentwo loves. "Bakit ngayon ka langdumating sa buhay ko / Pilit binubuksan ang sarado ko ng puso / Ikaw ba aynararapat sa akin / At siya ba'y dapat ko nang limutin / Nais kong malaman /Bakit ngayon ka lang dumating"
This is the song that gave Ogie his second Best MalePerformer award from Awit Awards in 1994.
"Bakit Ngayon Ka Lang" is so popular that many singers haveperformed their own version, among them Sharon Cuneta, Pops Fernandez who sangit with RnB Prince Jay-R, and Sarah Geronimo in a duet with Erik Santos. The most popular duet version was performedby the acoustic band Freestyle, who rearranged the song to create a runningexchange between two singers.
"Kung Mawawala Ka" A decade after he introduced himself to the public, Ogie's genius as asongwriter continued to flourish in local show business. In 2000, he released his first single "KungMawawala Ka" for his ninth album Now and Then.
This Song of the Year for 2000 was so popular that it wasused as the theme song for the teledrama with the same title, Kung Mawawala Ka, starring then onscreenpartners Cogie Domingo and Sunshine Cruz. Ogie performed a duet with young singer Karylle for this soap opera.
ADVERTISEMENT - CONTINUE READING BELOW
For those who don't remember the song, here's its chorus: "Kung mawawala ka
hindi komakakayang / Harapin ang bukas ngnagiisa / Kung akoy iiwan mo paano na tayo / Sayang ang pangako sa isat isa /Kung mawawala ka"
Other awards that this song collected were Best BalladRecording (2000) from Awit Awards and Best Male Music Video in the MTVPhilippine Video Music Awards (2000).
"Hanggang Ngayon" This song was first performed by Ogie but Regine Velasquez's versionbecame more popular. It's also anaddition to Ogie's "theme song" collection; it was used as the theme forRegine's movie with Richard Gomez, Ikaw Lamang...Hanggang Ngayon(2002).
The latter part of this song clearly described the situationof Regine, who plays Katherine in the movie. She was hesitant in loving Ryan (Richard) because of her fear that hemight just leave her after giving her all.
"Dapat ba nating pagbigyan / Ang ating mga puso ay muli pangbuksan / At ibibigay ang lahat ng pag-ibig na tapat / Sa iyo, sa iyo."
OGIE'S SONGS INTERPRETED
Ogie also lends his talent to fellow music artists. In fact, some of our singers request him towrite a song for them.
"Kailangan Kita" Ogie says that "Kailangan Kita is one of his favorite compositions. In his interview with talk-show host BoyAbunda, he describes the song as, "sweet and loving. A very personal song that is close to my heart."
This was first performed by Mr. Pure Energy Gary Valencianofor the movie Kailangan Kita (2002). Mushy Pinoys enjoyed this song after watching Aga Muhlach and ClaudineBarretto in the said movie.
ADVERTISEMENT - CONTINUE READING BELOW
But "Kailangan Kita." became even more popular whenheartthrob Piolo Pascual released his own rendition. This was included inPiolo's fourth album called Platinum Hits.
Fans start to scream whenever Papa Piolo croons: "Sa pilingmo lang nadarama / Ang tunay na pagsinta / 'Pag yakap kita nang mahigpit /Parang ako'y nasa langit."
"Kailangan Ko'yIkaw" With Regine Velasquez'sinterpretation, Ogie once again made another hit theme song called "KailanganKo'y Ikaw." This was the theme song ofFrancine (Regine) and Gimo (Robin Padilla) in the movie Kailangan Ko'y Ikaw(2000).
The lyrics of "Kailangan Ko'y Ikaw" really fit this richgirl-poor guy story of Francine and Gimo. The singer celebrity Francine was willing to give up her career just tobe with her beloved Gimo.
The song went, "Kailangan ko'y ikaw / Dito sa piling ko /Kailangan kong madama / Ang pag-ibig mo..."
Through this comedy-romance movie, "Kailangan Ko'y Ikaw" wasnamed the Movie Theme Song of the Year by Star Awards and FAMAS.
"Pangarap Ko Ang Ibigin Ka" Another of Ogie's hit theme songs for a movie and popularized by Regine Velasquez.
"Pangarap Ko Ang Ibigin Ka" was used in the movie of thesame title in 2003. The movie was thesecond team-up of Regine with veteran actor Christopher de Leon, after theircomedy-romance film Wanted: Perfect Mother. It was also the film directorial debut of music-video and stagedirector Louie Ignacio.
Pangarap Ko ang IbiganKa was about a lady named Alex (Regine) who dreamed of having arelationship with Raffy (Christopher). He had just lost his wife whom hethought was irreplaceable.
ADVERTISEMENT - CONTINUE READING BELOW
Something happened between them and Alex took this as a signthat there was hope for them to be together. Unfortunately, Raffy later distanced himself from Alex, still believingthat his only love was his wife.
In this situation, the song's lyrics clearly expressed thefeelings of Alex. "Pangarap ko angibigin ka / At sa habang panahon, ikaw ay makasama / Ikaw na lang ang siyangkulang sa buhay kong ito / Pangarap ko ang ibigin ka," goes the refrain.
"Ikaw ang Aking Pangarap" The most recent hit theme song written by Ogie Alcasid was Lobo's"Ikaw ang Aking Pangarap," interpretedby Concert King Martin Nievera.
In Boy Abunda's interview with Ogie, the singer-songwriteradmits that this is one of his favorite songs because "[this is] my song toRegine."
He also said that when he wrote this song, he was in "happystate," like when he finished "Pangarap Ko ang Ibigan Ka" and "Mahal Kita WalangIba, Kailangan Kita."
When this song was released this year, Ogie had alreadyadmitted in public his relationship with Regine Velasquez.
The song's ending goes, "Ikaw ang aking pag-ibig / Angnagbibigay kulay sa 'king daigdig / Wala nang nanaisin pa / Kung magpakailanmanay kasama ka / Ikaw ang pangarap..."
These are just 11 of the well-known songs that Ogie haswritten and performed during his twodecades in showbiz. To his fans,continue counting because as long as Ogie lives, there will be romantic musicto fill our hearts.
As he sang to Boy Abunda at the end of their interview,"Tatanda at lilipas din ako, ngunit mayroong awitin..." (the classic "Handog" bycomposer-singer Florante).
ADVERTISEMENT - CONTINUE READING BELOW
Don't miss Ogie Alcasid as he celebrates his 20
th
anniversary in showbiz through his concert
Twenty/Twenty
, which will beheld on September 27 at the Araneta Coliseum, Cubao, Quezon City.