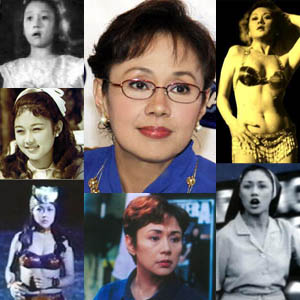 IMAGE 0
---
German Moreno—stillharboring ill-feelings towards a "son" who did him wrong—said in his speech atSOP's celebration of his birthday last Sunday, that today's stars shouldwork on durability in the business rather than getting the faster, biggerbucks.
Kuya Germs may have beenwaxing very personal, but today's celebs should take to heart what theClover Theater Janitor-turned-Master Showman said.
There are stars who, afterso many years, managed to stay in show business but lost their brilliance andgot content playing supporting roles. This is actually better than those whojust faded away and sulked in obscurity, completely forgotten by everyone.
That's why Vilma Santos isunique. She holds the distinction of being the only actress in Philippine showbizto have gone through four-and-a half decades without being unseatedfrom her throne as one of the most admired and most bankable movie stars inlocal cinema.
ADVERTISEMENT - CONTINUE READING BELOW
She may have rested in someyears during those 45 years to give way to new stars, like Sharon Cuneta,Maricel Soriano, Manilyn Reynes, Claudine Barretto Judy Ann Santos and others. And yet, when a Vilma movie comes out, fans queue the theaters to see her perform. Because of her box-office successes, she was accorded the title—Starfor All Seasons.
This is the last of thethree-part series on the urban legends connected to the Star for All SeasonsVilma Santos-Recto.
RECAP. In Part 1, PEP probed the "mysterious hanky," Ate Vi's so-called trademark.
Jojo Lim, president of VilmaSantos Solid International, Incorporated (VSSI, Inc.), said, "Si Papa [Amado]Santos, lagi siyang pinagdadala ng lampin para pamunas ng pawis niya." Lateron, Vilma gave up the "lampin" for soft, signature hankies.
On the other hand, AlValencia, VSSI auditor—and encyclopedia for anything about Vilma—said it wasVi's friend Connie Reyes who told her to switch from using tissue paper to hankieswhen wiping her face.
ADVERTISEMENT - CONTINUE READING BELOW
As for the rumors about bulgingveins and the sweaty hands, this writer can attest that none of this is true. We have personally seen and held thelegendary actress's hands. Her hands were in fact very soft, smooth and not sweatyat all. We have also heard from Vilma herself.
Vilma started the habit backin the '80s, during her Vilma! days. "Protection ko sa pawis, saalikabok, sa dumi," the Star for All Seasons simply said.
The second Vilma urbanlegend: Who among the many men who got linked to Vilma became her boyfriend inreal life? Who were just plain rumors.
Among the suitors, co-stars,and screen partners (that include international stars Meng Fei and AMB Junior,and the King of Philippine Movies Fernando Poe Jr.), only five men became herreal-life boyfriends—Edgar "Bobot" Mortiz, her "ka-love team"; Ronnie Henares,the suitor singer; Romeo Vasquez, the controversial boyfriend; Edu Manzano, thebalikbayan model, and Ralph Recto, the business economist.
ADVERTISEMENT - CONTINUE READING BELOW
During her relationship withRomeo "Bobby" Vasquez, the "Betamax" issue came out. It was later proven to bejust a smear campaign against Vilma, when her business adviser Marichu Macedadared that she's willing to give P1 million for anyone to who can give her the"betamax" showing Vi's sex bout with Bobby. No such betamax tape came out. Itwas ruled just a nasty rumor.
Vi married Edu in 1980 andhad Lucky (Luis Manzano). After her divorce with Edu in 1985, she met youngRalph Recto, they dated, and then married in 1992. They are still together andblessed with their son Ryan Christian.
THE OTHER URBAN LEGENDS. And now, PEP probes not only one, but three urbanlegends about Ate Vi:
1) During the late '60s, in an attempt to match herchief rival's career, she also came out with music records. Critics of hersswear she used a ghost singer or singers for these albums.
ADVERTISEMENT - CONTINUE READING BELOW
2) In her first Darna movie, Lipad Darna Lipad,since she was still in her teens, she refused to don the Darna costume withoutbody stockings. So, the producers had to use a body double for some of thescenes.
3) She had a nose-lift and other work done on her face.
ANSWERS. On the first urban legend, PEP again asked the helpof Jojo Lim.
"Aminado naman kami, hindinaman ganung kagaling na singer si Vi. Pero hindi siya gumamit ng ghostsinger," said Jojo over the phone.
It was the convincing powerof her reel and real love team Bobot Mortiz and her manager William Leary thatgot Vilma to sing.
"Nahihiya pa nga si Vi noon.Hindi naman talaga siya singer, pero kinarir niya," related Jojo. And Vilma's"kinarir" attempt paid off. Her single vinyl (in those days, a single recprdingwas done in 45 rpm vinyl discs) "Sixteen" reached gold-sales status withindays. Not bad for someone who admitted she was not actually a singer.
ADVERTISEMENT - CONTINUE READING BELOW
"Partida pa nga yun. Kahitna manipis ang boses ni Vi, nakuha pa rin niyang kantahin nang maayos ang mgapinapakanta sa kanya. At nag-gold pa!" Jojo proudly said.
Vilma went on to make 19singles, all hits and getting two gold-record awards ("Sixteen" in 1969 and"Palung-Palo" in 1973).
In Pinoy Rock, Vilma'ssingle, "My Boy Lollipop" is regarded as the very first Pinoy Ska record everproduced. A hit in 1964 by Jamaican bluebeat singer Millie Small, Vilma coveredthe song in 1969. Ska and bluebeat are Jamaica's fusion of blues, jazz, andJamaican island beat. They are also the direct ancestors of the Jamaican musicstyle reggae popularized by Bob Marley.
Vilma's waxing of "My BoyLollipop" made her the first Pinoy "rude girl." The "Rudies" or "Rude Boys andRude Girls" are Jamaican terms for ska music lovers and musicians.
If Vi admits not being toogood in one area, she made it a point to give her best in other fields—actingand dancing. Seventy-five acting awards prove beyond doubt that she is afantastic actress. As for the dancing—
ADVERTISEMENT - CONTINUE READING BELOW
"Nagsimulang ipakita ni Viang galing niya sa pagsayaw nung pinauso niya yung 'The Shaft,' ang usong sayawnoon sa U.S. pagkagaling nila ni Bobot Mortiz doon para sa pelikulang Don'tEver Say Goodbye (1972). Mula noon, lagi nang inaabangan ang mga dancenumbers ni Vi dahil sa galing at charisma niya sa pagsasayaw," related Jojo.
Her skills in dancingcontinued to be admired even until the late '80s to early '90s via the show Vilma!where her dance numbers were always a spectacle because of the lavishproduction and beautiful choreography.
The second urban legend saysthat Vilma refused to wear the Darna costume if she would not be allowed towear body stockings with it. Jojo answered:
"Nung in-offer sa kanya yungLipad Darna Lipad, alam niyang medyo daring yung costume at that time.So kinonsulta niya yung mga madre ng RVM Sisters of Mary Academy Manila kunsaansiya nagtapos ng elementary at high school. Ang sabi nila, tanggapin niya angrole, pero kailangan niyang magsuot ng body stockings."
ADVERTISEMENT - CONTINUE READING BELOW
The body stockings were nota hit with the press when Vilma was presented by Cine Filipino executives astheir new Darna. Vilma was convinced by one of the producers Douglas Quijano tolose the stockings and just wear the costume. Gauging the reaction of the pressand being a professional, Vilma wore the costume without the stockings when shemade the movie.
Lipad Darna Lipad became a hit at the box-office, staying in theatersfor three months. Vilma went on to do three other Darna movies: Darna andthe Giants (1974), Darna vs. The Planetwomen (1975), and Darnaand Ding (1980).
For the third urban legend,the "retoke" rumors. Vilma herself answered the accusations.
"No. I don't think I needit, do I?" she asked her interviewer Ricky Lo (published in his "Conversations" column, PhilippineStar, November 3, 2003).
"Every part of my face isoriginal. Walang binago; nothing has been changed. Wala akong 'salamat po,doktor.' I have good genes."
ADVERTISEMENT - CONTINUE READING BELOW
She was even proud of her beingpetite.
"I guess that's theadvantage if you're small. Hindi madaling tumanda," she said.
POSTSCRIPT. There may be other urban legends about VilmaSantos-Recto that we may have overlooked, but those are completely irrelevantnow to what Vilma has become. Any rumoror urban legend brought up about her will just be dismissed completely.
What Vilma has become iswhat Kuya Germs would like today's stars to emulate—An unfading star, who'srespected and well-loved. A real Star for All Seasons.