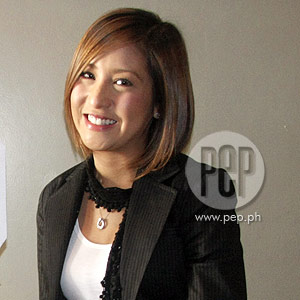 IMAGE 0
---
For those who grew upin the '90s, the lasting image of Maria Jolina Perez Magdangal—endearingly known to the public assimply Jolina Magdangal—would be of that bubbly teener singing,dancing and trading witty punchlines with her fellow Ang TV co-stars.
Aside from being a young star, Jolina was alsoconsidered a trend setter as she amusingly experimented with styles andcolors as vibrant as her personality.
Jolina eventuallytransferred from ABS-CBN to GMA-7 in 2002. The shift likewise signified theformer child star's transformation as a young woman yet brimming still withchildlike exuberance. In celebration of Jolina's birthday, we asked theactress-singer and PEP (Philippine Entertainment Portal) blogger 10 fun andpersonal questions any fan would be interested to know.
FONDESTMOMENT AS A KID. Jolina started out in show business veryyoung. As a little girl growing up, she was already exposed tothe grueling demands of the industry as well as the exciting perks it had tooffer like travelling, material stuff and public adulation. Yet, Jolina'scherished memory as a kid surprisingly reveals simple moments shared with herfamily.
Jolina narrates: "Nagtinda yung buongfamily namin ng hotdog sa [Quezon City] Circle, at pare-pareho ang t-shirtnamin. Tapos pag may natitira, kami ngmga kapatid ko ang umuubos...Hahaha!
"Isa pa, pag may sakit mommy ko at disiya pumapasok sa office, inuuwian ko siya ng sisiw at itik na binebenta saschool."
THREETHINGS THAT MAKE HER HAPPY. Likeall of us, Jolina's source of happiness varies as she matures. "Iba kasinagpapasaya sa 'kin nung bata ako at ngayon, e," she muses. Naming onlythree is a stumper, of course, what with the many blessings she continuesto receive. "Yung ngayon na lang," she says: "Time withfamily and Bebong [Jolina's boyfriend], photography and books."
ADVERTISEMENT - CONTINUE READING BELOW
MOST ROMANTIC MOMENT. She may be way past her teenageyears, but when it comes to romantic gestures Jolina stresses that she remainssimple and idealistic. It doesn't necessarily have to be grand, likethe usual candlelight dinner with wine and bouquet of flowers. In fact, simple things done with effort and affection are enough to earn Jolina'sattention.
"Mababaw lang din kasiako. Kaya kahit maliliit na bagay, kahit gestures lang, sweetor romantic na para sa akin."
MOSTEMBARRASSING MOMENT. Jolina recalls a concert she didtogether with the Ang TV gang inAteneo de Manila University in Quezon City as one of her most embarrassingmoments.
"Sumasayaw kami, sa blocking nasa unahan ako, naka-braces pa ako nunkaya pagsayaw ko, sumabit yung tirintas ko sa braces ko. Di ko alam kungisusubo ko nang buo yung buhok o lalabas ako ng stage. After ilang minutes nagpuntana lang ako sa likod at tinanggal yung buhol ng buhok sa braces."
What happened next was more interesting."Akala ko walang nakapansin, after nung concert, may lumapit sa 'kin na cute nastudent at tinanong kung di daw ba natanggal braces ko? Waaaaah!!! gusto konglumubog sa kinakatayuan ko!"
CAN'T LIVE WITHOUT...? "Thing I can't livewithout? Cell phone!"
FAVORITEMOVIE. Jolinacites the romantic movie, The Notebook,as her favorite film. Shown in 2004, the film was an adaptation of a1996 novel written by American novelist Nicholas Sparks. Touching on thesubject of undying love despite distance and time, the film stars James Garnerand Gena Rowlands under the direction of Nick Cassavetes. The Notebook was voted by Yahoo users in September 2008 as the topmost romantic film over 35 other entries.
FAVORITESONG. Asidefrom being a host and actress, Jolina is also a singer. A music lover since shewas a little girl, Jolina mentions "Moon River" and "I'll Take Care of You" astwo of her favorite songs.
ADVERTISEMENT - CONTINUE READING BELOW
"Moon River" was written by Johnny Mercer and HenryMancini and later on popularized by Andy Williams and other crooners. "I'll Take Care of You" is aSteven Curtis Chapman number.
FASHIONICON. A trend setter herself for the youth in the early '90s, Jolina looks up to Madonna and the Olsen Twins for their fashionsense and style.
STILL TO ACCOMPLISH. Havinga successful career doesn't stop Jolina from aiming for more exciting goals.Interestingly, Jolina's goals have nothing to do withshow business. "Put up my own daycare," she says, beforeadding, "gusto ko matutong mag-bake, gusto ko mag-bake, gusto ko pa ma-tour angmundo... haaaay..."
DREAMROLE. What dream role she would love to portray in the future? "Double personality. Tipong akala mo sweet at goodygoody, yun pala killer... rarrrr!"
Take your pick—wholesome Jolina or wacky? Whatever, she's one energetic gal who can be and do anything she imagines.