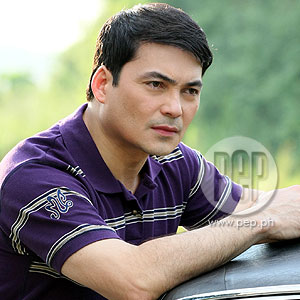 IMAGE 0
---
Two weeks before his 45th birthday, Gabby Concepcion is in for another "surprise"from his manager, Rose Flaminiano.
This time, it is in form of a complaint for Estafa and Deceit, which was filed at the Quezon City Prosecutor's Office last Tuesday, October 21. (Please see related article.)
According to two sources, Gabby was told about this move of his "ex-manager" yesterday, but the details reached him only this morning.
The Kapamilya actor politely refused to comment about his latest legal tussle, but he directed us to his lawyer, Atty. Dexter Licuanan.
In a phone conversation at around 1:06 p.m., Atty. Licuanan told PEP (Philippine Entertainment Portal) that he doesn't want to issue any "premature" statement, given that he "has not received any copy of the complaint."
But offhand, Atty. Licuanan revealed that he had a brief talk with Gabby. The lawyer told his client: "She [Rose] could file all she wants." Then, he added: "There's a big difference in proving and winning a case as opposed to filing it."
For now, the lawyer can only say: "...as soon as we receive the copy of the complaint, we will promptly act on it based on the parameters of the law."
The initial reaction of some kibitzers: "Bakit si Rose ang magpa-file? Hindi ba dapat yung mga producers or organizers?"
PEP asked Atty. Sandra Marie Olaso-Coronel of Yorac Arroyo Chua-Caedo and Coronel Law to shed light on this matter.
Atty. Olaso-Coronel explained that Rose is considered a "private complainant" and her "interest" lies on Gabby's "appearances" because "it would affect her commission."
She further noted: "Legally, she has the right, as Gabby's talent manager, because the percentage of her commission will be dependent on the actor's attendance."
Another lawyer, Atty. Josephine B. Faustino of Belo Gozon Elma Parel Asuncion & Lucila Law, added: "She has the right to file because she has the personal knowledge—meaning, she knows the circumstances..."
ADVERTISEMENT - CONTINUE READING BELOW
At press time, no prosecutor has been assigned yet to handle the complaint. But Atty. Licuanan said, "We will be ready with our counter-affidavit once we have a copy of the complaint."
Meanwhile, the TRO (Temporary Restraining Order), which was filed last September 16, was junked by Judge Bernelito Fernandez of QCRTC Branch 97.