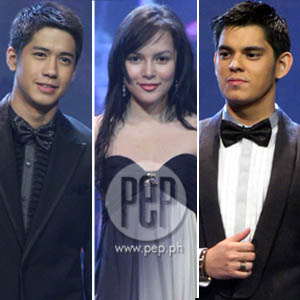 IMAGE 0
---
A customerof Fiamma Bar on Jupiter Street in Makati City told PEP that a confrontationoccurred between Kapuso stars Richard Gutierrez and Aljur Abrenica last October 17, at the high-end watering hole.
This wassupposed to have happened on the same night that the new GMA Network Studios on Jamboree St., Quezon City, was inaugurated. Many of thestars, still dressed to the nines, had gone out to celebrate after the event.
Richard isknown as GMA-7's Primetime King, while Aljur is StarStruck Batch 4 UltimateHunk winner. In other words, Richard is a certified big star and Aljur is apromising male lead.
Thenon-showbiz customer, who refuses to be named, reported that he saw RichardGutierrez having a nice time with friends.
Sometimelater, the customer saw Aljur Abrenica enter the bar escorting young actress JewelMische, the StarStruck Batch 4 Ultimate Sweetheart and also a GMA-7 talent.
The nextthing he saw, according to the stunned customer, was Richard having analtercation with Aljur. He said he distinctly saw Richard giving Aljur's head ashort, quick slap. In the words of the customer, "Tinapik ni Richard siAljur sa ulo!"
Aljurreportedly turned around, faced Richard, and demanded to know, "Ano angproblema mo?" Richard reportedly shot back, "Ikaw, ano ang problema mo?"
The PEPsource said that, fortunately, nothing more untoward happened. Cooler headsreportedly intervened at just the right time.
Another source, who was also at Fiamma bar, claimed that Jewel was not with Aljur. The source, however, corroborated the story about the tiff between Richard and Aljur.
PEP askedall three parties, on separate occasions, to comment on the incident. Clearly,everyone wanted the incident buried and forgotten.
When Aljurwas asked, he refused to answer. Jewel refused to take calls on her cellphone (its number is known to her reporter-friends). Richard, at his motherAnnabelle Rama's birthday party last Saturday evening, said, "No comment," thenwalked away.
ADVERTISEMENT - CONTINUE READING BELOW
Meantime, ahandler at the GMA Artist Center, which manages Aljur and Jewel, gave the sideof Aljur but refused to be quoted. Two showbiz reporters who heard about theincident also backed off the story. As a result, PEP became more curious: wheredid the Richard-Aljur tiff come from?
RICHARD-JEWEL. Our research showed that Jewel Mische is at the center of this tiff.Since the days of Kamandag—a fantaserye which had Richard and Jewel as a loveteam—rumors had already circulated that the two became more than anonscreen team. According to reports, they had become a quiet, but real,item.
Both Richard and Jewel havetotally denied the story. Even at the recent inauguration of GMA NetworkStudios, Jewel flatly said, "For the record, hindi naging kami ni Chard."Richard, for his part, has remained non-committal and vague, but admitted goingout with Jewel. The young actor also said that Jewel was the "closest" girl tohim while they were still doing Kamandag.
But makingthe story plausible were reports that kept linking Richard only to Jewel, whenthe handsome 24-year-old star also had the beautiful Maxene Magalona as aromantic interest in the same fantaserye. And way after Kamandag was taken offthe air, talk persisted that Richard and Jewel were seeing each otherromantically.
Richard has neverbeen an easy man to pin down on his romantic intentions. There were two otherstars who started being linked to him: Heart Evangelista and KC Concepcion.These two are such big names—Heart starred with him in the big-budgetGMA-7 action-adventures series Codename: Asero, and KC was his leading lady in theblockbuster Star Cinema movie For the First Time—that the press eventually paid no moreattention to the Richard-Jewel romance rumors.
Showbizinsiders now say that, in fact, the Richard-Jewel romance has been anon-and-off story in Richard's life. They add that, indeed, the two werefirst attracted to each other when they were doing Kamandag, which brought themtogether at least three times a week, and that since then, Jewel would be seenin places where Richard was, such as his condo, his tapings, his movie sets.
ADVERTISEMENT - CONTINUE READING BELOW
Unfortunately,the insiders say, nobody seems to want Jewel for Richard. Their network is saidto be pushing other leading ladies for their prize talent; his family has notbeen heard to say they want her for Richard, whereas his mother and manager AnnabelleRama has been quoted as saying she liked KC; and even members of Richard's campsay that the tandem won't go far with the fans.
The rumorspersist anyway that Jewel is more infatuatedwith Richard than he is with her. But showbiz veterans argue that if Richardreally wanted Jewel out of his life, then he could have done so a long timeago. After all, he has his family, his manager, bodyguard, driver, and campfollowers to create the environment he is comfortable with. Therefore, theseshowbiz veterans speculate, Richard must also be attracted to Jewel to makethis "on-and-off relationship" last up to this time.
As for the Fiamma bar incident between Richard and Aljur, there is strongbuzz that it was triggered when Jewel asked Aljur to escort her that night, and had done so withthe idea of making Richard jealous. The buzz also says that Aljur, in thisscenario, was completely clueless.