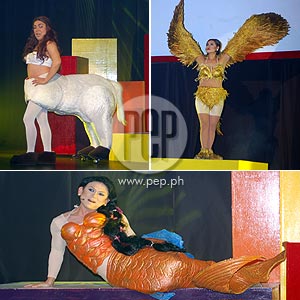 IMAGE 0
---
Gathering Jon Santos,John Lapus, and Candy Pangilinan in one show promises nothing but pure riot. Andthat's what the live comedy show billed as DaSpooftacular Showdown turned out to be, as witnessed by PEP (Philippine EntertainmentPortal) last November 15 at the Music Museum in Greenhills, San Juan.
In a press conference preparedby ABS-CBN a few weeks before the opening night, John Lapus quickly dismissed the "sapawan"issue expressed by some quarters by explaining that each of the cast memberswas given equal role assignments.
True enough, right fromthe opening to the last skit, the three veteran standup personalities displayedtheir brand of comedy mostly as a team. As a result, jokes ran on high gear throughoutthe evening.
The show started withJon, John, and Candy rendering their own take on Anne Curtis's primetime series,Dyosa. The crowd chuckled as thethree tried their utmost best to outdo each other in vying the right to assumegoddess status.
ADVERTISEMENT - CONTINUE READING BELOW
OLDAND NEW SKITS. As promised by director Phillip Lazaro, Spooftacular witnessed the debut of newcharacters like Candy's version of the nerdy ugly-duckling Betty La Fea andCharos Pempengco.
Jon, for his part, introduced Okra Winfrey complete withgrand hairstyle and Oprah's signature booming voice to boot.
John's take on beautyqueen Janina San Miguel was hilarious as he effectively brought back to lifeJanina's famous stint in the question and answer segment of this year's Bb.Pilipinas pageant.
One of the well-receivedskits that night was Jon's version of beauty expert Vicki Belo, who was christened as Vicki Bolo that night. Donning a white hospital gown, Jon kept the audiencein stitches as he warned everyone of fake surgeons around the metropolis.
Thesituations he presented were blown up for maximum comic presentation. VickiBolo's botched romance with fellow surgeon Manny Kawayan drew laughter from thecrowd as well as the segment where he, along with Manny, came down to theaudience to offer bits of beauty advice.
ADVERTISEMENT - CONTINUE READING BELOW
As expected, thecharacters identified with Jon (Ate Vi) and John (Kris Anino) once again emerged.For the nth time, both comedians showcased their mastery of playing the two famous characters, making their respective performances effortless.
To make the spiels more relevant, Jon insertedVilma Santos's recent quotes from her movies and televisioncommercials.
Meanwhile, John wowed the audience when he was able to imitate the distinct tone ofvoice, mannerisms, and hearty chuckle of Kris. The portrayal came with some of the known personal issues facedby the game show host—all dished out with tons of humor.
Serving as specialguest that evening was Pokwang who likewise traded punch lines with theheadliners. Pokwang impersonated Ruffa Gutierrez's bitchy character in I Love Betty La Fea and later on assumed the role of feistymanager Annabelle Rama.
Candy's Nora Aunorimpersonation was also hilarious owing a lot to the familiar movie quotesassociated to the Superstar. The reported violent reaction coming from theNoranians did nothing to tone down Candy's skit.
ADVERTISEMENT - CONTINUE READING BELOW
All in all and despitea few misses, Da Spooftacular Showdownlive up to its promise of giving fun and entertainment to the public, which cameto the venue hoping to experience laughter at least for two hours. To quotethat line from a Beatles song: "A splendid time is guaranteed for all."
Catch Da Spooftacular Showdown every Fridayand Saturday for the entire month of November until the first weekend ofDecember at the Music Museum in Greenhills, San Juan.

For ticket inquiries and reservations, call Ticketworld (891-9999) or Music Museum (721-6726).



ADVERTISEMENT - CONTINUE READING BELOW