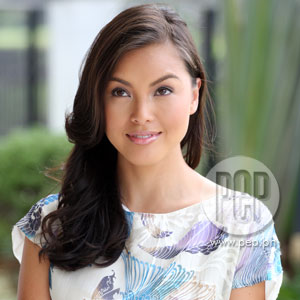 IMAGE 0
---
Filipinos knew about Carmen Soo when celebritycouple Jericho Rosales and Heart Evangelista broke up earlier this year. The Malaysian actress-model was blamed forthe breakup, particularly because she was doing a Philippine TV series titled KahitIsang Saglit with Jericho.
But most Pinoy TV viewersknow a little about the star who plays "Garie" in Kahit Isang Saglit.
Carmen is 75 percent Malay and 25 percent British. She speaks fourlanguages: Malay, Cantonese, Mandarin, and English. She also holds a Bachelor's Degree in Business Management.
At 17, she started modeling in Malaysia and leftfor Hong Kong to pursue this career. Not long afterwards, she had a minor acting role in a JackieChan movie titled Gorgeous. And then she landed a leading role in Aaron Kwok's musical special. Her acting career includes roles inthe stage plays The Girl from Ipoh and Rose, Rose, I Love You.
Carmen stayed in Manila for a couple of months forthe taping of the joint project of ABS-CBN and Malaysia's Double Vision, KahitIsang Saglit. When finished, Carmen went back to Malaysia for the shooting of a Malaysian comedy film MySpy, which will be shown ten months from now, according to Carmen.
She came back last Tuesday, November 18, intime for the photo shoot of her newest endorsement, Petit Monde, which took place last Wedneday, November 19, in Quezon City.
Carmen may be staying in the country for a while, not only for the said endorsement but also for possible movie orTV projects with ABS-CBN.
PEP(Philippine Entertainment Portal) took the opportunity of covering this photoshoot to ask Carmen about the things she liked about the Philippines during herstay so far.
Pinoy hospitality. Idon't know, where do I start. I think thepeople, to begin with. I came here towork and it's important to me because I stay here for a long time. So, I'd say that the Filipino hospitality,everyone has been gentle, you know, the language, and very sweet. [It's] very Asian quality so it's [easy to] adapt andbe comfortable and feel like home.
ADVERTISEMENT - CONTINUE READING BELOW
Shopping malls. Ilove the fact that there are a lot of shopping malls. You know, I can go around, it's one of my favorite pasttimes.
I think I go to TriNoma a lot because it's near myhotel. I like to go to Greenbeltbecause it's different, still so much to discover. Shangri-La mall, they have a lot of things there, so it's convenient.
Scenic places. Youknow, when we shoot [Kahit Isang Saglit] I got to visit a lot ofplaces. I get to see even somewhere notfar. From there, I get to know how theway people lived here and, you know, everyday life. For example, if I'm just a tourist I might just go to the mall,go to the beach. It's just like going back down to basics and see how people live their lives [on a] dailybasis.
Banawe. Talkingabout places, I also get to go to places, far-off places like Subic and Banawe. I think I've read that Banawe is 2,000 yearsold. We did quite a lot of thingsthere—really amazing views, really amazing backdrop for the show. It's just nature, you know, beautifulsceneries
Boracay. Theislands are beautiful. I think some of thebest I've ever been to is Boracay. It'sextremely beautiful—the white sand and clear sea, clean sea. I hope it stays that way. The government of the Philippines shouldtake care of the environment.
Local dresses. The dresses, like Petit Monde. When I was shopping around the Philippines, I wasn't able to discoverlocal brands because I go to the easier things, the one that's available inMalaysia as well. So, I'm glad to havefound one. Then, I can be dressed upwell for my next show and when I do my guestings as well.
ADVERTISEMENT - CONTINUE READING BELOW
Tomas Morato street (Quezon City).That's my secondhome. I thank God for that because it'sa stretch where I can get to Starbucks, 7-Eleven, bank, restaurants. I'm very thankful for Tomas Morato because Idon't drive in Philippines, so I can walk all through the different restaurantsand get food. It's all there!
Jericho Rosales. Iread somewhere, someone said that he's the ninth national treasure of thePhilippines. I think he's become afriend of mine and I'm glad to have found him as a new friend.
Showbiz industry. I think I like the fact that the industry. I've said before that I'm culture shocked bythe industry. I think at the same timebecause of that there's work for everyone. It's pretty thriving industry.
I think, compared to Malaysia, the industry is movingalong. For example, the impact of showsreally hit the people. So, I thinkthat's one of the first things I would say about the Philippines. They have a very strong [entertainmentindustry]. It's like Bollywood orHollywood, this is... Filowood or Filiwood! Ha-ha!
Kapamilya network.
ABS-CBN for bringing me here and doing thisproject [
Kahit Isang Saglit
].