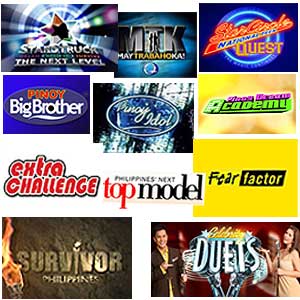 IMAGE 0
---
It was early 2000 when the term "reality television" wascoined in the U.S. Top-rating shows Survivorand American Idol dominated thetelevision scene. Soon the Philippines caught the realiTV fever.
Pasok at patok wouldbest describe the response of Pinoys to the craze.
For the longest time, TV serieshad reigned supreme in the primetime block of both GMA-7 and ABS-CBN. But in2003, Extra Challenge provided theviewers with an entirely different dish in the show menu.
People liked the spontaneity.
Celebrities would react impulsively or instinctively. Sometimes they'd argue, cry, and even curse.
People liked the idea of seeingtheir idols in a natural setting.
The stars would participate in the challenges sansmakeup, their signature clothes, and alalays.They would be told to perform tasks that ordinary people do for a living and evendo the extraordinary things that some ordinary people can do.
People liked the idea of beinginvolved.
ADVERTISEMENT - CONTINUE READING BELOW
The new format gave Extra Challengesome flexibility. If we were to recount all its episodes, it had a bit ofeverything reality-based in the U.S.—from AmazingRace to Fear Factor to Survivor to Simple Life to The Bachelor,among others.
From here, more reality shows sproutedin local television. There are more than 40 in the list, but let us payattention to the ones which successfully invaded majority of Philippinehouseholds.
We set the following guidelines in choosing the shows for this list: (1) they present real-life, unscripted situations (2)and/ or they document actual events (3) and/or they feature ordinary people (4) they got included in the primetime block.
StarStruck and StarCircle Quest, which were both launched in 2003,had brought instant stardom and millions of pesos to younghopefuls.
For a certain period of time,unknown teens were subjected to rigid training and workshops, includingphysical and mental challenges. Each week, one would be eliminated. In the end,the one with the most number of text votes from the viewers and with theglowing recommendations of the jury emerge as the victor.
ADVERTISEMENT - CONTINUE READING BELOW
StarStruck became a phenomenon that it aired four seasons. SCQ had two seasons. Both artista search programs even spawned aversion for kids.
The Hiccup. Some showbiz veterans expressed their censure on thesaid shows. The search had become a popularity contest instead of a talentrace. It had made things much easier for the newbies to gain ground in showbiz.
Kung sa mga reporters, may mga tinapatawag na pinabili ng suka, sa mgaartista, meron na rin.
Of course, some of them are talented and have honed their craft over the years, but majority are stillordinary faces in the crowd.
In the case of the young kids whojoined, it was too shattering for their hopes to be dashed at such an earlyage. It was also disturbing to know that their mindset would be geared towardsjoining showbiz so as to improve their quality of life.
But of course, the mainproposition of both shows cannot be refuted: In showbiz, you have to dream andbelieve to survive, and you have to realize that the quest does not end theminute you step out of the search.
ADVERTISEMENT - CONTINUE READING BELOW
Pinoy Big Brotherbecame an instant phenomenon a few weeks after its first episode in 2005.Twelve housemates would stay inside the Bahayni Kuya and would be monitored 24/7. All of them would undergo challenges,and from time to time, would be required to talk to Kuya ina confessional room.
ABS-CBN positioned it as "real-life drama" and "ang totoongkuwento ng buhay mo."
Initially, it was a humdrum. The housemates then were stillin the process of adapting to their new environment. But the minute "troubles,""love angle," and sex-related topics entered the house, Pinoy viewers startedwelcoming PBB into their homes.
It had its share of controversies.
One of them is the censorship issue. MTRCB (Movie andTelevision Review and Classification Board) deemed some of the scenes andconversations "not suitable for young audience." As a result, the show had itsshare of warnings and even suspension.
Other issues hurled at the show had to do with casting, thevotes, and the working permits of Pinoy housemates who were raised abroad.
ADVERTISEMENT - CONTINUE READING BELOW
But these issues created buzz for the show, thus making the Pinoys feel the presence of Kuya and his housemates.
Bahay ni Kuya had become a tourist attraction. The show's theme song "Pinoy Ako" also becamea sensation and topped the charts. Non-showbiz housemates instantly earned a following. PBB merchandise became bestsellers. The mysterious kuya roused the curiosityof the fanatics. It had celebrity andteen editions, and six seasons to date.
The Hiccup: Ourculture imposed some restrictions on the show. While voyeurism or anycontent of explicit nature on television are not exactly encouraged, suppressingthe actions of the housemates defeat the very purpose of Big Brother.
This had some people asking: Are the housemates acting for real or merely projecting? What's the degree of hypein the show?
Pinoy Idol and Pinoy Dream Academy totally revamped theface of singing contests on television.
Prior to the launch of these localfranchise shows, Pinoy Pop Superstar andStar In A Million had alreadypatterned their formats after the popular singing competitions in the U.S. andin Europe—meaning, the contestants were given training, early exposure; theshows' behind-the-scenes were also aired.
ADVERTISEMENT - CONTINUE READING BELOW
But it's different when you're part of a worldwide craze: Fremantle's American Idol and Endemol'sStar Academy.
It was year 2006 when PhilippineIdol was launched by ABC 5. Ryan Cayabyab, Pilita Corrales, FrancisMagalona formed the local counterpart of Simon Cowell, Paula Abdul, and RandyJackson. Lucena's pride Mau Marcelo was chosen as the winner.
But when GMA-7 bought the rights from Fremantle in 2008, itwas Gretchen Espina, from the prominent political clan of Espinas in Biliran, whowas acknowledged as the first Idol ofthe country.
The transfer, from ABC-5 to GMA-7, was deemed acontroversial topic among Idol fanatics.Critics claimed that ABC-5 did a better job in treating the show production-wise, while GMA-7 fared way better in terms of promotions and publicity.
The initial episodes of Pinoy Idol were criticized for poor audio and stage set-up, choice of the judges (Wyngard Tracy, OgieAlcasid, and Jolina Magdangal) and host (Raymond Gutierrez), and selection ofthe finalist. "Malamya," "sablay," and "trying hard" became the perennialcomplaints.
ADVERTISEMENT - CONTINUE READING BELOW
Viewers noticed the improvement as the season progressed,but controversy surrounded the show again during finale. Although Gretchen gavean awesome performance, the detractors pointed out that she only managed to be partof top three because of the text votes.
Meanwhile, Pinoy DreamAcademy penetrated the scene with less intrigues.
An Academy was built beside the Big Brother House. The scholars were monitored 24/7 and trained bya voice teacher, dance teacher, and even a fitness instructor. The show hadmore element of drama than Pinoy Idol.
The version for kids, who are called Little Dreamers, underwentthe same kind of training on weekends. Twelve of them, whose age ranges from sixto ten years old, got their lessons from voice teachers.
PDA aimedproducing total performers.
The Hiccup: It isthe text voting component which elicits negative feedback. The Pinoys' tendencyto be biased and clannish gets in the way. In the case of American Idol, the deserving idol gets chosen.
ADVERTISEMENT - CONTINUE READING BELOW
But here, it becomes a matter of who can afford to spendmore money on text loads and whose province can commit better support.
Viewers have not yet fully imbibed the craze. And that's thechallenge that both shows have yet to accomplish.
Another thing is, the fanfare should be extended even after bothshows announce their winners. If they can produce another Regine Velasquez,then we all can conclude that the money spent on the franchise fees and royaltyis all worth it.
At present, two reality shows are being aired: the Survivor Philippines and Pinoy Fear Factor.
Survivor has that elementof naturalness and is getting a very satisfactory response from the viewingpublic.
Pinoy Fear Factor,on the other hand, has slightly deviated from the U.S.-version and is off to apromising start.
So far, so good.
And if they don't lose their momentum, let's expect therealiTV fever to stay.
ADVERTISEMENT - CONTINUE READING BELOW