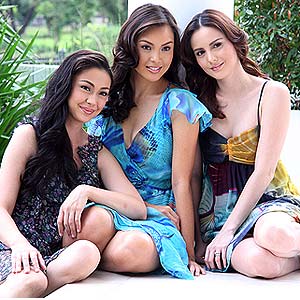 IMAGE 0
---
Malaysian-Chinese actress Carmen Soo is slowly making her own spotin local showbiz. Aside from the televisionseries Kahit Isang Saglit, her local fans will see her on posters and billboards of Petit Monde soon.
The foreign actress and model returned from her short trip to Malaysia lastweek, November 18, in time for the photo shoot of Petit Monde's newest adcampaign for the Holiday season. For this campaign, said Carmen, the company will have materialsfor magazines, newspapers, and other print ads.
During the shoot, the onlookers said that the Malaysianmodel looked classy in the dresses she wore, which complimented her charmingface. Although she had no ideaabout the dresses of Petit Monde, Carmen managed to project its goal forits target market—sweet yet daring, classy yet adventurous.
Carmen entered the modeling industry at age 17. Before Petit Monde, she had already endorsed known products such as Ponds,Pantene and the luxury watch Longines.
ADVERTISEMENT - CONTINUE READING BELOW
To be able to project the clothing brand well, theprofessional actress-model did a quick visit to the brand'sstores and checked out the clothing before the photo shoot.
"I want to understand what Petit Monde stands for, what theessence of Petit Monde," related Carmen. "I spoke to the owners and by getting it better, understanding of it, Iwant to project, you know, the many type of a person."
Then, she talked about how much she liked the clothesbecause it's stylish and at the same time comfortable, which the actress looksfor in every dress she wears.
"Basically, easy dressing," described Carmen. "You do not have to think too much becausewith dress you can go. I want to project that when I shoot, and they wannareally nice sunny, sweet, easy going, shoot so that's really [what I] want try toproject as well."
She also added, "The best thing that I love about it is thatit fits me well, best of all."
ADVERTISEMENT - CONTINUE READING BELOW
COMFORT AND STYLISH. Talking more about her preferred dresses, Carmen continued describingthe clothes she wore during the photo shoot.
"It's easy to pick a dress out and you can put a jacket, andlook a professional. You can wear thiswith sandals, you know, it's a casual dress, you can put a heels and you'reready to go out, you know, for dinner, to party.
"I think it's easy and I think they had a good combinationcomfort, cut and style, and the fabric are comfortable. Because I don't like clothes that might falloff you easily, it fits well and good and comfortable."