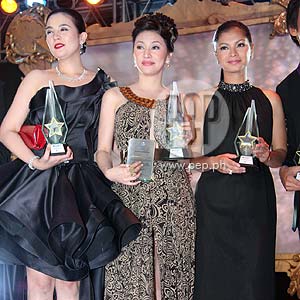 IMAGE 0
---
GMA-7 beat eightlocal channels, including fiercest rival ABS-CBN, to clinch the Best Stationaward in the 22nd PMPC Star Awards for Television. The event, held annuallyby the Philippine Movie Press Club (PMPC), took place last night, November 30, at the SMXConvention Center in Pasay City.
But ABS-CBN was the "runaway" winner in the individual awards. A total of 26 categories by the Kapamilya programs and stars, and some 21 awards went to Kapuso network's banner shows and performers.
The tandem of Angel Locsin and PioloPascual was a big winner for the primetime series Lobo, which wonfor Piolo the Best Drama Actor award. Angel Locsinwon her very first first acting award, the Best Single Performance by an Actress, for the "Pilat" episode of Maalaala Mo Kaya?, which was voted Best Drama Anthology.
Lobo also won as Best Primetime TV Series.
"Lord, aktres na ako!"exclaimed a stunned Angel Locsin. It was a tight contest. Angel was pitted against seniordrama heavyweights like Helen Gamboa, Cherry Pie Picache, Susan Roces, andGloria Romero—who were also nominated for their performances in Maalaala Mo Kaya.
Young star JoshuaDionisio bagged the Best Single Performance by an Actor for Maalaala Mo Kaya's "Sako" episode. Like Angel's, Joshua's victory was impressive,considering the other nominees—Gabby Concepcion, Dolphy, Eddie Garcia, and GaryValenciano—vying for the same honor.
Piolo's counterpart, as Best Actress for a primetimeTV series, was Sunshine Dizon, who won theaward for her lead role in GMA-7's Impostora. It was SunshineDizon's nth time to win the award from the PMPC.
ADVERTISEMENT - CONTINUE READING BELOW
PMPC also gave awards to first-time winners, like New Female TV Personalities Kylie Padilla (of Joaquin Bordado),and Patricia Gayod (of an MMK episode), and New Male TV Personality Robi Domingo (introduced to the public, via Pinoy Big Brother;now a MYX videojock).
For the comedy series, it was Ful House ofGMA-7, and comedian Vic Sotto was voted best MaleHost of Eat Bulaga!. Again, Eat Bulaga! won in the BestVariety Show category, but with a co-winner in ABS-CBN-2's Wowowee. For the best femalevariety show host, the award went to Valerie Concepcion of Wowowee.
Ogie Alcasid won anew as Best Comedy Actor, while Rufa Mae Quinto was voted Best Comedy Actress, forGMA-7's Bubble Gang.
Bitter rivals Eat Bulaga! and Wowowee shared the Best Variety Show award. TAPE Inc.(Television and Production Exponents) lady boss Malou Choa-Fagar received theaward on behalf of the entire Eat Bulaga!staff while ABS-CBN's Head of Corporate Communications Bong Osorio represented Wowowee.
For best game show, ABS-CBN's Pilipinas, Game KNB? and its host EduManzano were both heavy favorites. But it was Edu's son, Luis Manzano, who won the special award as Male Star ofthe Night; and Rufa Mae Quinto, the Female Star of the Night.
GMA-7's Unang Hirit beat ABS-CBN's Umagang Kay Ganda for Best Morning Show.But the Kapamilya show's lady host, Pinky Webb,was indeed a "winner" herself when Edu Manzano, in his speech,acknowledged and thanked her presence. This somehow confirmed the statusof their relationship.
ADVERTISEMENT - CONTINUE READING BELOW
Ditto Angel Locsin and Luis Manzano, in one of their raretogetherness, which proves they're really on (or, as in, "more thanjust friends").
The award won by Ruffa Gutierrez,as Best Female Showbiz-Oriented Talk Show Host for The Buzz was significant, in that she won the award more thana decade after an "infamous scam;" and in a tie with Cristy Fermin also of The Buzz, who'scurrently serving a suspension from her radio and TV hosting. In her acceptancespeech, Ruffa dedicated her award to her daughters, Lorin and Venice.
Ruffa and Cristy's male counterpart is Boy Abunda, another perennial winner, for The Buzz, which also wonBestShowbiz-Oriented Talk Show, and Boy and Kris, Best Celebrity TalkShow/Hosts. But Kris Aquino didn't showup at the awards night.
GMA-7's other awards include: Best Children Show/Hosts (ArtAngel, with Pia Archangel, Tonipet Gaba, KrystalReyes); Best Travel Show (Pinoy Meets World),Best Morning Show/Hosts (Unang Hirit); Best Youth-Oriented Program (BoysNext Door); Best Daytime Drama Series (Sine Novela Presents: Kaputol NgIsang Awit); and Best Musical Variety Show (SOP Rules).
ABS-CBN, on the other hand, also won awards for thefollowing: Best Educational Program/Host (Kim Atienza, of Matanglawin);Best Travel Show Hosts Katherine de Castro, Uma Khouny,Franzen Fajardo, Kian Kazemi, and Jason Gainza (TripNa Trip); Best Magazine Show/Host (Korina Sanchezof Rated K); and Best GagShow (Goin Bulilit).
Other shows, not aired on either Kapuso nor Kapamilya stations,which won this year's Star Awards for TV trophies include: UNTV37's Bitagand Ben Tulfo, for Best Public Service Program and Host; ABC-5's Shall WeDance and Lucy Torres-Gomez (escorted by husband, Richard Gomez), Arnell Ignacio and Dominic Ochoa,for Best Talent Search Program and Host; Q11's Gandang Ricky Reyes:Parlor Game for Best Reality Competition Program and Host; Q11's LivingIt Up and hosts Raymond Gutierrez, IssaLitton, Sam Oh, and Tim Yap, for Best Lifestyle Show; Studio 23's Y Speak (BestPublic Affairs Program); Q-11's Hot Seat, Best Host, Jessica Soho.
ADVERTISEMENT - CONTINUE READING BELOW
For the special awards, Ms. Rosa Rosal, of the PhilippineNational Red Cross and best known for hosting the publicservice programs, Damayan and Kapwa Ko, Mahal Ko , and thecomedy show, Iyan Ang Misis Ko, received the Ading Fernando LifetimeAchievement Award. Ms Rosal was joined by fellow veteran actresses of LVN Pictures, Ms. Delia Razon and Ms. Lilia Dizon, as they reminisced some "good old days."
Another special awardee was Sen. LorenLegarda, who received the Excellence in Broadcasting Award, and,together with Rosa Rosal, was serenaded onstage by singer-comedian, OgieAlcasid.
Presented by the Philippine Movie Press Club (PMPC), the 22ndStar Awards for Television is produced by M. R. Productions, incooperation with Airtime Marketing, Inc. Overall direction is by Al Quinn with Lito Calzado asstage director. It was hosted by Paolo Bediones, JudyAnn Santos, Anne Curtis and Gabby Concepcion, with DingdongDantes and Iza Calzado as triviahosts.
A delayed telecast on primetime TV-5 is scheduled tomorrow, December 2, from 8 to 11 pm.
Here is the completelist of winners and the corresponding categories:
Best Children Show - Art Angel (GMA-7)
Best Children Show Host- Pia Arcangel, Tonipet Gaba, and Krystal Reyes (Art Angel, GMA-7)
Best EducationalProgram - Matanglawin (ABS-CBN)
Best EducationalProgram Host - Kim Atienza (Matanglawin,ABS-CBN)
Best Travel Show - Pinoy Meets World (GMA-7)
Best Travel Show Host -Katherine de Castro, Uma Khouny, Franzen Fajardo, Kian Kazemi, and JaysonGainza (Trip Na Trip, ABS-CBN)
Best RealityCompetition Program - Gandang RickyReyes: Parlor Game (Q11)
ADVERTISEMENT - CONTINUE READING BELOW
Best RealityCompetition Program Host - Ricky Reyes (GandangRicky Reyes: Parlor Game, Q11)
Best Lifestyle Show - Living It Up (Q11)
Best Lifestyle ShowHost - Raymond Gutierrez, Issa Litton, Sam Oh, and Tim Yap (Living It Up, Q11)
Best Morning Show - Unang Hirit (GMA-7)
Best Morning Show Host -Arnold Clavio, Susie Entrata-Abrera, Lyn Ching-Pascual, Rhea Santos, JolinaMagdangal, Rhea Santos, Jolina Magdangal, Winnie Monsod, Oscar Orbos, RegineTolentino, Drew Arellano, Eagle Riggs, Love Anover, and Lhar Santiago (Unang Hirit, GMA-7)
Best Public AffairsProgram - Y Speak (Studio 23)
Best Public AffairsProgram Host - Jessica Soho (HotSeat, Q11)
Best Magazine Show - Rated K (ABS-CBN)
Best Magazine Show Host- Korina Sanchez (Rated K, ABS-CBN)
Best DocumentaryProgram - I-Witness: The GMADocumentaries (GMA-7)
Best DocumentaryProgram Host - Kara David, Howie Severino, Sandra Aguinaldo, and Jay Taruc (I-Witness: The GMA Documentaries, GMA-7)
Best DocumentarySpecial - Signos: Ang Banta ngNagbabagong Klima (GMA-7)
Best Public ServiceProgram - Bitag (UNTV)
Best Public ServiceProgram Host - Ben Tulfo (Bitag, UNTV37)
Best News Program - TV Patrol World (ABS-CBN)
Best Male Newscaster -Julius Babao (TV Patrol World,ABS-CBN)
Best Female Newscaster -Vicky Morales (Saksi: Liga Ng Katotohanan,GMA-7)
Best Youth-OrientedProgram - Boys Nxt Door (GMA-7)
Best Horror or FantasyProgram - Volta (ABS-CBN)
Best Talent SearchProgram - Shall We Dance (TV5)
Best Talent SearchProgram Host - Lucy Torres-Gomez, Arnell Ignacio, and Dominic Ochoa (Shall We Dance, TV5)
Best New Male TVPersonality - Robi Domingo (ASAP '08,ABS-CBN)
ADVERTISEMENT - CONTINUE READING BELOW
Best New Female TVPersonality - Patricia Gayod (Maalaala Mo Kaya, "Dagat" episode, ABS-CBN 2) andKylie Padilla (Joaquin Bordado,GMA-7)
Best Celebrity TalkShow - Boy and Kris (ABS-CBN)
Best Celebrity TalkShow Hosts - Boy Abunda and Kris Aquino (Boyand Kris, ABS-CBN)
Best Game Show - Pilipinas, Game KNB? (ABS-CBN 2)
Best Game Show Host - EduManzano (Pilipinas, Game KNB? ABS-CBN)
Best Gag Show - Goin' Bulilit (ABS-CB)
Best Showbiz-OrientedTalk Show - The Buzz (ABS-CBN)
Best Male Show-OrientedTalk Show Host - Boy Abunda (The Buzz,ABS-CBN 2)
Best Female Showbiz-OrientedTalk Show Host - Cristy Fermin (The Buzz,ABS-CBN 2) and Ruffa Gutierrez (The Buzz, ABS-CBN)
Best Comedy Show - Ful Haus (GMA-7)
Best Comedy Actor -Ogie Alcasid (Bubble Gang, GMA-7)
Best Comedy Actress -Rufa Mae Quinto (Bubble Gang, GMA-7)
Best Primetime TV Series - Lobo(ABS-CBN)
Best Drama Anthology - Maalaala Mo Kaya (ABS-CBN)
Best Variety Show - Eat Bulaga!(GMA-7) and Wowowee (ABS-CBN)
Best Musical Variety Show - SOPRules (GMA-7)
Best Male TV Host - Vic Sotto (EatBulaga! GMA-7)
Best Female TV Host - ValerieConcepcion (Wowowee, ABS-CBN 2)
Best Drama Actor - Piolo Pascual (Lobo,ABS-CBN)
Best Drama Actress - Sunshine Dizon(Impostora, GMA-7)
Best Single Performance By An Actor - JoshuaDionisio (Maalaala Mo Kaya "Sako" episode, ABS-CBN)
Best Single Performance By An Actress -Angel Locsin (Maalaala Mo Kaya "Pilat" episode, ABS-CBN)
Best Station - GMA-7
Annual Special Awards:
Ading Fernando Lifetime Achievement Award -Ms. Rosa Rosal
Excellence in Broadcasting Lifetime Achievement Award- Sen. Loren Legarda
ADVERTISEMENT - CONTINUE READING BELOW