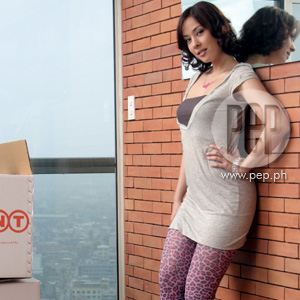 IMAGE 0
---
When the statuesque Filipino-Austrian Cynthia Christina "Cindy" Kurleto came to the Philippines in 2001, she was looking for a second home. She had just graduated from a university in Vienna, Austria, with a degree in hotel and restaurant management. Her parents, Faustina Verdillo and Friedrich Kurleto, were divorced. Cindy went to Legazpi, Albay, for a six-month vacation to discover her roots.

She did not really have her eye set on showbiz. But while getting to know the culture that her mother Faustina proudly talked about, the 5-foot-7 Cindy toyed with the idea of commercial modeling to keep herself preoccupied. So she hied off to Manila to join a long queue of wannabes auditioning for a print ad cum TV commercial.

That's how she got chosen as the Palmolive shampoo girl. And that's what
opened doors that eventually led to her current showbiz career as actress, TV host, and one of FHM Philippines' 100 Sexiest Women in the World for four years running.

When Cindy was still enjoying her five minutes of fame as the Palmolive girl, she received sudden, unfortunate news. Her mother had suffered a brain aneurysm—an abnormal widening of an artery or vein in the brain—and lay comatose in a hospital in Vienna. Cindy flew back to Austria, arriving there on her birthday, April 21. But by then her mother had already passed away.

Cindy says of her mother's aneurysm: "Biglaan. She wasn't sick or anything—or else, I wouldn't have left Vienna for a vacation."

A grieving Cindy returned to the Philippines and busied herself with work. "I decided to stay here instead," she recalls, "because going back home to Vienna would have made it so obvious that there is a void in my life, a hole in my life. So I found a second home in the Philippines, and I enjoyed it a lot, so I stayed na."
ADVERTISEMENT - CONTINUE READING BELOW

GETTING INTO SHOWBIZ. Cindy got her first crack at showbiz when she was tapped to co-host ABS-CBN's Masayang Tanghali, Bayan. She was with the noontime show for more than a year. When it went off the air, she was taken in as MTV veejay.
It wasn't long before she was offered her first acting role as a kontrabida in the GMA-7 soap Forever in My Heart, making life miserable for the bida, Regine Velasquez.

With her Tagalog improving day by day, Cindy found herself being cast in a variety of roles—as a lovestruck ghost in the drama-romance series Love to Love, the clairvoyant fairy Cassiopeia in Encantadia and its sequel Etheria, and the Pinay-Austrian Greta, the love interest of bossing Vic Sotto in the sitcom Daddy DiDoDu.
It was through the sitcom that Cindy met Malou Choa-Fagar, chief operating officer of TAPE Inc., which produces the country's longest-running noontime show, Eat Bulaga! Malou gave Cindy another chance at hosting.
Being included in the Eat Bulaga! ensemble makes her "very, very happy," Cindy says. "They are the most comfortable people to work with. Unang-una, it doesn't feel like work at all. It feels like a family. Even if I had personal news that I wanna share, I'll share it first with them, my co-hosts. I really consider them as a barkada, as a clique, as friends. I'm very loyal to them."

Now that Daddy DiDoDu has seen its final season, Cindy is moving on to a new phase in her life. Doing the sitcom was fun, she says, but now she wants to do something different. "I enjoyed very, very much to be Greta for three years. I love comedy, but I haven't done drama for a long time. Gusto ko naman ng drama role ngayon."
ADVERTISEMENT - CONTINUE READING BELOW

She has also decided to sell the condominium she bought with her showbiz earnings.

"To leave this place behind is like leaving behind a lost child. But there's always something bigger and better, and I know why I'm giving this up. It's actually kinda sad moving out. But moving on is always good. There's always something bigger and greater out there."