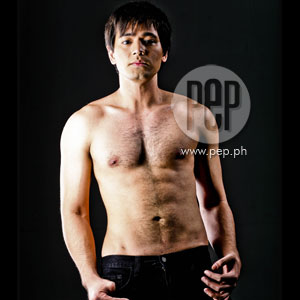 IMAGE 0
---
The boyfriend of cosmetic surgeon Vicki Belo has the looksthat make women swoon: high cheekbones, impish smile, Oriental eyes. As hedemonstrated on GMA-7's recently concluded show Celebrity Duets, where he was one of the contestants, Hayden easilyslips into a child-like persona when he entertains his fans. But once outsidethe glare of the spotlight, he turns into somebody else.
"There are many sides of me," he says. "It'seasy to judge me and conclude that I am such a childish person. But there is adeeper side of me. No one knows the Hayden who meditates. No one knows theHayden who reads two to three books a month."
He doesn't really mind the child tag:
"To think of me as childish is a compliment because,that part of me, I don't wanna lose touch with." But he stresses that there'smuch more to him than that.
"I am a boy, I am a man, I am a gentleman, I'm aknight, and I am a hero. So, that's the full range of who I am. But if there'sone word-if there's one word and one animal-to really describe me, I think I'ma bull. I'm a bull in the sense that, give me a firm spot on which I can stand,and I shall move the world."
Spoken like a true Taurus (born May 20, 1980).
CHOPSUEY MAN. The 27-year-old Hayden is the fourth of fivesiblings that include Loewen, 31, a computer engineer; Sherryl, 30, a physicaltherapist; Aileen Rose, 28, a nurse; and Richard Allen, 24, a mechanicalengineer. Their father, Hayden Kho Sr., is also a doctor, while their mother,Irene de la Santa, is a businesswoman. The mother is a Spanish-Filipina; thefather, pure Chinese.
"That makes me," Hayden says with a boyish grin,"chopsuey."
The chopsuey man is a medical doctor- a cosmetic surgeon, tobe precise. He was a ramp model at 17, taking on occasional modeling jobs fordesigner Pitoy Moreno, among others. He decided to take a break from modelingto devote himself to his studies.
ADVERTISEMENT - CONTINUE READING BELOW
Following in his father's footsteps, he took up medicine,graduating from the University of Santo Tomas medical school in 2005. He tookthe medical board exams two years later, and became a full-fledged M.D. lastFebruary.
Though he has a lot of interests, he considers medicine hisgreatest passion-and his true calling. "I'd like to make it clear that myfirst love is medicine," he says. "And this is what I feel I'm herefor. My life is devoted to cosmetic surgery, to make people beautiful and feelbetter about themselves."
Hayden took his internship at the Makati Medical Center, buthe says he also did a good deal of self-study. "During the time I was anintern, I was studying cosmetic surgery by myself. I mean, no one had to pushme to study these things, 'cause I was really interested about thesethings."
After his internship, he studied to be a diplomate inanti-aging medicine in Europe. "There's no specific school, because thebatch rotates around European countries and we follow-Greece, Nice, Paris, andeven Shanghai. That was two years ago."
He hasn't taken the diplomate exam yet, because that wassupposed to be last October, which was about the same time he was doing Celebrity Duets. So he will most likelytake the diplomate exam in May 2008. (In medicine, a diplomate is, according toMerriam-Webster's Medical Dictionary, "a physician qualified to practicein a medical specialty by advanced training and experience in the specialtyfollowed by passing an intensive examination by a national board of seniorspecialists.")
Aside from his studies in anti-aging, he also trained inliposuction with his girlfriend, Dr. Vicki Belo, one of the pioneers ofcosmetic surgery in the country. "I really had a very good training. I'dlike to think that I was trained by the best, especially in liposuctionsurgery. Vicki Belo is the best in liposuction surgery, one of the top 10cosmetic-surgery procedures in the world. And to be trained by someone like heris, of course, an honor to me and something that I'm really proud of."
ADVERTISEMENT - CONTINUE READING BELOW
BALANCING ACT. Whiledoing Celebrity Duets—where theeventual winner was society columnist Tessa Prieto-Valdes—Hayden took time offfrom his medical practice to concentrate on his singing. "Even if youdon't rehearse," he says, "even if you sing only once a week, ittakes a lot of energy, and you will tend to be off-balance. You will tend totip off. So, that's what I'm trying to do every day- balance, balance,balance."
Balance is something Hayden is obsessive about. That'sbecause he's a multitasker whose nonmedical interests, hobbies, and activitieswill leave you breathless.
For one thing, he's on his way to becoming a polyglot."I'd like to learn new languages. I speak English well. I speak Tagalog. Ispeak a little Chinese. I speak Portuguese. I'm learning Spanish, and I'mlearning French. "
As evidenced by his Celebrity Duets gig, he's very musicallyinclined. "I liked music when I was high school. I self-studied the piano.I know how to play a little violin. I know how to play a little guitar. But I'mnot really good—very, very good—at any of these instruments. It's just to sayna gusto ko lang sila."
Hayden is also a bibliophile. He reads two to three books amonth.
"My favorite books are metaphysical books, my spiritualbooks. I like self-help books. I like novelty. I also like novels, pero maikli lang."
His interest in literature has led to some interest inwriting, but he admits that he finds it difficult to write: "My oneweakness is putting thoughts into words, especially in writing, because myhands are not fast enough to jot down all the thoughts in my head."
He compensates for his lack of writing skills with his otherartistic interest- drawing. "I'd like to think I'm good at drawing faces,especially eyes of women. I'd like to sketch, yes. And I'd like to trysculpture and, of course, painting."
ADVERTISEMENT - CONTINUE READING BELOW
Along with all these activities, he squeezes in some timefor exercise, which he does religiously. "I go to the gym regularly,M-W-F, 6:30 in the morning, before I go to work. And then, every Thursday andSunday mornings, I play squash with my girlfriend."
He likes to teach. "I like to teach what I know. I liketo teach what I have found for myself to be true. For example, the religion Ifollow. The religion that I myself sort of fabricated."
THE BELIEVER. Hayden's"fabricated" faith may raise the eyebrows of followers of organizedreligion. It's not a religion in the strictest sense-not the kind withorganized rituals, but more like a principle or basic belief that he lives by.
"I've read about a lot of religions. I've read aboutatheism. I read about Catholicism, Christianity, Buddhism, and Hinduism-tryingto find my own religion. And then I just found it funny that whenever we prayto God, 'tapos humihingi tayo ng mga bagay-bagay, parang weird lang, kasiminsan ibibigay, minsan hindi. 'Tapos, hindi mo alam bakit ibinigay, bakithindi."
His soul-searching led him to the belief that "there'sonly one single universal soul," as he puts it.
"You can't say my soul is better than yours. But todistinguish yourself as an 'I'-ibig sabihin, ako-is to separate yourself fromthe rest. And from that separation comes jealousy and comparison and grief andanger, di ba? No'ng ginawa ni God 'yong universal soul, dinistribute niya intomany individual people, into many forms of faith, which is us."
Hayden could go on and on with these theological andphilosophical musings. To make a long disquisition a bit shorter, he hasarrived at the belief that everything we do could ultimately be for the benefitof the universal soul.
"Naisip ko lagi sa sarili ko, what if every word I say,every thought I have, every deed I do, brings benefit to the whole world? So,parang nagkaroon ako ng peace. And then, ganyan na, parang, kahit ano namangyari, kahit good o bad, hindi na 'ko humihingi ng kahit ano kay God. Parangfeeling ko kasi, nasa loob ko na siya."
ADVERTISEMENT - CONTINUE READING BELOW
Despite this belief, he continues to attend church service.But he does not limit himself to just one church. "I can go to any churchbecause the teachings are okey naman, e. Tama naman kasi ang mga 'tinuturo, e.Pero wala akong sinusundan religiously. I follow my own religion. And myreligion basically is: the Lord is inside me. I need not ask anything. If Iwant something, then I will make it happen."
Hayden's thinking has obviously been influenced by the Lawof Attraction, a New Age philosophy that says that whatever you think willhappen, will happen. Made popular by Rhonda Byrne's book The Secret, the Law posits that you can get whatever you want ifyou say you want it.
"Only thing I have to do is put it in my head, say itonce, never tell any other soul about it, and then in one week it will happen.And it does-lahat ng intentions ko, lahat ng ni-list-down ko na gusto ko. Ididn't even have to work for it. I just wrote it down. I just said it once. Andthen it happened all in one year. All in one year."
But first, Hayden says, a person should find peace withinhimself. "Para kahit anong mangyari sa 'yo, okey lang. Matalo ka sa Celebrity Duets, maaksidente ka, mawalanka ng boses, mapango ka, magkasakit ka, masunog bahay mo-everything should beokay because everything is falling into place the way you want it to, the wayyou attract things to yourself.
"Now, a piece of caution lang. Hindi lahat naman ngmabuti, in the end maganda ang kakalabasan. Hindi naman lahat ng masamangnangyari, in the end masama talaga, e. Sometimes it's all for the better. Hindienough na alam mo 'yong gusto mo. Kailangan sa lahat ng nangyayari sa 'yo, atpeace ka. Parang 'Okey lang, okey lang lahat.' Dapat gano'n."
ADVERTISEMENT - CONTINUE READING BELOW
He considers three figures as his mentors in his spiritualbeliefs.
"I learned, number one, from Jesus Christ. And Ilearned from the Hindu god Shiva. And I learned from Einstein. The fibers oftheir beings are now running through my fibers. They are inside me, and I knowthat. And any time I want their intelligence, it will come to me in the snap ofa finger. That's how confident I am. That's how spiritual I'd like to think Iam. If I want the intelligence of Einstein today, right this moment it willcome to me."
BOYFRIEND. Deepspiritual discussions, Hayden says, are favorite bonding activities between himand Doktora Vicki. "The main reason why we got along pretty well isbecause we are both interested in these things." But he makes it clearthat, more often than not, it's he who influences his girlfriend. "SiVicki is very in touch with her spirituality. But 'yong mga original thoughts,genuine thoughts, mga bago—madalas ako 'yong nagtuturo sa kanya. It's not theother way around."
From the way he talks about his girlfriend of two years, youcan see that he's clearly head over heels in love with her. He loves everythingabout her because he accepts her for who she is. He believes that acceptance isvery important to keep a relationship going.
"Don't try to change her. Love everything about her—ifshe's childish, if she's nakakainis paminsan-minsan, matigas ang ulo o ano. Youhave to love everything about that person so that you find everything cute. Kung nagseselos man—ay, cute!
"That's how I feel about Vicki. I love everything abouther, including her childishness, her pagiging spoiled brat, her pagigingmasakit minsan magsalita, pagiging straightforward, pagiging tough and sobrangquick-witted. I love everything about her. Kahit nagta-tantrums yan, kahitnag-aaway na kami, titingnan ko lang 'yan—ay, naku, ang cute-cute motalaga!"
ADVERTISEMENT - CONTINUE READING BELOW
Like any other couple, they've had their share ofdisagreements. But they make up for it by the small things they do for eachother. He gives an example: "I don't know how to cook. But may time Iprepared a full dinner for her avant-garde na cooking, ha, hindi 'yongbasta-basta. That was Christmas. Then, of course, umiyak siya, kasi 'yon palaisa sa mga dreams niya."
It was for Vicki that Hayden joined Celebrity Duets, the unique singing contest hosted by Ogie Alcasidand Regine Velasquez. This was Hayden's harana for Vicki. "This was aninvitation to me by GMA-7, and I declined. And then she goes, parang, 'O, akalako kakantahan mo 'ko?' Okay, sabi ko, This is what I'm gonna do. I'm gonna singin public for you.'"
One thing he likes about Vicki, he says, is that she has notlost touch with her innocence and childishness. Despite the age gap betweenthem—she's 50, he's 27, just a little bit older than Vicki's son Quark, 26, andher daughter Cristalle, 24—he can say of his girlfriend: "Mas bata pa saakin 'yan, e. Mas matanda pa 'ko diyan, e."
He understands, though, that no matter how much he says heloves Vicki, many people will still doubt his sincerity, precisely because ofthe huge age difference. Society may be comfortable with the idea of a50-year-old man having a 27-year-old girlfriend, but people turn snide when thegenders are switched.
"Hindi naman usual relationship 'yong makikita ng mgatao, e," Hayden says. "They will see a May-December affair. Thesepeople na kumukutya sa amin, tumitira sa amin, they can't find their peace.They can't I don't know what's wrong with them. Hindi ko ma-gets kung bakitkailangan kaming siraan, kailangan kaming tirahin. They just can't find theirpeace. And I hope they'll find their peace."
ADVERTISEMENT - CONTINUE READING BELOW
Once the critics "find their peace," will Haydenmarry Vicki? Only time can tell.
"It will come," Hayden says. "It willcome.