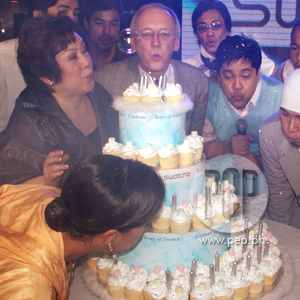 IMAGE 0
---
LastDecember 3, in celebration of Swatch's 25 years of giving the world inexpensivebut stylish and durable watches, Gift Gate—the merchandising company thatexclusively distributes Sanrio items and Swatch watches—opens its new Swatchstore in Greenbelt 5 in Makati City with a launch party held at The Gallery ofGreenbelt 5.
Theevent was attended by Manila's fashion elites, celebrities, Gift Gate'sfriends, supporters, and models.
SWATCH THESAVIOR. Backin the early '80s, the Swiss watch industry was suffering from its Asian competitors. Quartzwatches made in Japan, Hong Kong and other Asian countries were hurting the Swisswatch industry so much that it had to cut down its production and employment of90,000 people (in the 1960s) to 35,000 (by the early 1980s).
EnterNicolas G. Hayek, owner of a Swiss business consulting firm. He assessed thesituation, put down his money, and in 1982, started Swatch—the Swiss watch companythat produces fashionable and quality Swiss watches. Its main difference fromother Swiss watches is its use of durable plastic for its casing (well-knownand expensive Swiss watches like Longines, Breguet, Blancpain, Omega, Tissot, andOris have metal casings).
Whilenot getting the title of being the first Swiss watch made of plastic (M-Watchby Mondaine of Zurich beat them to it a week ahead), Swatch is the first Swisswatch to use its casing as not only an outer shell but also as a mounting platefor its 51 parts (a normal quartz watch has 91 parts).
Fromthe first models sold in 1983, Swatch watches have already sold 300 millionplus units around the world which greatly helped the Swiss watch industry tocatch up with its Asian competition.
SWATCH REACHESTHE PHILIPPINES.Gift Gate—owned by pop culture retailer Virgie Ramos—started distributingSwatch watches in the early '90s with celebrities like Mikee Cojuangco (firstSwatch Girl), Rachel Alejandro, Lea Salonga, Pops Fernandez, Martin Nievera,Gary Valenciano and Geneva Cruz, as endorsers.
ADVERTISEMENT - CONTINUE READING BELOW
Sincethen, it has become one of the most sought-after items by the fashion-consciousand those who want reliable, durable and stylish watches. Swatch became one ofthe top-selling products sold in Gift Gate that it later on had to have its ownstore.
Today,its latest store not only carries the new models (under the Swatch Beat and SwatchBijoux lines) but also has the all-time favorites and classics such as theMaxi, the Pop, the Skin, the Chrono and Irony (Swatch watches in metal casingsthat came out in 1995).
THESCENE IN THE PARTY. Guests arrive in almost all-white ensemble for the 25 Yearsof Chillin' party theme. Former actor and now stage and musical director RoelSantiago was judged most fashionable male of the night, while TessaPrieto-Valdez in an ice princess inspired get up with matching Hello Kittyhandbag wins the most fashionable female of the night award.
Celebswho also model Swatch such as Billy Crawford, Martin Nievera, ChristianBautista and Rico Blanco performed.
Forphotos of the event, click here . For videos from that event, click here .