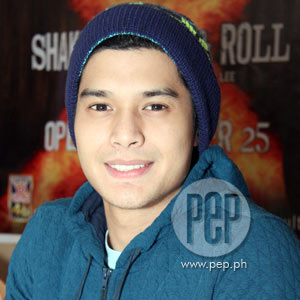 IMAGE 0
---

With Christmas justaround the corner, PEP (Philippine Entertainment Portal) went around and askedsome of our local celebrities about their usual practice onChristmas Eve. Like most of us, showbiz personalities go the traditional Pinoy way—celebrating Christmas with family and close relatives.

KRISTARANILLO. Christmas this year for Krista Ranillo and herfamily will be different as they chose to spend it here in the country insteadof flying overseas. Krista excitedly told PEP: "Here! Usually kasi we spend itin the States, in San Francisco, because my brother is based there but nowumuwi siya dito so we're gonna spend Christmas here before they go back to theStates."

Krista is seen onABS-CBN's afternoon drama program, Pieta.She's also part of TV5's cutting edge series, Hush Hush. The daughter of actor Mat Ranillo III makes a cameoappearance in the upcoming Metro Manila Film Festival entry, Iskul Bukol: 20 Years After.

ANGELUDE LEON. As a mother, actress Angelu de Leon understandsfully well the significance of the festive season to her two children, Nicoleand Louise. "Of course with my family and with my two beautiful children," saidAngelu when asked on how she's planning to spend the upcoming holiday.

Angelu has yet to decidewhether to go out of town or simply stay home. "Maybe house lang," she said. "I don't know it yet. I haven't planned it with them."

Explaining their usualpractice, the former teen star offered: "Very traditional, very family-oriented." The holidays are a good time for Angelu and her kids to go out of town to unwind and spend quality time together. But if that's not possible she and her kids are fine in Manila.

JCDE VERA. 2008 is a busy year for La Lola and Shake, Rattle andRoll star JC de Vera. In fact he's planning to take a much needed vacationafter Christmas before buckling down to work again. But before that, JC willspend time with his family.
ADVERTISEMENT - CONTINUE READING BELOW

"Tulad ng ginagawa ko every year kasama family ko,walang definite plans pa ngayon. Pero 'ayon, with family and relatives talaga."

NIÑAJOSE. With all the blessings that came her way, statuesqueactress Niña Jose simply couldn't ask for more. On top of her plans come Christmas day is to hear mass andthank God for a productive year.

"Gusto ko magsimba pararin thank you kay Lord sa lahat ng binigay niya sa 'kin," she told PEP(Philippine Entertainment Portal) in an interview.

Niña Jose is part ofRegal Entertainment's 2008 Metro Manila Film Festival entry, Shake, Rattle and Roll X under the direction of Mike Tuviera and Topel Lee.

MARCOALCARAZ. Hunky actor Marco Alcaraz of Shake, Rattle and Roll X will have an unusual Christmas this year. On his sister's invitation, Marco will visit New Zealand instead offlying home to Cebu like he used to.

"Kasi flight attendantsiya [Marco's sister] so nag-request siya na samahan ko siya dunkasi first time niya malayo sa family," shared Marco, who described his role inthe popular horror flick as "malanding aswang."

JAY-R.ThePrince of R&B, Jay-R, will immediately return to Los Angeles,California after the Metro Manila Film Festival parade on December 24. Jay-R,who is part of Desperadas 2,cited work as the main reason he doesn't fly overseas as much as before, when he was jut starting out in the business.

As a ninong, Jay-R describeshimself as "generous." He spoils his godchildren with attentionand time, rather than simply giving them money or other material stuff. "I want to spendtime with them po," he said candidly, "and really take care of them po likepakainin sila."

Jay-R's Christmas albumHoliday of Love is released under hisown Homeworkz Record label.

KYLA.Comingfrom a large family, R&B Princess Kyla says that Christmas is a one bigfamily affair. Kyla (Melanie Hernandez Calumpad in real life) spendsChristmas Eve in her Bulacan hometown together with her entire family and other relatives. They welcome the birth ofChrist with the traditional noche buena.
ADVERTISEMENT - CONTINUE READING BELOW

Kyla's boyfriend, cager Rich Alvarez, visits her a few hours beforemidnight. Asked if she sees herself doing the other way around, Kylasheepishly smiled and said: "Hindi ako marunong mag-drive, e, kaya di ko siyamadadalaw. Siya na lang dumalaw sa 'min."

Heart2 Heart, Kyla's seventh album under EMI Philippinescontains a bonus track titled, My GrownUp Christmas Wish.

RICOBLANCO. Even a rocker like Rico Blanco loves Christmas. In aconversation with the prolific singer-songwriter last month, Rico shared thatChristmas for him is a time for giving and sharing. "That's what Christmas isall about naman, di ba?" he asked back. "But what's so nice about the Season isthat it binds families together in celebrating the birthday of our Creator. Ako,well like most of us, I spend the special day with my loved ones."

Rico Blanco's solo debutalbum Your Universe is releasedunder Warner Music Philippines.