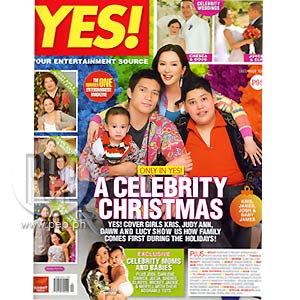 IMAGE 0
---
YES! magazine celebratesthis year's merry Season by featuring four well-known celebrity families—all gladlysharing their Yuletide tradition and what it means to them.
The magazine's offering surely hitshome as it vividly paints the spirit of Christmas as we Pinoys practice it; that is, by celebrating the Season with the entire family.
Gracing the cover isKris Aquino together with cager husband James Yap and sons Josh and Baby James.
"Ang Christmas Eve namin this year, hindi pa namin nade-decide," said Krisin the interview. In light of former President Corazon "Cory"Aquino's ongoing bout with colon cancer, Kris revealed how they altered theirusual routine on Christmas Eve: "Always talaga before, it was in my mom'shouse. So, since she doesn't stay there now, I don't know if it will be in myhouse or my sister's house."
The feature reveals aninteresting facet of the game-show host—her fascination withChristmas trees. YES! writes, "Kris ended up buying trees of five different colors—green,blue, orange, magenta, and yellow green." A proud Krisallowed YES! to take pictures of thetrees complete with interesting background stories behind the purchase.
ADVERTISEMENT - CONTINUE READING BELOW
Other celebrityfamilies who share their Christmas traditions are Judy Ann Santos and her MommyCarol, Dawn Zulueta together with husband Anton Lagdameo and son Jacobo, and Richard Gomez withwife Lucy Torres and daughter Juliana.
BABIESAND MORE. Making the issue even more heartwarming are the celebrity moms and their adorable babies. Catch a glimpse of JodiSta. Maria with son Thirdy, Carlene Aguilar with bundle of joy Calix Andreas,Danica Sotto and six-month-old Jean Michel, Julia Clarete and her rockertot Tepid, Sheree and the lovable Gian Haley, Gladys Reyes and her two kidsGian Christophe and Gianna Sommereux, Mickey Ferriols and the cheerful BrentMarcus, Jackie Forster with her active two-year-old son Jared Alfred, MeryllSoriano together with "happy baby" Elijah, and Camille Prats and her "pilyo"chubby-cheeked baby, Nathaniel Ceasar.
YES!also presents the films competing in this year's Metro Manila Film Festival (MMFF)by giving readers a sneak peek via movie stills, synopses and other interestingtidbits.
ADVERTISEMENT - CONTINUE READING BELOW
Get the December 2008issue of YES! magazine in leading bookstores and magazine stands nationwide.