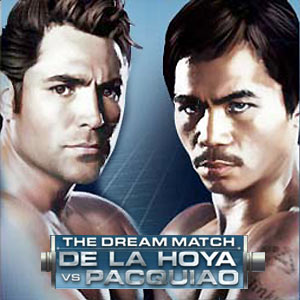 IMAGE 0
---
Dubbed as "The Dream Match" between two of the world's greatest boxers, the fight ended as a nightmare for one of them.
Best pound-for-pound fighter and Filipino boxing pride Manny"Pacman" Pacquiao went head to head with former Olympic gold medalist Oscar "Golden Boy" de la Hoya earlier today, Sunday, December 7 (Saturday, U.S. time). Severelydisadvantaged, Manny prepared for the fight of his career, his country, and hishonor. And he ended up triumphant.
The MGM Grand Garden Arena in Las Vegas was jampacked withsupporters for each fighter as they eagerly await history in the making. Ring announcer Michael Buffer climbed up thering and introduced the fighters to ringside.
De la Hoya, four-inches taller than Manny, came in hypedup and looking too serious. In contrast to Oscar's demeanor, Manny came out from the dugout to the ring wearing a calm smile and looking refreshed andrelaxed, as if carrying a nice surprise for his opponent.
And surprise his opponent he did as Manny dominated thefight as early as 5 seconds on the first round.
Read on to find out.
THE FIGHT
Round 1 starts withthe two fighters carefully analyzing each other from afar as they both tried toensnare the other with jabs and fakes. Manny's left-right combination lands thefirst head punches of the night as Oscar slightly staggers but immediatelyrecovers. Oscar is mainly on defense for this round and it ends with Manny in control.
Round 2 openswith jabs from Oscar to Manny but only hits air. Manny just dances,bobs and weaves out of the way. Discontented with Oscar's performance, Mannygives him a left hook to the face. However, it only lands on a small part ofThe Destroyer's chin. Not quite done yet, Manny follows it up with jabs.
ADVERTISEMENT - CONTINUE READING BELOW
Round 3 lookslike bad news for Oscar as a cut on the bridge of his nose becomes visible. This time Oscar takes the offensive position and rushes Manny with jabs but thisassault does nothing but amuse Manny as he answers with a leftstraight to Oscar's face. Oscar cannot answer with his own combo and resorts tojabs, which are shrugged off by Manny again. He retaliates by giving Oscar a nicebody shot. Oscar fights back with attacks that only lands on Manny's defense. Theround ends with Manny again on the advantage.
Round 4 opens withtwo straights from Manny that hit home. A left jab also lands. Right straight fromOscar lands on Pacman's face. Manny answers and gives a 3-combo on Oscar but it does nothing serious. A solid left hook lands on Oscar's face and he retreats onthe ropes. Another left from Manny weakens De la hoya's defense. Manny getswarned by referee for low shots.
Round belongs to Manny again. Manny may not be doing enoughdamage on Oscar physically but his speed and aggression help contain Oscar'sweapons.
Round 5 startswith jabs from Manny and Oscar and all just land on each other's defenses. Leftstraight from Manny snaps Oscar's head upward. Oscar can't hit back. Lightning-strike punches from Manny fail to land on Oscar but Oscar can hardly strikeback with anything more than a jab as Manny's speed becomes overwhelming. Left hookfrom Oscar just too slow for Manny and he evades with ease. Pacman releases 4on Oscar but fails to get a solid hit. Round belongs to Manny yet again.
ADVERTISEMENT - CONTINUE READING BELOW
Round 6 shows Oscarwith a swelling on his left cheek. Oscar gives a right straight to Manny's chest butresults in nothing. They circle and jab each other. Manny concentrates on opponent's body;the same with Oscar. Jab and left from Manny gives Oscar trouble. Another left demoralizesOscar and his defense wanes. Two left straights on Oscar's face on the finalseconds seem to insult him and he charges. Manny gets away, thanks to the bell.
Round 7 startswith Manny giving jabs to Oscar. Manny's jabs open Oscar's defense and Mannygives him a body shot. Left cross and an uppercut from Manny weakens Oscar. Onceagain on the ropes, Oscar staggers and he is followed by a left cross. Mannyfollows with a left hook on body and it gives Oscar pain. Left combo againcourtesy of Manny gives Oscar hell. Uppercut from Manny gives the round an exclamationas if saying, "I am still in control!"
Round 8 shows Oscar'sleft eye swollen and bloody from the last round. Oscar on defense again fromjabs. Body shots once again put Oscar on the ropes. Left body shot to Oscar. Oscaronly jabs, no straights no nothing. Fakes from Manny scares Oscar. Cornered Oscar is saved from total annihilation by the bell.
Round 9 hasnothing to offer as Oscar throws in the towel. He's had enough.
Pacquiao did not only win their match, but also earned the respect of his opponent. After the match, Manny told Oscar, "You're still my idol." But Oscar told Manny, "No, now, you are my idol."
ADVERTISEMENT - CONTINUE READING BELOW