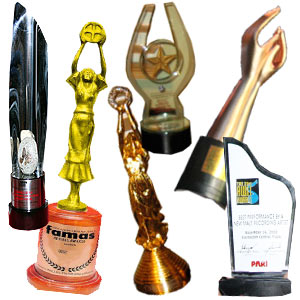 IMAGE 0
---
Did you know that newcomer Jason Abalos snagged the BestActor trophy by the Gawad Urian and Young Critics' Circle Awards for the movie Endo?
Or that the movies—Banal(Luna Awards), Tirador (Gawad Urian),Katas ng Saudi (FAMAS), Pisay (Golden Screen Awards), Foster Child (Young Critics' CircleAwards) and Ataul for Rent (GawadPasado)—each received the Best Picture award for 2008?
Worth mentioning, too, are the double winners JinggoyEstrada and Lorna Tolentino for their OFW husband-and-wife role in Katas ng Saudi. Both stars were honoredby the FAMAS and Golden Screen Awards. Aga Muhlach and Maricel Soriano werealso noted for their performance in ALove Story by the Luna Awards and Box-Office Entertainment Awards.
PEP (Philippine Entertainment Portal) posed those questionsrandomly to several people and discovered that awareness of the facts was low."Ah, talaga? May movie palang ganun," remarked one respondent.
With the 2008 Metro Manila Film Festival kicking off onChristmas Day to showcase once again the best in local movies, let's talk aboutawards in general. What's the big deal? How come people may remember the stars/personalitiesbut not the events that formally mark their true worth in the movie industry?
In the U.S.,the first quarter of the year is Awards Season: Golden Globe in January andAcademy Awards/Oscars, February. By contrast, our local award givers are activethroughout the year. In the past, though, March to May was scheduled as the periodfor awards nights. But lack of sponsors became a problem, and so, reschedulingbecame necessary.
This year, achievements were first recognized in March bythe Gawad Tanglaw Awards, followed by the Gawad Pasado Awards in April, and theawards ceremony of the Guillermo Mendoza Memorial Scholarship Foundation, Inc.in May. Star Awards and Golden Screen Awards (EnPress) came in in June; awardsby the UP Young Critics Circle were handed out in August.
ADVERTISEMENT - CONTINUE READING BELOW
The Big Three held their events later: the Luna Awards (Film Academyof the Philippines)was held last September, the Gawad Urian Awards in October, and the FAMAS gave trophiesin November.
ROCKY ROAD FORAWARDS. Awards for praiseworthy acting in the Philippines started in 1950 via theMaria Clara Awards. In 1952, though, a group of writers saw deficiencies in theMaria Clara Awards. They formed the Film Academy of Movie Arts and SciencesAwards composed of Palanca literary-contest awardees, movie columnists andwriters.
Coined by film veterans Jonathan Edward Lim and Rosa Rosal,it became better known as the FAMAS, which monopolized the award-giving scenefrom the 50's till the early 70's. But not without its share of controversies.In 1960, for example, the big studios Sampaguita Pictures and the Vera-PerezProductions withdrew their membership due to a difference of opinion with theFAMAS group.
The disagreement started when the FAMAS failed to giveSampaguita an award in spite of a previous FAMAS ruling that the Big Fourstudios-LVN, Sampaguita, Premiere Productions and Lebran International-wouldreceive top honors each. As a result, the FAMAS changed their rules from thenon and disallowed studio representation in their membership.
Another controversy that also led to a breakaway was whenFAMAS announced an unheard-of Best-Actress tie between Boots Anson Roa andVilma Santos. The decision to have a 'tie' did not sit well with a lot ofinsiders.
In 1976, the breakaway group of film critics ended theawards monopoly of FAMAS when they organized the Manunuri ng PelikulangPilipino and Gawad Urian, which would eventually gain the respect of theindustry. Unlike others, Gawad Urian has not been tainted by any controversy, likevote-buying or politicking, which is why an Urian award is said to be covetedby many an actor.
In 1981, another awards-giving group joined the ranks ofFAMAS and Gawad Urian—the FilmAcademy of thePhilippines (FAP), created by Executive Order 640—A under then PresidentFerdinand Marcos. The FAP awards are now better known as the Luna Awards.Another noteworthy function of the FAP is its assistance in managing the MetroManila Film Festival, from which it gets a share of the proceeds.
ADVERTISEMENT - CONTINUE READING BELOW
The term "grand slam" was coined after the three dominant groupswere established, That is, when an actor, actress, a director, movie, etc.,wins an award from all three, it is said that s/he makes a 'grand slam'. VilmaSantos has that distinction-winning three Best Actress trophies from the FAMAS,Gawad Urian and FAP for her role in Relasyon.
Many other award-giving bodies sprouted after the Big Three:Star Awards for Movies (Philippine Movie Press Club), Catholic Mass MediaAwards (Archdiocese of Manila), Gawad Pasado (Film Desk Critics' Circle),Golden Screen Awards (Entertainment Press Society), UP Young Critics CircleAwards, Box Office Entertainment Awards (Guillermo Mendoza Memorial ScholarshipFoundation), and Gawad Tanglaw (Film Academician Critics / University ofPerpetual Help Las Pinas).
Awards are also given out in film festivals, CinemalayaIndependent Film Festival, Manila Film Festival and the Metro Manila FilmFestival (MMFF).
Is winning an award still relevant?
As far as media mileage goes, what sticks out in the publicmind about all the awards events this year are not really the awardees but thesensations. For instance, at the Gawad Urian Awards, while presenting the BestActor trophy, former heartthrob-action star Rustom Padilla dressed like awoman, complete with makeup and hairdo. If the Best Actor or Best Actress is alreadya big name in the industry, of course, people sit up for a look at what she'swearing or for whatever issue is hounding him.
Yet there are good arguments in favor of awards.
"Award-giving bodies are important for several reasons," saysJamal Ashley Abbas, a film critic and former lecturer of Film and Communicationcourses at the University of the Philippines.
"First, it is supposed to give recognition to meritoriousworks. This means that the quality of the creative works—the standards or thenorms—is maintained or upgraded.
ADVERTISEMENT - CONTINUE READING BELOW
"Second, if the people recognize the merit of theaward-giving bodies, then the people being awarded are also recognized. Thismeans better box-office results and more job offers in the future."
Abbas opines, "Nowadays, I don't know if people still giveany credence to these award-giving bodies though. Winners do not get higher payfor their next film. They don't get more offers because of the award. A BestActress winner like Gloria Romero could not even get top billing for the filmshe won the award for or for her subsequent films."
So, how credible are award-giving organizations?
"In the U.S.[Oscars, Golden Globe, NY Film Critics], England [BAFTA], France [Cesar],Cannes Filmfest, et cetera, the award-giving bodies are still highly relevant.An award gives extra boost to the box office, and the DVD sales. An award canopen doors to newcomers like in the case of AmericanIdol's Jennifer Hudson who won for her role in Dreamgirls," Abbas notes.
"In the case of the Philippines, the award-givingbodies have lost their credibility some time ago. [For example] the ManilaFilmfest scandal where the presenter read somebody else'sname instead of the winner.
"Also, the soundness of the choices is often questioned.There is simply too much politics in the choice of winners. But moreimportantly, the public does not care anymore. Awards simply do not bringprestige to the recipient or more cash at the box office."
Ethel Ramos, a highly respected member of the entertainmentpress and manager of award-winning actor Aga Muhlach, disagrees. "Ayimportante pa rin, oo naman. May excitement pa rin na naiibigay sa mgaartista."
Ms Ramos also emphasizes that actors and actresses,especially the newcomers, go into a lot of trouble and preparation to attendawards nights. "Kung hindi importante 'yan, imagine mo na lang bakit sila mag-aaksayapumunta sa mga affairs na yan? Magkanoba ginagastos ng mga artista para lang umattend ng awards night? Hindi mura angmagpaayos, magpa-makeup at bumili ng susuutin di ba? Isipin mo kung magkano anggown ni Paul Cabral na lang. At ang alam ko pati mga producers and directorstalagang hinihintay nila yang mga awards night. They want to be recognized.Achievement yan."
ADVERTISEMENT - CONTINUE READING BELOW
On the other hand, Ronald Constantino, a columnist andanother veteran in the industry, explains why awards nights are not as avidly followedby the public as before. "Maybe kasi there are too many of them. May mgamaliliit pa yan... sa mga schools, et cetera. Madami. Sa dami nang mgaawards—awards, sometimes, you cannot distinguish one from the other.
"As I see it, siguro mas awaited 'yan ng mga baguhangartista. Dun sa mga nanalo year after year or dun sa mga marami nang awards,medyo wala na siguro yang mga awards nights."
Asked which of the many award-giving bodies he thinks hasthe most credibility, Constantino replies without a beat, "Urian. Urian lang."
Jamal Ashley Abbas remarks, "In the Philippines, before,winning FAMAS or Urian awards gave some prestige. Studios made a great fussabout being a FAMAS winner. But now..."
He points out that production of films has lessened throughthe years, a fact that relates directly tothe popularity and awareness of acting awards and awards nights.
"Many people blame the Filipino movies' low quality as thereason for the dying film industry. And the award-giving bodies are partly toblame for honoring works that are of mediocre quality," Abbas says.
In the end, he emphasizes, who would care? If good films orawareness of good films don't exist, what's there to give awards for?