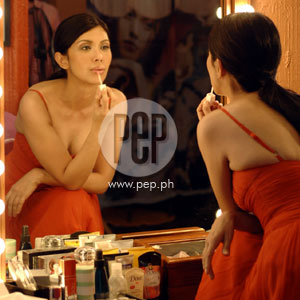 IMAGE 0
---
FASHIONEXPERIMENTS. Pops spent her elementary and high-school years in Makati City'sInternational School, which does not require its students to wear a uniform.She remembers wearing mostly jeans, shirts, and sneakers on campus.
"Backthen, in na in ang Cinderella. So, pag meron kang Cinderella outfits,super-wagi ka, di ba? Noong medyo naging teenager na ako, naging Esprit nasiya. Pero hindi naman ako maluho. I'm very practical. I wait for the time nathere is a special occasion, and let's say my mom offers, ayun. Pag merongchance na puwedeng magbihis, like, kunwari, a special day in school-ayun, do'nna ako nag-e-experiment."
Betweengiggles that show off her best fashion accessory—her dimples—Pops adds:"Ang fashion yata that time is 'yong mga chaleco. Tapos, di ba, na-in angtube kasi naging disco era? So, naabutan ko pa 'yong tube top, 'tapos maymahahabang parang bolero—I think that's what you called it, or coat—na you justleave open, 'tapos supertight jeans and stilettos. So, every so often, pagginaganahan ako, may ganoon akong outfit in school, since we can practicallywear anything we want, e."
It alsohelped that her lola, a skilled mananahi, loved sewing clothes for her."Bumibili kami ng tela, 'tapos nagpapagawa ako ng damit sa kanya."
Herexperimentation did not end with clothes.
"Nauso'yong coloring of the hair. So, I colored my hair. I was known for my green andred hair. I got, like, a highlight of green hair here and a highlight of redhair in there. Groovy ako noon, kasi ako lang ang nakaganoon sa school. Maypagka-weird na ako noon, e."
At 16,when she was offered the hosting stint on the TV variety show Penthouse Live!,she became more daring. In the beginning, however, her conservative mom, formeractress Dulce Lukban, had to remind her that she was just sweet 16.
ADVERTISEMENT - CONTINUE READING BELOW
"Shekept telling me, You have to dress your age. Baka akala nila, ang tanda-tandamo na.' So if you noticed, in my first few Penthouse episodes, naka-baby-pinkako or naka-super-ruffles ako na kating-kati ako."
When thePenthouse Live! people were able to get designers and a clothing sponsor forher, she broke loose from her mom's ruffles and pinks. The clothing sponsor,Kirei boutique, was then also just starting. Their teamup clicked. "I gotto feature their new style every week. Tapos, 'yon na, parang every weekinaabangan na ng mga viewers 'yong sinusuot ko, and even my hairstyle."
TRENDSETTER.Pops realized that she was becoming a trendsetter only when she began receivingtons of fan mail.
"Noongginupit ko 'yong hair ko a certain way, parang everybody was cutting their hairthat way," she recalls, still amazed. "And I wasn't really veryconscious about it. But then, I also began to love it. I was veryflattered."
Popsadmits that credit for setting fashion trends was not hers alone. "I thinkthe pressure was more, let's say, on Jessie Mendez, who used to fix my hair andmy makeup. He had to try something different every week. And, of course, thepressure also was on the people who were providing my clothes for me."
But Popssure helped out. She remembers doing her own research. And she was bold anddaring enough to try on what she had discovered in the course of her research.
"Like,I was such a Sheena Easton fan and an Olivia Newton-John fan. I think that'sthe reason why I cut my hair really, really short dati. Every so often, I'dsuggest also. Kasi nga, parang I had other thoughts and ideas. Plus, 'yong mganakita ko din sa mga imported fashion magazines. And I'm so grateful because Jessieis the sweetest person ever. Until now, I still see him, and he's such adarling. He's very bait, na pag nag-suggest ka, he'd even appreciate it. Allthe people I got to work with before were very, very mabait also."
ADVERTISEMENT - CONTINUE READING BELOW
Backthen, one thing Pops didn't like was the hair spray—the most valuablefashion-and-beauty concoction of the '80s. "And I didn't enjoy the tissingof the hair, 'cause masakit siya, e' she says, grimacing at the memory."Tsaka, pag tinatanggal mo na 'yong hairdo mo, maski na shampuhin mo siyanang maka-dalawa, tatlong shampoo, matigaspa rin 'yong hair mo. As in, nomatter how badly you conditioned it, alam mo 'yon? So, I really didn'tappreciate that super-tissed, hair-sprayed look.
"Althoughback then, of course, feeling ko pag flat ang hair ko, hindi ako puwedenglumabas ng bahay. Parang feeling ko, 'My God, I didn't fix myself.' Alam mo'yon?Di ba, lalabas ka long, kailangan ang taas-taas ng bangs mo? So, at least,the bangs, nilalagyan ko ng hair spray."
Thesedays, Pops likes all things simple and natural, simple and classy.
"I'mso grateful na nauso 'yong the natural look, and I never thought na babagay sakin 'yong flat hair. Yonpala, it's really just whatever fashion dictates andwhatever you get used to after a while."
Still,she admits she has her moods and quirks.
"Thereare seasons na gusto ko super-super classy long talaga na super-super simple.So, I will stick to that and all the clothes that I buy will be super simplelong. Like all my black simple dresses. Tapos, there are moments naman na, 'Ay,napaka-simple ko na, I wanna go more on the trendy. So, I follow na kunwariwhatever is the latest trend. Like, ngayon, I go for baby-doll dresses, alittle bit on the mini side."
She picksup some ideas from her many travels abroad.
"Iget to see a lot of styles. Like, Europe is so different from the States.Magkaiba din ang fashion sense nila. Ibapa siyempre 'yong mga Hollywood starsna everybody looks up to, or especially me, anyway. So, you kinda choose longwhat you think will be bagay for you."
ADVERTISEMENT - CONTINUE READING BELOW
But thereare times when her choice turns out to be a dud.
"I'drealize, let's say when the pictures come out, 'Ay, parang Hindi yatakagandahan.' I just have to be honest with myself. Hindi ko na uulitin. Butevery so often, I wanna be as adventurous as I can."
SHOPPINGSPREES. Pops, who used to have her own clothing line and a store called Pipay,rarely shops at our local malls. That's because her busy schedule here does notpermit her to do that, and besides, she's hardly in Manila. The globe-trottingsinger does most of her shopping abroad, in between shows.
Sheparticularly finds it "so fun" to shop in the U.S. "Kasi, whenthey have a sale, there's really huge discounts. So, if you're a practicalshopper like me, you'll know your money will go a long way. I have friends andrelatives in the States. I tell them: This is what I want. Ill wait until itgoes on sale. Balitaan n'yo ko, then get it for me.' They can actually do itnaman for me, e."
When itcomes to shopping, she is definitely no spendthrift. She'd think a dozen timesfirst before shelling out her hard-earned dollars. "Unless," shenotes, "if s really something that parang ang feeling ko, 'Oh, my gosh,this is to die for, and if I don't get it now, I'm gonna regret it, kasi itmight not be there again."
She has asimple gauge for deciding whether she should get a pricey item: "If I seeit, and then the next day I can't sleep at natutuliro, 'tapos I keep thinkingabout it and I'm making everyone kulit—and when everyone's saying back 'Sigena, parang awa mo na, bilhin mo na 'yan, kasi you deserve it'-ayun, I know nakelangan ko nang bilhin 'yon. Alam mo 'yon?"
ADVERTISEMENT - CONTINUE READING BELOW
InManila, Pops relies on some of her designer friends or stylists to do theclothes, if not the shopping, for her. "One of them is Jerry Santos, who Iusually use when I have a regular TV show, or sometimes when I have a movieproject. Siya na pumipili or bumibili for me. Weird nga, kasi ka-size kopa siyapati sa sapatos. So, alam na niya 'yon, gets niya na 'yon."
Shedoesn't do any shopping on the Internet. "Ayoko. If I get used to it, I'llnever stop, and I'm gonna be so addicted to it. And I know I can be veryobsessed with something."
If shedoes accidentally see something she likes on the Net, she calls up her friendsin the States.
"Itell them na, 'Meron akong nagustuhan, I'll send you the website, you check itout for me.' And they always say, 'Why don't you just order there?' E, I don'tlike talaga, kasi nga, feeling ko, once I start, I'm gonna be staying home andnot do anything but shop the whole time. Self-control muna." Her recentsealing of an endorsement deal with Unica Hija, a line of clothing for women,has also helped her cut down on her shopping.
"Iwas very, very impressed with their products. You can actually use them ifyou're a working woman, like in the office. Their tops, I like the fact na youwear them over jeans and all of a sudden you're very casual, but then you canuse it at work. And then, pag iniba mo na 'yong bottom vh or 'yong top uli, youcan actually use it for going out right after work also. So, they really havenice and versatile items na I think are very affordable."
She hasnow been buying clothes, shoes, bags, and everything else that goes with themfor 25 years. So what does a fashionista do with all that stuff?
ADVERTISEMENT - CONTINUE READING BELOW
"Allmy old clothes are put in a plastic container. Most of them, pinapa-garage-saleko. Yong hindi na nauubos sa garage sale, we usually just give them out. Peromay mga favorites nga ako. 'Tapos, feeling ko, after five years the style isdefinitely gonna come back They're all stored in the plastic containers.Nakatago lang sila. Kasi, ifnapamigay ko, pagsisisihan ko."
PERFORMANCELEVEL. For Pops, Audrey Hepburn is the prime fashion icon. She just loveswatching the Hollywood star's old movies.
"Ilove the way she puts everything together. I'm sure they had stylists even backthen, pero 'yong mga outfits na 'sinusuot nila noong araw—from the pants totheir casual look napambahay lang—ang galeng.
"Andthe way they match the outfits with hats? I have lots of hats, if you notice.Yon nga ang biggest frustration ko, e. It's so hard to wear a hat here in thePhilippines. But I still keep buying, because I guess I'm a fan of Audrey andI'm a fan of that whole era. It's so classy. It's so timeless."
Popsherself has greatly contributed to the classy Pinay fashion sense, especiallywhen she dresses up for her concerts.
As theConcert Queen, Pops is known for her visual spectacles—lively musical numbersmatched by fabulous gowns and costumes. All that, thanks to her designerfriends, who never fail to match her high-level performances with theirsophisticated creations.
"Akokasi, pag bago 'yong concert, siyempre lahat ng isusuot ko doon, bago. So,kunwari I have ten changes. Ten outfits na bago 'yon."
Thesegowns reappear onstage when she mounts concerts abroad. "I remember what Iused for which city, so I know not to bring it back again there."
Forspecial show business events—galas, parties, awards nights, moviepremieres—Pops has favorite designers.
ADVERTISEMENT - CONTINUE READING BELOW
"Paiba-ibaako ngdesigners. Depende sa occasion napupuntahan. Like, I love Randy Ortiz. Ithink he's one of those na very classic also. Very simple his gowns, but superexpensive looking. And they're also kinda expensive. But then, alam mo 'yon,'yong it's always safe no matter what year you use his clothes. Puwede mongulit-ulitin.
"Anotherone, of course, is Inno Sotto. I guess you pay so much for the cut and thesimplicity of the cut, and yet when you wear it, somehow parang bagay na bagaysa katawan mo. Alam mo 'yon? It's not really the elaborate stuff that you'llget from the style, but it's really the simplicity.
"Anotherfavorite of mine that I usually use naman for concerts is Rajo Laurel. Rajonaman, he can be simple and yet he can be fun and glittery. Nage-get niya 'yongfashion sense when it comes to the stage or being up there on stage—how smallwe look sometimes from far away? So, I like that he can adjust to it.
"SiMaxi Cinco naman, I think he's so underrated. I think it's because of his beinga simple person. But I think he's one of our better designers also. He can gosexy and yet he can even do costumes for movies. He can make suits for men,while at the same time, he can make outfits for me when I go out for my veryprivate functions. He understands what I like, and he is able to execute itvery well.
"Thereare a lot of newcomers also now that I've been using. Jun Escario is one. Ilike him. Very trendy but galeng."
Popsadmits she's not good at remembering names, places, and navigationaldirections-but "when it comes to clothes, I remember," she laughs.
"Alamko pag nagamit ko na siya, let's say, sa TV or sa isang show. So, it rests for awhile before I use it again. Most of the clothes naman that I usually purchaseare not too trendy, so safe sila. Kung may trendy clothes man ako, I reallystill store them, because I know they come back to being trendy anyway."
ADVERTISEMENT - CONTINUE READING BELOW
As afashionista, is she secretly a pintasera when it comes to other women's fashionsense, style, and guts?
"Hindinaman. No, no, no. I think pintasera is too serious a word."
She saysshe's more of the "If I were" sort of a critic: "In my mind, I'dsay, 'If I were to dress her up, or if I were to fix myself that way, it wouldhave been like this.' Parang ganoon. It's really more for myself than anythingelse. Wala lang."
In fact,she admits feeling bad when stars attending an awards night are attackedmercilessly on TV and in the papers the next day, solely for the clothes theyhave chosen to wear.
"Tobe honest with you, naaawa ako. I know everybody has their own opinion,everybody makes comments. But ang feeling ko, we all make an effort to lookgood. Siyempre, it also depends on our budget, e.
"So,I think we have to be given extra plus 100 or 1,000 points for the effort. Alot of the artists go through a lot when they attend such events. Kasi, really,it's an effort, and it's very expensive, di ba? The outfits, unless you reallyhave a designer friend who makes something for you, magastos din. Alam mo 'yon?So, siguro we have to understand all those factors also."
Wecounter by saying that some personalities are simply just asking for it.
"Well,tama ka din diyan," she says with a sigh of resignation. Then, giggling,she recalls one awards night that she attended: "I remember I have afriend who was so elegant and who was wearing all her blings. Then, she lostthe Star of the Night something to someone who was wearing a feathered gown.She was so upset, and yet she was laughing. She was telling me, 'Girl, I lostto a bird.'"
ADVERTISEMENT - CONTINUE READING BELOW
Thefeathered gown, it turned out, came with a stuffed bird perched on the wearer'sshoulder.
FIGURATIVELYSPEAKING. Most fashionistas, to fit into all their lovely clothes, watch theirweight constantly. Pops, who admits to being matakaw, doesn't have that kind ofproblem. She doesn't weigh herself at all, and she's also not a gym habitue, nor is she an aficionadoof any form of exercise. Her heaviest weight has been 120 pounds, and thatwasn't even caused by food intake.
"Icame from super-super thin, then nag-120 ako. I guess I was dealing with a lotof stress at that time. Tapos, parati akong nawawalan ng boses. So I would takemedications to regain my voice, na ang result, they make you swollen. So, Iwasn't really fat..."
Today,Pops is perfectly happy with her weight, which she won't reveal. "No morena," she begs off. "But it's something I would like to maintain even ifI'm, say, 60, which is very hard, I guess."
Whilewe're on the subject, we ask Pops if she has ever attempted to alter, add to,lessen, or enhance anything in her physical nature. We are, referring, ofcourse, to cosmetic surgery.
"Okay,"she sighs, and goes on, without directly answering our question: "Ibelieve in science. And I'm so glad that, kumbaga, sa technology, it's so muchbetter than before. Now I think people just do some laser stuff for your face,and supposedly that lifts your face already, alam mo 'yon?
"Acertain light can do wonders for your skin. If you love the sun and you havesome sort of like a blemish, automatically you can take it away already. I'm soglad for that, because, siyempre, everybody wants to look good all the time. Especiallyan artist, who's constantly in front of the camera, who's constantly, kumbaga,madaming mga pictures na tine-take, di ba?
ADVERTISEMENT - CONTINUE READING BELOW
"Ibelieve in that. But I also believe that there's a certain limit to it. I thinkwe have to realize when it's too much. We have to know when we should and whenit's needed.
"Thereare certain parts of the body that, regardless of whether you exercise alot—unless you're really into the training and into lifting weights, into thatnon-fat diet—it just takes forever to lose the fat.
"Again,I thank God for instant science na, alam mo 'yon? Not naman automatically, butin a few days' time or in a few weeks' time, you've almost got that sense ofperfection that you desire.
"Ibelieve in it because, especially if you're a woman, you go through a lot ofhormonal changes. And there's that monthly thing, and every so often you get apimple. Tapos, you have to look flawless all the time."
Werephrase our question: Is she, when the time comes, willing to go under theknife—if she hasn't yet—to alter, add to, lessen, or enhance any part of herbody?
"I'mreally waiting and wishing na, when that time happens, we don't need knivesanymore," she laughs. "Kasi, so far, medyo amazing na ang technology,di ba? These days, it's a laser light, it's a certain heat, that actually makesyou look better.
"So,hopefully, they just keep advancing technology, 'cause I really don't alsowanna go through that whole... you have to be put to sleep, and then there arecertain stitches...Alam mo 'yon?"
DO'S ANDDONTS. Capping the interview, we ask Pops if she can share a few fashion andbeauty pointers for YES! readers. She obliges happily.
"There'sabsolutely no harm in being trendy and following fashion. But I also think thatwe should try to understand that we all have different figures, and so weshould accept what figure we have and try to stick with whatever is bagay.
ADVERTISEMENT - CONTINUE READING BELOW
"Especiallywhen it has to do with, let's say, attending special functions like weddingsand big events in our lives. We have to stick with something that willdefinitely look good—that's the time that you can't experiment. You canexperiment on normal days. I think it's okay.
"Also,you have to know na what your assets are and what your flaws are. And it's okayto have flaws, as long as you know how to hide them, or how to work aroundthem.
"AndI think, at the end of the day, no matter how much makeup you have and whatexpensive clothes you buy, you also have to feel good about yourself. You haveto love yourself first and foremost before we appreciate anything that we do.
"Youcan have as many facials as you can, but if you're also not loving yourselfenough, then you just keep going and changing everything. But youll neverreally like what you see.
"So,for me, and for all the women—love yourself first. And be confident with whoyou are."
Spokenlike a queen.