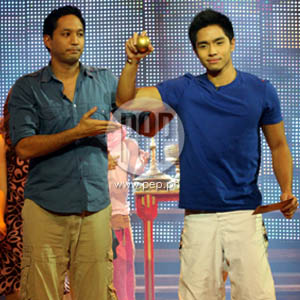 IMAGE 0
---
After 39 days, 15 Tribal Councils, and 26 challenges,Survivor Philippines has finally chosen its first-ever Pinoy SoleSurvivor—the 23-year-old basketball heartthrob John Carlo "JC" Tiuseco.
Theannouncement was made by host Paolo Bediones in a live telecast held tonight,December 12, at Studio 7 of GMA Network Studios.
JC beat co-finalist Robert Vincent "Rob" Sy and 16 othercastaways, including the eight Jury members—Charisse Yacapin, Cris Cartagenas,Zita Ortiga, Kaye Alipio, Marlon Carmen, Vern Domingo, Kiko Rustia and JaceFlores.
The Jury had the power to choose who will win the cash prize of three millionpesos and the title, "Pinoy Sole Survivor."
Viewers of Survivor Philippineswere also given the chance to pick the winner through text votes. People's choice willautomatically have one vote, also dubbed the "Boto ng Bayan," in addition to the votes cast by the Jury.
JC got a total of 6 votes from the Jury while Rob got 2 votes.Likewise, the Pinoy viewers chose the court heartthrob (93 percent ofthe total number of text votes) over the lover boy (7 percent).
JC, who was initially deemed as lampa, had been one of the strongest contenders as early as the merge of the former Naak andJarakay tribes into the Chalam tribe took place.
Backstabbing and broken alliances figured in the strategy of mostcastaways, but the court heartthrob was noted for playing the game withintegrity.
Before JC was declared winner, he and Rob faced the Jurymembers in a tension-filled Tribal Council. The Jury took the opportunity to venttheir anger and disappointment on JC and Rob, pointing out all the mistakes they comitted in the last 39 days.
ADVERTISEMENT - CONTINUE READING BELOW
In the end, the Jury chose JC Tiuseco as the first-ever PinoySole Survivor.
Click here to view more photos from the finale of Survivor Philippines.