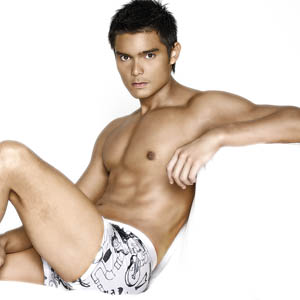 IMAGE 0
---
PEP (Philippine Entertainment Portal) was able to get thecomplete list of E! Television's Top 25 Sexiest Men of the World this year,which includes our very own Dingdong Dantes. The Filipino actor ranked third overallwith soccer superstar David Beckham from the United Kingdom topping the list.
Dingdong's official ranking was announced during the youngactor's concert with onscreen partner Marian Rivera, Let's Celebrate, at theShrine Auditorium in Los Angeles, California, last December 5. E!'s Clearances & SupervisorBrian Potter personally made the announcement in front of more than 4,000people.
This special feature of E! was first aired in the UnitedKingdom and is also scheduled to air in the United States and Asia. According to Mr.Potter, their feature on the Top 25 Sexiest Man of the World was one of theirhighest-rated shows.
Here is the complete list of E!'s Top 25 Sexiest Man of theWorld:
1. DAVID BECKHAM (soccer player, United Kingdom) - He's the man by whichall others must be measured. An English football player in the England Nationalteam. In 2004, he was the world's highest paid football player. Married toformer Spice Girl's Victoria Beckham, with whom he has three children. He nowplays for Major League Soccer Club for Los Angeles. He has been two-timesrunner-up for FIFA World Player of the Year.
2. MICHAEL GURFI (actor, Argentina) - What makes him most attractive are his dreamy deep-set eyes and mysterious smile. An actor andone of the lead of telenovela Amores Cruzadas.
3. DINGDONG DANTES (Actor, PHILIPPINES ) - Dingdong's name seems to be so interesting, different, and sexyfor all those celebrities that described him. He was introduced as a fineFilipino fellow who was born in 1980 with the name Jose Sixto Dantes III, buthis friends call him Dingdong.
Most of his accomplishments were mentioned including hisdifferent endorsements like Bench Body model, his being No. 1 Bachelor by Cosmopolitan Magazine and his numerous hits, such as his TVseries and movies, and his being a well-known actor in the country.
ADVERTISEMENT - CONTINUE READING BELOW
Some of the celebrities who gave him good words and reviews were Robbie Laughlin (stylist), Leean Tweeden (TV host/sportscaster), KhloeKadarshian (Keeping Up with the Kadarshians), Carrie Ann Inaba (judge, Dancingwith the Stars), Joel Stein (columnist, Los Angeles Times).
4. JONATHAN RHYS MEYERS (actor, Ireland) - An actor who is bestknown for playing Henry VIII in the television drama, The Tudors. He also worksas model, most notably as model for Club Monaco, Versace, and Hugo Boss. They find his eyes and lips very sexy, too.
5. DJIMON HONSOU (actor, Benin) - A model turned actor. Seen in Madonna's music video as the super hot guy and in Janet Jackson'sMTV. But his real eye-popping contribution was when he posed for CalvinKlein. His debut film was Without You I'm Nothing and had televisionparts in Beverly Hills 90210 and E.R. and guest starring role in Alias. He received nominations for the movie Blood Diamond and In America.
6. TYSON BECKFORD (model, USA) - One of the world's first black supermodes. In 1993, Ralph Lauren recognized his bronze and tattooed bodyfor making him the label's front man. He has regular features in GQ and Vogue. He'salso into few movies.
7. FREDDIE LJUNBERG (football player, Sweden) - Football player and is amodel for Calvin Klein underwear. He also represented other brands such asNike, L'Oreal, Puma, and Pepsi. He was the captain of the Swedish national tramuntil he announced his retirement at the Euro 2008.
8. JOHNNY DEPP (actor, USA) - Three-time Oscar nominee forthe movies Pirates of the Caribbean: The Curse of the Black Pearl, FindingNeverland, and The Demon Barber of Fleet Street. He started his career inthe television series 21 Jump Street. His first major role was in the 1984 movieA Nightmare on Elm Street. Depp is one of Hollywood's most popular actors and is knownfor his acting and sex appeal.
ADVERTISEMENT - CONTINUE READING BELOW
9. RYAN REYNOLDS (actor, Canada - Started his career as a childactor. He was first known in comedy films, but later on appeared on darkcharacters such as in the remake of the horror movie The Amityville Horror,Blade: Trinity. In 2009, he will appear in X-Men Origins: Wolverine.
10. JOHN ABRAHAM (actor, India)- A Bollywood actor. Most famousmale model of his generation in India. He's also the Goodwill Ambassador ofHabitat of Humanity.
11. DANCARTER (rugby player, New Zealand) - Rugby player of New Zealand National team.Jockey ad model. He was named as rugby player of the year and is reportedlythe highest-paid rugby player.
12. RAOUL BOVA(swimmer, Italy) - A national swimmerwho has a lean 6-ft. frame. Featured in serious sexy ads. From doing Italianfilms, Raoul was able to do an English film, Under The Tuscan Sun with DianeLane.
13. ENRIQUE IGLESIAS (singer, Spain) - One of the mostpopular artists in Latin America. The youngest child of Julio Iglesias andFilipina socialite and Hola! magazine journalist Isabel Preysler.
14. DAVID ZEPEDA (actor, Mexico) - One of the lead actors ofthe telenovela Amores Cruzadas. In U.S., he appeared in TV shows such as E.R.and Buffy, The Vampire Slayer. Last 2000, David placed 1st runner-upin the Manhunt International held in Singapore.
15. EDISON CHEN (actor-singer, China) - He was born inCanada but is considered as a Chinese superstar. A movie actor, rapper, singer,and pop icon, he thought of leaving showbiz when sex photos of himwith other actresses circulated, though he denied it and said that it was allfabricated.
16. RODRIGO SANTORO (actor, Brazil) - For his role in themovie 300, Rodrigo became the first Brazilian actor to be nominated in the MTV MovieAwards. He was also part of the cast of the movie Love, Actually and the television series Lost.
ADVERTISEMENT - CONTINUE READING BELOW
17. GILLES MARINI (model-actor, France) - Full-time modeland part-time actor. His shower scene in Sex And The City moviemade him even more desirable. He also joined the cast of Ugly Betty.
18. MARCUS SHEKENBERG (model, Sweden) - A supermodel andactor. He has appeared in television and movies. He was discovered by a Mexicanphotographer while rollerblading. He is also known for his Calvin Kleinads and for dating Pamela Anderson. At the age of 24, he was named one of the mostbeautiful people on the planet.
19. KOSTAS MARTAKHS (singer, Greece) - First discovered viaa talent progra