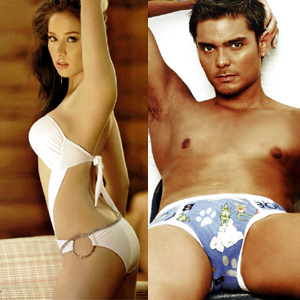 IMAGE 0
---
Year2008 saw sexy celebrities not only on the big and small screens, but even on fashionramps and publicity prints. But unlike the show-it-all boldness in the past, lastyear's hottest stars chose to display their finely chiselled physique, shapelycurves, and flawless complexion in various ways: posing for glossy magazines,endorsing health and beauty products, doing a musical number, or playing arole. That's sex appeal with pizzazz!
Now,PEP (Philippine Entertainment Portal) presents the top 20 sexiest male andfemale celebrities of 2008. Our list is based on a survey we conducted amonglifestyle magazine editors, writers, and showbiz insiders. Ranking in bothgender categories starts from the bottom up.
SEXIEST LADIES
10. Luningning. One writerdescribes Luningning as the only reason he continues to watch Wowowee. Luningning's sexiness ontelevision can be described as "wholesome," appealing not only to the adultaudience but to the young Luningning-wannabes who dream of a dance showdownwith her.
9. Bianca King. This LaSalle-College of St. Benilde filmmaking majorseems to have mastered the art of playing baddie while looking hot at the sametime. Kinda like the way the veteran actress Rosa Rosal used to essay her vampycontravida characters in the old black and white Tagalog films—scheming, evilbut sizzling-hot sexy. Another reason for Bianca making it to the list is justhow natural her sexy curves are. Not an ounce of fat; sexiness untouched bycosmetic science, just as nature intended.
8. DaianaMenezes.Our bella amiga from Brazil came to Manila in 2006 and fell in love with ourcountry. We Pinoys reciprocated by making her our favourite Brazilian. Aftertaking over the job fellow Brazilian model Ariani Nogueira left in Eat Bulaga!, Pinoys have delighted in Daiana's sexy charm, her flawless curvaceousbod, twisted Tagalog, and her love for almost anything Pinoy.
ADVERTISEMENT - CONTINUE READING BELOW
7. Anne Curtis. Svelte andsexy, this half-Australian, half-Filipina Kapamilya is considered by her fans(both male and female) as a real goddess when it comes to beauty and sexiness.Her Angelina Jolie-bee-stung lips add more to her striking sex appeal in herbeach scenes in When Love Begins, inher different magazine spreads, and in the publicity photos and trailer of hershow Dyosa.
6. MichelleMadrigal.Petite and sexy, this olive-skinned stunner always turns heads every time shedons her sexy swimsuit. As Berbola in Dyesebel,male televiewers wait for her prosthetic hair to be swept aside so they cancatch a glimpse of her breasts—as if that could happen.
5. MarianRivera.FHM Philippines' sexiest woman for 2008wowed her audience with her sexy samba moves in Marimar in 2007. After that, this half-Filipina, half-SpanishCavitena's male followers excitedly glued their eyes to their TV screens forMarian's role as Dyesebel, thetopless mermaid who swam her way to everyone's heart.
4. EhraMadrigal.The bosomy Kapuso got the number 6 spot in the FHM Philippines'100 sexiest women list. But her fans think she should be on the number one spot,or at least a higher ranking than 6, since she was on the cover of the leadingmen's magazine twice (2006 and 2008) and was also in the top 10 of the 100sexiest list of FHM twice.
3. KatrinaHalili.Two-time FHM sexiest Filipina,three-time FHM cover girl, two-time FHM calendar girl, Belo Medical Groupimage model and said to be the reason behind the Dra. Vicki Belo-Dr. Hayden Khobreakup. Need we say more? But the first StarStruckalumna to be on the cover of the country's leading men's magazine fell short ofthe number one spot in this little survey by PEP. The respondents think it hassomething to do with the way she shifted her image from bad and sexy to awholesome underdog goodie.
ADVERTISEMENT - CONTINUE READING BELOW
2. Angel Locsin. She has alwaysbeen considered one of the sexiest stars in local showbiz. In fact, she was FHM Philippines'sexiest woman of 2005, the Philippines'hottest woman of 2008 by Maxim Philippines,and was also given the "Road Distraction Award" by the first Supreme to theExtreme Awards for her very sexy Folded & Hung billboards. Her Lobo "nude" scenes (after shape-shiftingfrom wolf to human) were much discussed in fan web forums, as well as bytabloid columnists who noted how Angel's present home studio, ABS-CBN, hasfinally recognized and tapped her sex appeal.
1. CristineReyes.She might have landed the cover of FHMonly in 2007, but the adoration and excitement for Cristine continued until2008. And as the year ended, her male fans just can't get enough of her in Eva Fonda and Banana Split. Some of the male respondents of this little survey byPEP opined that flawless and voluptuous Cristine is sure to grab the top spotin next year's Philippines' sexiest list, if the right projects continue and ifsome minor tweaking on her image-packaging will be done.
SEXIEST HUNKS
10. WillDevaughn.Girls like his rugged mixed Filipino-African-American-German looks, plus thefact that he is not shy about showing off his sexy body.
9. Jon Avila. The Fil-Irishmuffin's sexy green eyes, coupled with his equally sexy body, is enough for anygirl to go "yummy!" This former bank employee used to weigh more than 200pounds before deciding to cut down his weight and join the Century Tuna searchfor models where he won the title Super Bod. Now, Kapitan Boom enjoys his sexy, light, 178-pound body with his 6-footone frame. He says he doesn't want to go back to his 200-plus pound weightagain, and we're sure a lot of his fans agree with him.
8. RobinPadilla.Gay showbiz reporters can't get enough of Robin's Joaquin Bordado publicity photos. The photos of the GMA-7 2008action-telefantasya were so sexy, some of the reporters did not even give themto the tabloids and magazines they work for. Some women find Robin unappealingin photos because of his long hair, visible body scars and tattoos. But somewomen testify—especially, the actresses Robin worked with—that once you get toknow the "Bad Boy of Philippine Cinema" you just can't help but be swept awayby his charm and machismo.
ADVERTISEMENT - CONTINUE READING BELOW
7. Kiko Rustia. We are alwaysintrigued when we see something different or strange. Kiko Rustia is noexception to those things that intrigue us. The rugged, dreadlocked one wasonce featured as one of the hottest bachelors in a local women's magazine, andwith good reason. Kiko is a total head-turner.
6. JC Tiuseco. The "HardcourtHeartthrob" won the Survivor Philippines'sSole Survivor title and a lot of hearts at the same time. With his killer smileand sexy abs, JC will surely make a lot more hearts throb in the near future ashe continues to model and enter the world of show business.
5. Paolo Contis. At theCosmoplitan 2008 Bachelors Bash show, Paolo walked the ramp and successfullyconquered his fear of getting booed or receiving a bland reaction from theaudience. In spite of his fear, Paolo brought the house down and had a verywarm welcome from the Cosmo audience when he came out shirtless and wet. Thewater dripping down his torso only highlighted his well-defined body, theresult of his hard work and dedication in the gym.
4. JC de Vera. After his"Pretty Boy" episode in this year's Obrashow of GMA-7, JC's image changed from a plain leading man to hot and sexyleading man. JC had been working out, even before his sexy episode and the verywarm reaction from the audience as he ramped shirtless in the Bench/ Blackout Denim and Underwear Show.
3. Sam Milby. With hiswashboard abs and finely chiselled chest, Sam made the Bench/ Blackout Denim and Underwear Show audience clap and screamas he walked out and proudly displayed his bodacious body. And to think thistalented Fil-Am model turned actor once tried and failed at his shot inmodelling and showbiz before getting his big break as one of the Pinoy Big Brother housemates in 2005!
ADVERTISEMENT - CONTINUE READING BELOW
2. PioloPascual.One writer commented that even after Piolo decides to quit showbiz, he willalways be on the sexiest male list. The writer reasoned that Piolo is thequintessential sexy man—angelic face, lean, sexy body, a likeable attitude and"mysterious" personality. These traits draw admiration from both women and men.
1. DingdongDantes.Being hailed as the 3rd Sexiest Male in the world by E!Entertainment Television in Hollywoodis a big deal. The majority of respondents PEP asked for this survey, put theKapuso hunk on top as the sexiest male celeb in local showbiz, hands down.Being the most applauded and most well-received celebrity model in the Bench/ Blackout Denim and Underwear Showadded a lot to Dingdong's already phenomenal rise as a sex symbol. Gone are thedays when he used to be known as the cute, boy-next-door, with kissable, puffycheeks, Iñaki in TGIS (Thank God It'sSabado). After playing Sergio in Marimarand Fredo in Dyesebel, he is nowknown as Dingdong Dantes, the sexiest man in local showbiz.