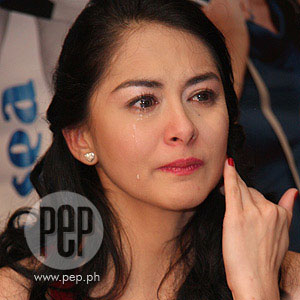 IMAGE 0
---
Year 2008 in Tinseltown was filled with scoops, intrigues, andcontroversies. The registered readers/commentators—better known as PEPsters—have allbeen up to date. Ever since PEP (Philippine Entertainment Portal) introduced the comments column after each article, PEPsters have been actively posting their say on a particularissue, weaving interactive threads or exchanges with showbiz fans not only in the Philippines but in many other countries.
Discussions under PEP's breaking news and other articles vary according to the artist or issue in focus. Celebrities involved in an issue draw mixed reactions between supporters on one side and critics/detractorson the other. Debates give the article addedvalue. PEP's wide range of commentators post additional juicy information about their idols, besides contributing other interestingstories.
Now, PEP presents 10 of its most talked about articles,based on the number of comments under each item and the frequency of discussions. Read on and recall if you reacted to the articles below.
FIRST READ ON PEP: Marian Rivera offended by Karylle's"smile" —
7,615 comments
Dubbed "the longest comment thread on the history of PEP" byRoxielle69, Marian Rivera's supporters really know how to assert their presence in the Internet world by posting wordsof encouragement to their idol. Marian caught crying by the camera mainly sparked a barrage ofsupport (and a sprinkling of negative posts) for the Marimar-Dyesebel superstar.
FIRST READ ON PEP: Marian Rivera airs her side aboutYouTube video — 3,555 comments
Active participation from a PEPster made headlines when heuploaded a video that showed an angry Marian Rivera giving some guy a pieceof her mind.
Feedback from the PEPsters varied from shock to skepticism.Supporters were doubtful and they posted their observations regardingthe video. Detractors, on the other hand, pointed out that Marian had someattitude issues, which of course led to the cyber-clash of the two camps.
ADVERTISEMENT - CONTINUE READING BELOW
FIRST READ ON PEP: Anne Curtis fulfills childhood dreamby playing mermaid in "Dyosa" —2,619 comments
Buzz on the Kapamilya Network's Dyosa, gotconsiderable support from Anne Curtis's fans and the exchange between herfans and supporters of GMA-7's Dyesebel was nothing short ofinteresting. The discussion in this article's thread ranged from Anne's actingskills to comparisons between the upcoming series at the time and thealready reigning primetime show Dyesebel.
Angel Locsin finally dares to bare in Cosmopolitan — 1,548 comments
Angel Locsin's bikini-clad figure graced the March 2008 issueof Cosmopolitan magazine and PEP's article on the magazine issue raised interestbetween the pro- and anti-Angel Locsin camps. Since it was Angel's first appearance in a two-piece eye popper, the topic was "Hot!"
Comments from the PEPsters ranged from "daring" to"Photoshopped" to "sexy." Theories were also shared here on whether Angel wasready to go sexy in her upcoming TV shows and movies.
"Eat Bulaga's" latest comedy skit mentions theword 'Aswang' anew — 1,742 comments
Joey de Leon's "Ang Joke Ko" segment in Eat Bulaga! aroused a heated discussion between PEPsters on how Joey continued making fun of Pokwang. "Sensitivity" dominated the discussion as pro and anti groups talked about what's fun and what's not (when to know if a comedian goes out of line).
YES! list of Top 20 celebrity endorsers stirsprotest among Angel Locsin's fans — 1,377 comments
PEP's teaser for YES! magazine's October issue that featured the Top 20 Celebrity Endorsers, like Sharon Cuneta, Aga Muhlach, Kris Aquino, and Piolo Pascual, did not list down every celebrity in the feature story. Angel Locsin fans were irked into thinking that their idol was not included.
Thus started a long thread of PEPsters pointing out every endorsement of Angel's. It took some time before arguments were settled among PEPsters about who should be mentioned and who should not. In the end, all were satisfied when they bought their copy of YES!
ADVERTISEMENT - CONTINUE READING BELOW
Confirmed: Dingdong and Karylle breakup; Denied: Marianas third party — 1,316 comments
Speculation on the breakup of Dingdong Dantes and Karylle created a storm among PEPsters on who or what caused the split. The PEPsters wasted no time in supporting their claims regarding the breakup. When this article came out, some PEPsters continued to doubt whether Marian had anything to do with the couple's decision, and so the discussion went on and new theories came up.
To read more of these comments, Click here.
Dingdong Dantes piggybacks injured Marian Rivera downslippery steps — 1,309 comments
The article's photo alone meant different things from the PEPster's points of view: Kilig for the fans and questionable public display of affection for the non-fans. Debate on whether Dingdong and Marian did the right thing (piggyback ride) in front of a camera was the main subject. (The article did say though that the lensman just caught the two by chance.)
Click here to see the discussion.
FIRST READ ON PEP: Karylle's reported transfer to ABS-CBNconfirmed — 1,254 comments
Transfers to either ABS-CBN or GMA-7 can spark off discusions ranging from TV ratings to each network's set of Stars. Karylle's crossover from Kapuso to Kapamilya raised eyebrows—some PEPsters entertained the idea that Karylle transferred because of the publicized breakup between her and Dingdong Dantes.
Click here to see the discussion.
ABS-CBN suspends Cristy Fermin's TV and radio contract — 1,250 comments
This breaking news came as a big suprise to PEPsters. Did Cristy deserve the penalty or not? A mix of reactions rained down on the comments column.
Click here to see the discussion
SPECIAL MENTION
Though counting only by the hundreds, PEP's weekly ratings is a popular venue for PEPsters' discussions. Nothing is more lively and sought-after than a ratings-related topic in PEP. Not a dull moment here.
ADVERTISEMENT - CONTINUE READING BELOW