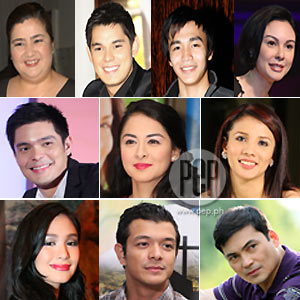 IMAGE 0
---
Ang showbiz sa taong2008 ay parang bagyo. Halos buwan-buwan ay umuulan ng mga isyu na kadalasan aynakagugulat o minsan naman ay nakalulungkot. May panaka-nakang intriga nabiglaang natutuldukan. May kalakasan din ang buhos ng kontrobersiya, at angilan ay may matindi at matagal na epekto sa mga nasalanta.
That sums up the year that was. It rained hubbub!
Almost every month, there was real-life drama. Almost everyweek, a strong current of emotions among those involved. Almost daily, an impromptu quotable quote from the newsmakers.
Showbiz news had, in one way or another, helped theFilipinos deal with the oil price hike and looming financial crisis. Instead oftalking about our daily problems, we discussed celebrities and theirfascinating lives. Instead of fretting over the alarming cost of commodities,we diverted our attention to the continuing saga of hottest issues in theentertainment scene.
As we say hello to 2009, let's recall the biggeststories that either caught us by surprise or got us hooked, or left us gapingin awe.
JANUARY. Three days after the New Year, PEPsters weregreeted by a screaming headline, "Jennylyn Mercado nearly two monthspreggy, to wed Patrick Garcia."
At that time, Jen had just finished La Vendetta and was slated to do the sine novela Maging Akin Ka Lamang, with the dad ofher baby.
She was then starting to regain her momentum after hercareer slowed down due to her manager's fall-out with GMA-7. It will berecalled that the first Ultimate Female Survivor of StarStruck was considered a "casualty" when Becky Aguilaorchestrated the highly-publicized network transfer of Angel Locsin, who was then aprized talent of GMA-7.
ADVERTISEMENT - CONTINUE READING BELOW
In short, the baby news was untimely.
Her delicate condition pressed her to make a hiatus. ButJennylyn made sure the public would not cease talking about her. The expectant mom proved that becoming less visible was not tantamount to becoming less controversial.
By end of January, Gretchen Barretto stole the scene with a bang. Shewas reportedly booted out by her partner Tonyboy Cojuangco from their home inDasmariñas Village, Makati. The cause was said to be her affair with government official DodyPuno.
As it turned out, the "boot-out" issue was not true, but the other rumor had not left her side ever since.
FEBRUARY. Incidentally,the hottest topics in February had something to do with the two women mentionedearlier.
Barely four days after Gretchen's "romance" with Dody wasreported, the "breakup" became the topic.
To quote the articles uploaded in PEP (Philippine Entertainment Portal) lastFebruary 1: "Tonyboy supposedly gave Gretchen an ultimatum to drop this liaisonor leave his home for good. Now comes the highly reliable report that Gretchenhas broken up with Dody."
But this issue was nil compared to the other uproar which hollered thename of La Greta. Last February 20, the infamous "Rembrandt confrontation"between her and Nadia Montenegro took place.
Nelson Canlas's First-Read-On-PEP item, which was posted the following day, describedthe incident vividly :
"Ayon sa mga ilang nakausap namin noon sa Hotel Rembrandt na tumanggi nangmagpakilala—kabilang na ang isang kilalang tao at ilang staff ng hotel—mayilang masasakit daw na salita ang nabitiwan sa pagitan nina Gretchen at Nadia.Nauwi raw ito sa batuhan ng baso. Hindi lang nila nakumpirma kung natamaan siGreta.
ADVERTISEMENT - CONTINUE READING BELOW
"'Gretchen said something really nasty, Nadia did the same. After that,glasses came flying,' kuwento ng isang source."
That eventful night damaged the 15-year friendship of Gretchen and Nadia.
Meanwhile, on the heels of Jennylyn'spregnancy were items claiming she already broke up with Patrick.
On February 3, Patrick Garcia denies that there's trouble in paradise,saying, "Kung anuman yung napapag-awayan namin or hindi napagkakasunduan, atthe end of the day, e, naayos naman. Of course, she's very emotional also now,little things, to her big deal yun."
But Mrs. Bing Garcia, Patrick's mom, disclosed via a television interviewthat things were not well between her son and Jen. She described their statusthen as "lagi yatang nag-aaway."
On February 21, PEP first broke the news about the split. Jennylyn citedPatrick's "irresponsible behavior" as the cause. The Kapuso actress saidindignantly, "Magbuhat nang magbuntis ako, wala naman siyang ginagawangeffort para sa akin at sa magiging anak niya."
Another drizzle this month was the paparazzi photos of Dingdong Dantes withan unidentified girl in Boracay.
Karylle backed up Dingdong's explanation: The lady in the photo was actor'sfirst cousin.
The screen partner of Marian Rivera then said about his relationship withthe daughter of Zsa Zsa Padilla, "Matibay lang talaga yung pundasyon.We're open to each other every small detail so kapag nagkakaroon ng kontingproblema we work things out."
And of course, who could forget the second chapter of the Beverly Hills 6750 controversy?
The PEP Scoop dated December 15 was the first to relate the details 0f David Bunevacz's sudden flight abroad after his partners reportedly beat him up and accused him of "embezzlement."
ADVERTISEMENT - CONTINUE READING BELOW
Last February 1, PEP unwrapped another scoop with the help of an American investigator: Beverly Hills Surgical Institue, the U.S. affiliate of Beverly Hills 6750, no longer exists.
A few weeks later, the new management of Beverly Hills 6750 affirmed the story. Dr. Eduardo Santos, the clinic's managing director shared the findings of theU.S.-based investigator they hired:
"BHSI does not existas a legal business entity and probably never existed as such. We have beendreadfully misled by its alleged reputable, celebrated, and esteemed existenceand operation in California, as well as the existence of a legit and validaffiliation with such a business entity. It is nothing more than a cheap 800number and ambiguous website."
Lastly, there's Regine Velasquez confirming her plans of transferring toABS-CBN.
In an article dated February 25, she said: "I was very, very gratefuland very, very flattered to ABS-CBN that they think of me every time that maygagawin silang show. Meron pa rin silang na-offer sa akin. That's veryflattering kahit alam nila na nasa GMA ako.
"Hindi ko alam kung ano yung pampa-pirate. Basta ako, sa akin lang, Igot interested in this work, in this job, which is Betty La Fea. Ireally, really want to do it. Kaya po ako nagpaalam sa GMA at kaya po kaminag-iyakan last Sunday because that was my last show."
But by some twist of fate, Asia's Songbird decided to stay in GMA-7, and hasso far done one primetime series on top of SOP,Celebrity Duets, and Song bird. The Betty La Fea project was awarded to Bea Alonzo.
ADVERTISEMENT - CONTINUE READING BELOW
MARCH. The aptdescription for the first wave of summer is "scorching hot"—there was a comeback,two controversial rifts, two breakup rumors, and a divorce.
March 30 marked the arrival of Gabby Concepcion after 13years of residing in the U.S. The former matinee idol was warmly received byshowbiz denizens and fans. He instantly bagged numerous endorsements, televisionprojects with ABS-CBN, plus a recording album.
On a separate note, turbulence set in with the word war ofAnnabelle Rama and Lolit Solis. The rift sprung from a snubbing incident, whenthe Annabelle's daughter and the Lolit's ward became the main characters.
Lolit stated, "'Day, sa totoo lang, hindi si Lani ang nagpalaki ngisyung ito, sila. Kung hindi sila kumibo, hindi sila nag-react, dedma, di ba?Ngayon, nagre-react sila dahil inisnab daw ni Lani si Ruffa, nalaman ngayon ngmga tao na may nakaraan pala si Ruffa at si Bong. Dati ba, may nasulat nanaging sina Bong at Ruffa? Wala naman, ah..."
And Annabelle's retort to Lolit's statement was a fistfight. She said onnational TV, "Gusto mo, mag-upakan tayo!"
The two feisty women eventually buried the hatchet. This had some insiders thinkthat the issue was a mere publicity stint for the "first" movie of the "MonsterMom."
Another "rift" which became the talk of the town involvedClaudine Barretto, Angel Locsin, and a dressing room. The Iisa Ka Pa Lamang star reportedly threw the Lobo female lead out of a dressing room during their guesting in A.S.A.P.
ADVERTISEMENT - CONTINUE READING BELOW
Claudine put an end to the issue by saying it did nothappen. But the rumored rift between the two ladies did not die.
Meanwhile, the divorce of Sheryl Cruz and her husband NormanBustos made it to the Most Viewed Stories of PEP last March.
The U.S.-based dad of Sheryl's unica hija said: "Our long periods ofseparation have taken their toll. Four years is a long time. She's thereworking and I'm here working. We have taken different career paths. Iunderstand that she enjoys working in showbiz and she understands that I can'tleave my job [in San Francisco].
"I can't join Sheryl in the Philippines and be a burden to her. Yousee, I'm used to working and earning my own keep since I was young and I justcouldn't depend on my wife to support me. That's not me. I think we are facedwith irreconcilable differences, so... This is a very hard decision for us tomake. It's great when we are together but life is just hard and lonely for mewhen I'm alone, living by myself in our big house. It's a situation that isjust unhealthy for any couple."
It's also worthy to note the alleged split of SharonCuneta and Senator Kiko Pangilinan , and also of Dingdongand Karylle . The tittle-tattle would persist and get revived in theensuing months.
APRIL. With Gabby's comeback making so much noise, theSharon-Gabby fans started clamoring for a reunion movie.
Butthe Megastar's statement, which was released last April 2, dashed the hope ofthe love team's fans: "Could you imagine how my movie with Gabby, ifever, could turn the lives [of our respective families] upside down? The lastthing I want to happen is for people to turn our lives into a circus."
ADVERTISEMENT - CONTINUE READING BELOW
Two weeks later—April 14, to be exact-Shawie, the nickname of the Megastar—made another startling statement about her past with Gabby Concepcion: "There'snever been closure."
The secondpregnancy news to hit Showbizlandia was posted last April 13 . Inah, theeldest daughter of Senator Bong Revilla and Lani Mercado, would become a mom inOctober 2008—barely a year after her debut—and tie the knot with her boyfriendVince del Rosario in May.
Another non-showbiz kid born to famous parents got dragged into acontroversy. PatrizhaMartinez, daughter of William Martinez and Yayo Aguila, filed an "Act ofLasciviousness" complaint against actor Baron Geisler, who reportedlytouched her breast and asked her to have sex with him. To date, the case hasnot been resolved.
On a lighter note, the news about Heart Evangelista was the summer'schiller: Shebecame a Kapuso . The 23-year-old actress left AngeliPangilinan-Valenciano's Genesis to join Annabelle's roster of talents.
MAY. Afew weeks after Heart's transfer, she dropped a bomb: Her breakup with JerichoRosales. "Third party" was believed to have caused it.
But Jericho,who just arrived from Malaysia, was flabbergasted and devastated about the news. He denied the "third party" angle and could not exactly point outwhy her girlfriend of two years ended their relationship via text so suddenly.
To date, the two have already moved on and are doing well with theirrespective careers.
It was mid-May when PEP found MarianRivera's "flare-up" video, where the Dyesebel actressexchanged words with the guy who was taking it and allegedly slapped him.
ADVERTISEMENT - CONTINUE READING BELOW
It unleashed the mataray side of Marian for the first time, andthis launched two schools of thought: one side lauded her for being upfront,the other side jeered at her "lack of finesse." The topic becameone of the most talked about this year, and it generated 3,555 comments,excluding the below-the-belt posts.
Almost simultaneously with the "flare-up" video, the first majorreconciliation of the year happened. LolitSolis retracted her poolside sweetness" story about Piolo Pascual and SamMilby , and the twoKapamilya actors dropped their libel case .
Up next: PEPYEAR-END REPORT (Part 2): A recount of stormy showbiz issues in 2008