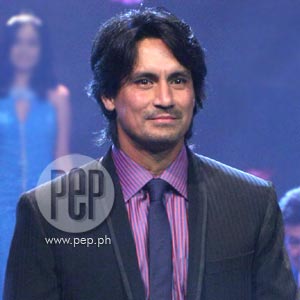 IMAGE 0
---

PEP (Philippine Entertainment Portal) asked several respondents this question: What comes into mind if you hear the name of Richard Gomez?

Survey says:

1. Tall, dark, and handsome
2. Family Feud
3. Lucy Torres
4. Actor
5. Family man
6. Sports or athlete
7. Goma Cup
8. Adonis of Philippine Cinema
9. Opinionated
10. "Parang intimidating dati pero charming naman pala."

Since he joined showbiz 25 years ago, Richard Frank Gomez's life has been an open book. The press picked up that interesting detail about his part-time job in McDo during his pre-showbiz days. The moviegoers fell in love with him in Hihintayin Kita Sa Langit. The whole nation watched his lavish wedding with Lucy Torres in 1998. The fans read about his feats as an athlete—excelling in various sports like volleyball, basketball, baseball, fencing, rowing, shotgun shooting, and even archery—and also his defeat when he tried his hand at politics last May 2007.

But there are still so many things about Goma that the public does not know.

On television, he could be very opinionated. During his stint with S-Files, some of his strong views about showbiz issues earned him foes.

But the people who got to work with him attest that his forthright manner is akin to his competitive streak. In person, he is charming, fun, and quoting the press people who know him, "mabait na tao."

Richard's latest "project" GOMA, Ink will give showbiz fans the chance to get to know the man better.

"I love the things I do whether it be sports or acting. My only stage fright is dancing," he said with a dose of humor.

He's good in almost everything he does, but writing, he says, "may not be one of my strong points."

Goma adds, "I write the way I talk. Even if the readers don't see my face while they read my articles, most likely, they can imagine how I'm saying what I'm talking about."

And what does he think about the PEPsters?

The Family Feud host says earnestly, "Some can be rude, others can be objective. Some will just bash a celeb just for the sake of bashing one. In my opinion, they can comment and be critical but not to a point where they can be malicious. The fans should bear in mind that most of these celebrities have built their names and images on goodwill and hard work for a long period of time. It is only unfair to be commented or abused by someone who does not like a particular celeb or bloggers who have no real account or proof of what they're criticizing about."

But with or without the "rude" PEPsters, the 42-year-old actor is excited to be part of PEP's community as a blogger. It's something he's never done before, and he likes the idea of being able to connect with the fans.

"I will be giving the PEPsters insights on things I do...a peek into my daily activities, shoots or taping..." he says enthusiastically. Plus, readers will also enjoy his photos. Besides being a good actor-host and sportsman, Richard is a good photographer.

Now delivering the sampler, sealed with Richard's brand of passion...Strike a deal with GOMA Ink now!

ADVERTISEMENT - CONTINUE READING BELOW