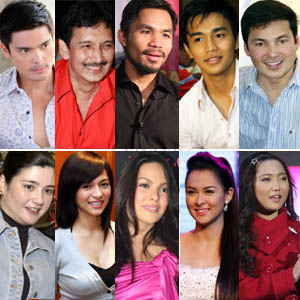 IMAGE 0
---
As we say goodbye to year 2008, PEP (Philippine Entertainment Portal) takes a look atthe personalities who made Philippine showbiz more colorful.
Controversy is a staple in showbiz and the Year of the Rat never ran out of it. Nadia Montenegro figured prominently in three separate verbal tussles with Gretchen Barretto, Cristy Fermin, and Rose Flaminiano. Jennylyn Mercado's pregnancy and her breakup with Patrick Garcia were also favorite topics among PEPsters.
Speaking of favorites, Marian Rivera got involved in several issues this year that made her more popular among PEPsters. Proof of this is the number of Marian-related issues that made it in PEP's Most Viewed articles.
The Year of the Rat was also filled with joy—Manny Pacquiao's triumph, Dingdong Dantes's No. 3 ranking in E!'s Sexiest Men list, Charice Pempengco's international journey, and the Eraserheads reunion concert— and wracked with pain—the death of action superstar Rudy Fernandez and young actor Marky Cielo.
Here are the people who mattered most in Philippine showbiz this year:
MARIAN RIVERA (Controversy Magnet)
Whatever Marian Rivera says or does surely elicitspeople's reaction—positive or negative—simply because she is thehottest star in showbiz today. Proof is the page views and comments thatarticles about Marian get here in PEP. In our list of 100 Most Viewed articles,more than 10 are stories about Marian.
Marian made the headlines this year for several reasons: a video of her confrontation with a fan; admitting that she is a "jologs"; pregnancy rumor; and her crying over Karylle's "mysterious smile."
ADVERTISEMENT - CONTINUE READING BELOW
This year can be also considered a banner year for Marian's showbiz career. She continued to reign supreme in primetimetelevision, thanks to Marimar and Dyesebel. She was also able to do four moviesthis year: My Best Friend's Girlfriend, One True Love, Desperadas 2, and Shake,Rattle & Roll X. And to date, she already has 24 endorsements tucked underher belt.
DINGDONG DANTES (Sexiest Man)
Marian Rivera's screen partner Dingdong Dantes had hisshare of shining moments this year.
Dingdong established himself as one ofthe most sought-after young actors in the industry. After taking a risk byshedding off his wholesome image and his clothes, he captured thepublic's wild imagination.
When he first appeared in the Bench denim and underwearfashion show last July, Dingdong drew the loudest cheers and applause from the audience.Unknown to Dingdong, it was just the start of better things to come.
Later this year, Dingdong ranked No. 3 in E! Television'slist of Top 25 Sexiest Men of the World, behind UK soccer superstar DavidBeckham and Argentinian actor Michael Gurfi. He became the first Filipino to beincluded in the Sexiest List of E! and the highest-rankled Asian this year.
His recent breakup with singer-actress Karyllewas the one of the hottest issues in showbiz this year, of course. The breakup ignitedseveral other issues including his rumored romance with Marian and the riftbetween Marian and Karylle.
All these made Dingdong the hottest male star in 2008.
GABBY CONCEPCION (The Comeback Kid)
Probably the biggest comeback in the history ofPhilippine showbiz is that of Gabby Concepcion.
ADVERTISEMENT - CONTINUE READING BELOW
After staying away from the limelight for13 years, Gabby—who was one of the top matinee idols in the '80s—arrived in thecountry last March 30. Gabby's return elicited various reactions from people, but it cannot be denied that most of them, especially his fans, wereexcited to see him once again.
But his homecoming didn't turn out the way he wanted it tobe.
Although he got a very lucrative deal with ABS-CBN and StarCinema, it created an issue with GMA Films, which he signed a contract witheven when he was still in the States.
He also had to face all the legal cases that he left beforehe flew to the U.S. Two additional cases were filed against him; one by showbizwriter Jobert Sucaldito and another one by his new manager, Mrs. RoseFlaminiano.
Gabby is back in the United States, probably thinking hard about returning to the Philippines.
MANNY PACQUIAO (The Boxing Champ)
Philippine's pride Manny "Pacman" Pacquiao has proven thathe is the best pound-for-pound boxer in the world. This year alone, he wonthree matches in three different weight divisions: superfeatherweight, lightweight, and welterweight.
After Pacquiao's split-decision victory in his rematch againstJuan Manuel Marquez on March 15, he became the first Filipino to win three worldtitles in three weight divisions: WBC flyweight champion, IBF superbantamweight, and WBC super featherweight.
Pacquiao moved to lightweight to fight against David Diaz, whom heknocked out in the ninth round during their match last June 28.
ADVERTISEMENT - CONTINUE READING BELOW
Then, on December 7 (Dec. 6, U.S. time), Pacquiao madeboxing great Oscar de la Hoya surrender after the 8th round duringtheir "Dream Match." Although it was a non-title match, Pacquiao made anothernotch in boxing history by beating one of the boxing legends.
It's interesting to note that all three boxers whomPacquiao defeated are Mexicans, living up to his reputation as the "MexicanExecutioner."
Pacquiao's victory over his idol, De la Hoya, symbolizes thepassing of the torch from one boxing great to another.
MARKY CIELO (Too Young To Die)
Marky's death literally stole the spotlight from Manny Pacquiao'shistoric win last December 7 a few hours after this sports news.
The showbiz industry was intotal shock when news broke out that 20-year-old actorMarky Cielo, the first and only StarStruck Ultimate Sole Survivor, was found dead in his room in Antipolo City.
Marky'ssudden death was deeply mourned by his family, friends, co-workers, and fans. Marky's clean record in showbiz, an exeception ratherthan rule, made him an inspiration to many.
Marky was always proud of his Igorot roots in Bauko, Mountain Province, where he was buried.
The cause of Marky's death remains a mystery.There were talks that he died on his sleep, that he committed suicide, someeven say that there was foul play. But most people would rather not talkabout it and give Marky the peace he deserves.
RUDY FERNANDEZ (Goodbye, Daboy)
The whole movie industry mourned the death of actionsuperstar Rudy Fernandez last June 7, after a long, hard-fought battlewith cancer.
ADVERTISEMENT - CONTINUE READING BELOW
During his entire ordeal, Daboy's wife, actress LornaTolentino, never left his side. It was also during this time that Daboy becamecloser to his family and bosom friends Jinggoy Estrada, Bong Revilla and Phillip Salvador.
Three months before his demise, Daboy celebrated his 56thbirthday (March 3), with almost all of his closest friends in the industry. During his speech, with his typical fighting spirit, hesaid: "I'll see you again next year, same time... I'm sure magkikita pa rin tayo.Hang on, huwag kayong malulungkot, I'm not going to die."
KC CONCEPCION (The Megadaughter)
The daughter of Gabby Concepcion and his ex-wife Sharon Cuneta decided to follow in her parents' footsteps and plunged into showbiz.
After finishing her studies in Paris, KC formallyentered her parents' world by signing a deal with ABS-CBN. As her baptismof fire, she was given a special episode in the drama anthology Maalaala MoKaya. Afterwards, she starred in a month-long drama special titled I Am KC.
This year also saw her birth as a movie actress when she waspaired with Richard Gutierrez in Star Cinema's For The First Time. A follow-upmovie is now in the works, also with Richard but this time under GMA Films.
She has also recorded her debut album under SonyBMG andappeared in the musical Katy.
KC was chosen by the World Food Program of the UnitedNations to be the National Ambassador Against Hunger.
JENNYLYN MERCADO (Young Mother)
Year 2008 was a roller-coaster ride for young actressJennylyn Mercado.
ADVERTISEMENT - CONTINUE READING BELOW
The first big story of the year was Jennylyn's pregnancy,courtesy of boyfriend Patrick Garcia. But after just a few weeks, the coupleended their relationship bitterly.
Jennylyn gave birth to Alex Jazz Mercado last August 16.Three days after, on August 19, her adoptive father Mr. Roger Mercado passedaway.
Until this day, Patrick has yet to see his son and Jennylynhas no plan to give him that privilege.
Jennylyn made a comeback via a two-part episode in theweekly drama anthology Dear Friend, opposite screen partner and ex-boyfriendMark Herras. She is also in the cast of OctoArts Films' One Night Only, anentry in the 2008 Metro Manila Film Festival.
She will next be seen in the GMA-7 Sine Novela Paano Ba angMangarap? again with Mark Herras.
NADIA MONTENEGRO (The Newsmaker)
Nadia Montenegro may not be active in showbiz anymore, butshe never ran out of issues that became topics in showbiz talk shows.
Nadia figured in verbal tussles this year with threewomen: Gretchen Barretto, Rose Flaminiano and Cristy Fermin. These feuds became thehottest issues this year.
Nadia was accused by Gretchen as the one spreading rumorsabout her alleged affair with Dody Puno. Nadia was called by Mrs. Flaminiano asthe "sulsoltant" of Gabby Concepcion. And finally, Cristy revealed that Nadiaallegedly had a daughter out of wedlock.
Nadia's rift with these women remains unresolved, although Gretchen has already expressed her willingness to settle thingswith Nadia soon.
ROSE FLAMINIANO (The Manager)
Former FLT Films producer Mrs. Rose Flaminiano surprisedeveryone when she was able to convince Gabby Concepcion to return to thePhilippines after his 13 years in the U.S. It was Mrs.Flaminiano who initiated a multimillion-peso deal with ABS-CBN for Gabby, which even his former manager Lolit Solis admitted she would not be ableto do.
ADVERTISEMENT - CONTINUE READING BELOW
But the partnership between Mrs. Flaminiano and Gabby turnedout to be short-lived. Gabby complained of "commission and omission, lack oftransparency, and mismanagement of financial and employment concerns." Gabbywanted to terminate his contract but Mrs. Flaminiano would not allow it.
Mrs. Flaminiano also had a verbal tussle with NadiaMontenegro, whom she accused of being the "sulsoltant" of Gabby, makingthe actor suddenly turn his back on Rose.
Then, later this year, entertainment columnist Aster Amoyoand actresses Ara Mina, Aubrey Miles, and Maui Taylor filed a complaint againstMrs. Flaminiano for a housing loan in Pag-IBIG Fund. They neverused the loan, they claimed, yet earned a bad record at the agency.
ERASERHEADS (Concert of the Year)
Music aficionados would remember August 30 as one ofthe most historic moments in Philippine music. The '90s Pinoyrock band Eraserheads reunited for a one-night concert at the Fort OpenField, Taguig City, before an eager audience of approximately 40,000.
Many thought that an Eraserheads reunion concert would notbe possible, since band members Ely Buendia, Raimund Marasigan, Buddy Zabala,and Marcus Adoro had a falling out before their disbandment in 2002. But, bysome miracle, the four agreed to do the reunion concert.
But the concert was cut short when Ely had to be rushed tothe hospital after complaining of chest pains due to emotional and physicalstress. His mother had passed away a few days before the concert.
Although the concert ended abruptly, it paved theway for the Eraserheads members to reconnect and renew their friendship.
ADVERTISEMENT - CONTINUE READING BELOW
CHARICE PEMPENGCO (International Singing Sensation)
Teen singer Charice Pempengco conquered the internationalmusic scene this year with her exceptionally powerful voice.
After being discovered in YouTube and personally invitedby Ellen Degeneres to perform on her show last year, Charice appeared in international TV shows (The Paul O'Grady Show andOprah) and performed with some of the world's best singers—Celine Dion,Andrea Bocelli, Josh Groban, David Foster, and the Jonas Brothers.
Oprah Winfrey called Charice "the most talented girl inthe world." Charice has performed in the USA, Canada, Italy and theNetherlands.