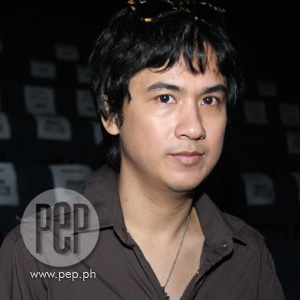 IMAGE 0
---
Rocker Ely Buendia,through longtime partner and manager Diane Ventura, told Startalk last Saturday, December 27, that heis doing well, as observed by his doctors.
Ely's health has alwaysbeen a public concern, despite previous announcements assuring everyone that the former Eraserheads and now Pupil frontman is healthy after another angioplasty last August.
Undoubtedly one of thenewsmakers of 2008, the iconic singer-songwriter—along with former Eraserheads comrades RaimundMarasigan, Buddy Zabala, and Marcus Adoro—made headlines in August when the influentialquartet staged a one-night reunion concert at the Global City inTaguig, in response to the six-year clamor of their devoted fans.
The jampackedconcert was cut short after Ely collapsed backstagebecause of chest pains. The band was able to complete the first set, whichconsisted of fifteen songs before the unfortunate incident.
Barely four monthsafter the concert, Diane gave Startalk'sButch Francisco an update on Ely's present condition.
"He's doing okay," sherelayed, "the doctors told him that he's fully recovered. Nothing to worry about. Wala na talaga, wala na."
PROJECTWITH FRANCIS M. After the Eraserheads reunionconcert, the enigmatic frontman became active again, even while completinghis cardiac rehabilitation.
Ely has been spottedgracing numerous events like the opening ceremony of Dekada Cinemanila InternationalFilm Festival held on October 16 at the Gateway Mall in Cubao, Quezon City. Healso showed up at the premiere night of the Eraserheads reunion concert turned movielast November 25 at the SM Megamall in Mandaluyong City. Adding another featherto his cap was the exhibition of his 13-minute short film titled Waiting Shed. He has also resumedhis frontman duties for Pupil.
ADVERTISEMENT - CONTINUE READING BELOW
One of Ely's mostanticipated creative endeavors is the upcoming release of his collaborationproject with rapper and good friend Francis "Kiko" Magalona. Kiko is currently battling leukemia.
Diane took theopportunity to promote the project. She announced, "Watch out for the album of FrancisM and Ely Buendia. They recorded their first song already. They always havecontacts with each other naman, everyday tumatawag si Francis."
Butch askedhow she and Ely celebrated Christmas. "Okay naman," replied Diane, "Get-together, family, everyone, like I visited his family, he visited my family, soparang get-together."