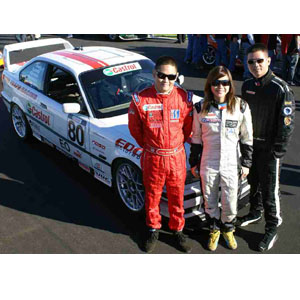 IMAGE 0
---
December 15, 2008 marked a milestone in the racing career of budding host-actress Gaby dela Merced, who joined the NASA 25 Hours ofThunderhill, which is the longest race in North America. The race event was held in San Francisco, California.
Together with fellow race drivers Robbie Montinola and Angelo Barretto, Gaby co-drovethe Team Castrol-Speed Trapp Racing BMW M3 and finished 6th place inits class (E0 class) and 12th overall, out of the 68 race cars.
The feat of Gaby, Robbie, and Angelo was no ordinary event. The 25 Hours of Thunderhill, presented by the U.S. Air Force and sanctioned by NASA (National Auto Sport Association), featured a large-field, nonstop action, and was participated by top teams and drivers across the U.S. The race took place at Thunderhill Raceway Park, a fewhours north of the San Francisco Bay Area.
Gaby's teammate Robbie, who relayed the good news via email, said:
"Just finishing is an amazing feat and a Top 10 finish is a great placeto build off for next year. We know what we needto do for 2009 and have a whole year to prepare for this race. We'll go for thewin!"
GABY'STEAM ENDURES. The Philippine teamstarted off on the right track with precision and solid pacing.
Robbie narrated, "The team started the race off strong and developed a solid pace to keep thecar intact for the 25-hour race. After a few hours, Team Castrol-Speed TrappRacing took the lead in the E0 class and continued to stay in the Top 3.
"Driverchanges went flawless, pit stops were excellent and the Team Castrol-STRstrategy was working well. Only one unscheduled pit stop was made during thefirst half of the race and all the drivers drove great stints. As the racereached darkness, thick fog began to roll in and the race was stopped due tothe dangerous conditions. Not till 5:00 a.m. did the race resume and it became an allout sprint to the finish."
ADVERTISEMENT - CONTINUE READING BELOW
Despite the few unscheduled pitstops due to a flat tire and change of brake pads, the drivers were given the go-ahead to run flat out until thefinish. Running at a very fast pace, the team managed to gain position butit ran out of time and crossed the line in 6th place.
Gaby, who not only was participating in her first long-distance race, butalso racing at Thunderhill for the first time, commented, "Thingswere so different from what I am used to. I have a new respect for thechallenges of endurance racing."
She was also quick to mention that muchteamwork was involved. Gaby said, "Robbie coached me over the radio and Angelohelped me to prepare mentally for driver changes and passing slowertraffic."
The 26-year-old TV personality will have some juggling to do come 2009. Other than hosting and acting, racing will also keep her preoccupied.
With reports from Robbie Montinola.