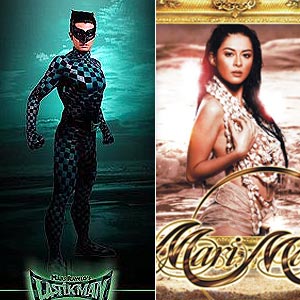 IMAGE 0
---
Figures make up acompetition. The same goes for television programs offered to the waitingpublic by the TV networks.
At present, a program's success isgauged through rating figures obtained in sample surveys conducted by AGB NielsenMedia Research, Philippines.
In a conversation with PEP (Philippine Entertainment Portal) in late 2007, AGBNielsen's General Manager Maya Reforma explained that the survey is done througha special device attached to the television sets of the chosen households in aspecific area. The device records the channels and the corresponding programsbeing viewed by the household at a given hour, thus explaining the daytime andprimetime category. The stored data serve as the basis for the final figures,which are then assessed by the research firm's staff.
With 2008 behind us, itis interesting to list down the top primetime programs of the previous year. Note that this is based on NUTAM (Nationwide Urban TV Audience Measurement), which has a panel size of approxinately 1,670 households nationwide.
Itis a known fact that the evening slot is considered as the most significantsince viewership is higher during the period. Hence, advertisers—always on thelookout for any opportunity that would allow them to reach a wider market—are particularlyfond of the timeslot.
Given the data providedby AGB Nielsen Media Research Philippines,PEP presents the top ten primetime shows of 2008.
MARSRAVELO'S LASTIKMAN.The Vhong Navarro action, drama fantasy series seen on ABS-CBN debuted on September24, 2007 and aired its final episode on January 25, 2008. Lastikman was based on a popular comic book character created byMars Ravelo. The show generated an overall rating of 36.4 percent to lead theprimetime race for 2008.
MARIMAR. The phenomenalsuccess of the Mexican soap series prompted GMA-7 to do a local adaptation,which also served as young actress Marian Rivera's ticket to fame. ActorDingdong Dantes likewise benefited greatly from the show as his imagedramatically shifted from teenybopper to mature actor. Marimar was a consistent top-rater in the Mega Manila race as wellas a strong player in the nationwide contest. Opening on August 13, 2007 andrunning until March 14, 2008, Marimarearned a total rating of 34.8 percent.
ADVERTISEMENT - CONTINUE READING BELOW
PATAYIN SA SINDAK SIBARBARA.Consideredone of the scariest and most successful horror films in local cinema, Patayin Sa Sindak Si Barbara, thetelevision version, starred Kris Aquino, Jodi Sta. Maria, Albert Martinez, andSusan Roces, among others. The series clocked in only a relatively small totalof 15 episodes, yet the show made a huge impression both in the Mega Manila andnationwide survey.
KUNG FU KIDS. Dubbed as thefirst locally produced live-action fantasy series, Kung Fu Kids opened on January 28, 2008 and ended on April 25,2008. The show used the so-called motion capture animation effects—reportedlythe first local program to adopt the technology.
DYESEBEL. AnotherMars Ravelo graphic creation portrayed on television. Dyesebel brought back the winning tandem of Marian Rivera andDingdong Dantes following the success of Marimar.Just like its predecessor, Dyesebel wasa strong fixture in the ratings battle, dominating the Mega Manila race fromstart to finish.
THE SINGING BEE. Alocal franchise of the popular USsinging game show, The Singing Beefeatured Cesar Montano as main host, together with The Honebees led by MelVillena. The show hit home with local viewers as its concept falls directly inline with the Pinoy pastime, videoke. The show premiered on April 21, 2008 andis still on air.
DYOSA. Anne Curtis'scurrent series continues to gather strength as shown by its rating figures inthe past weeks. The fantasy series features Anne Curtis, Luis Manzano, SamMilby and Zanjoe Marudo. The show amassed a total rating of 32.2 percent toplace seventh overall in the top-rating primetime programs of 2008.
LOBO. AngelLocsin's first series since joining ABS-CBN was not particularly a big threat inthe Mega Manila ratings. But the NUTAM contest painted a totally differentstory. Lobo's success in thenationwide survey definitely proved that Angel still had a strong grip on theviewers, just like when she top-billed the GMA-7 programs, Darna and Mulawin.
ADVERTISEMENT - CONTINUE READING BELOW
TV PATROL WORLD. Thecountry's longest running news program debuted on March 2, 1987 and continuesto deliver the hottest news in and out of the country. Presently hosted by TedFailon, Karen Davila and Julius Babao for the weeknights edition and AlexSantos and Bernadette Sembrano during weekends. TV Patrol earned a total of31.2 percent and wound up on ninth place.
I LOVE BETTY LA FEA. ABS-CBN'slocal remake of the Colombian popular series, which stars Bea Alonzo and John Lloyd Cruz,premiered on September 8, 2008. Like Dyosa,the show continues to gather momentum in entering 2009. For 2008, I Love Betty La Fea garnered a rating of30.5 percent to clinch tenth spot.