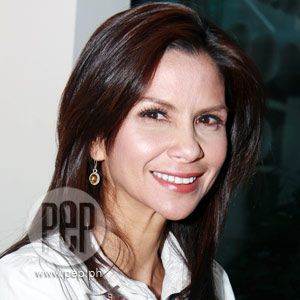 IMAGE 0
---

When the controversy broke out about the "Kamao" documentary of Dyan Castillejo featuring boxing champ Manny Pacquiao, PEP (Philippine Entertainment Portal) asked to arrange an interview with the ABS-CBN senior sports correspondent to ask for her side regarding the matter. (Click HERE to read related article.)
Through the help of Kane Errol Choa of ABS-CBN's Corporate Communications department, we were able to talk with Dyan last January 21, at the Red Berry Roast Chicken restaurant located at The Loop, ELJ Building.
The "Kamao" episode of the late-night show The Correspondents achieved double-digit figures, based on data from TNS (Taylor Nelson Sofres) Metro Manila. It was aired on the Kapamilya Network last January 6 as the show's opening salvo for 2009.
Dyan narrates, "The Correspondents approached me and asked if I could be a guest correspondent 'cause they wanted to bring out the story of Manny Pacquiao, how he rose from humble beginnings to where he is today.
"I called Manny and said, 'Manny, we're doing a special feature on you and we're gonna interview you.' He said, 'O sige, dun na lang kay Manong Chavit [Singson's house]. I also contacted someone from Team Pacquiao and he said, 'Yeah, no problem.'"
On December 22, Dyan and her two cameramen went to the despida-cum-victory part hosted by Ilocos Sur governor Chavit Singson. They were welcomed by the owner of the house and Chavit even instructed the crew to set up their lights in his dining room.
"The Correspondents crew arrived at 7:30 p.m. and then ako, mga 8 p.m. and Manong Chavit instructed them to set up dun sa may kanyang dining room," recalls Dyan. "I think Manny arrived at about 9:30 or 9:45 p.m. Of course, he was mobbed by everybody. He went to all the tables in the garden, he had picture taking, he signed autographs, mga gano'n."
ADVERTISEMENT - CONTINUE READING BELOW


After waiting for two hours, Dyan and her team finally had the chance to talk with the Pambansang Kamao. "Close to 11 p.m., si Chavit mismo nagdala kay Manny dun sa dining room. Then, masaya naman kami. Then si Manny, he even said to me 'O, Dyan kelangan maganda 'tong interview na 'to ha.'"


"The interview happened mga eleven...we started at about 11:05 p.m. At that time, there was no traffic from Corinthian Gardens, I remember I got home at 12:30."
Since the issue broke out, Dyan revealed that she watched the tape again to refresh her memory about the controversial interview.
"Actually, I watched the show again today just to refresh my memory and I can see na, nung naponood ko, masigla si Manny, very masigla, happy, talking about yung humble beginnings niya. Nagtitinda siya dati ng pandesal, donut, naglilinis ng kotse... Parang, he was enjoying recalling his past, and hindi n'ya ikinahihiya yung past n'ya."
Did the interview last for three hours?
"No, it didn't last three hours, 35 minutes nga. Tapos when I heard about it nga, I checked with the cameraman, it was 35 minutes. One tape is really one hour only and we didn't change tapes."
She later pointed out: "There's a counter on the tape and the tape says 35 minutes."
Is she affected by this controversy?
"Actually, no. I'm just doing my job, and I'm happy to do it," she says with a smile.
KAPUSO TALENT. In a previous interview, GMA-7's SVP for Entertainment, Ms. Wilma Galvante, pointed out that Manny should inform the Kapuso network about interviews like this. "As an exclusive Kapuso talent, bago ang gagawin mo, kahit ano, magpapaalam ka,'" she said during press conference last January 16.
Does Dyan agree with this arrangement?
"I don't think that's the case for news, since the whole world interviews Pacquiao," says the ABS-CBN senior sports correspondent. "I think that extends to activities like having a show. I'm sure he cannot have a regular show in ABS-CBN, he can't have a regular sitcom or a drama, but I don't think there's exclusivity, otherwise everybody would've been violating for the last ten years."
ADVERTISEMENT - CONTINUE READING BELOW
"SHE WAS MISINFORMED." Is Dyan angry with Ms. Wilma and GMA-7 senior programa manager Redgie Magno, who declared outright that Dyan is "lying" about the length of the interview?
"No, I'm not angry. Maybe she [Ms. Wilma] was misinformed," says Dyan. "I don't think she was there. I didn't see her. But I know her. She's a friend of mine. Yeah, we have a common friend."
How long have you been friends?
"Not too long...we have a common friend, si Jessica Rodriguez. We had dinner one time. I also know Redgie Magno. We haven't had a problem in the past."
If you bump into them, will be okay with them both? "I will. I'm not the type [to keep a grudge], basta I'm just really doing my job. I haven't offended anybody, I haven't broken any rule, as you can see."
Dyan, a reporter who has been in sports journalism for the past 16 years, ends the interview by saying, "The time is not really the issue, so even if it was 45 minutes, there's no rule. I really haven't done anything wrong. I'm just doing my job."
For Dyan Castillejo, she will continue doing the thing that she loves doing most: interviewing athletes.