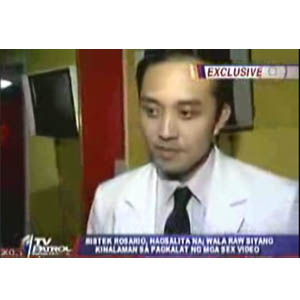 IMAGE 0
---
Dr. Herbert "Bistek" Rosario, one of the named suspects in the distribution of the Hayden Kho sex videos, broke his silence two days after scandal victim Katrina Halili charged him and three others—Dr. Vicki Belo, Erik Johnston Chua, and Bistek's girlfriend Princess Velasco—in a formal complaint she filed at the Department of Justice. (Click here to read related article.)
In an exclusive interview with ABS-CBN News last night, June 9, Bistek denied involvement in the distribution of the Hayden Kho sex videos. He said he finally agreed to an interview because he wanted to clear his name.
"Lumabas na ako kasi, unang-una, nahihirapan na rin ako, at naaawa na ako sa mga magulang ko. Gusto ko na pong malinaw, ma-clear yung pangalan ko," Bistek said.
The controversy made headlines when videos of the sexual exploits of cosmetic surgeon Hayden Kho with at least three women, including Katrina, surfaced on the Internet.
Various testimonies alleged that there are four individuals involved in uploading the videos: celebrity beauty expert Dr. Vicki Belo, Hayden's ex-girlfriend; businessman Erik and Bistek, Hayden's friends from college; and Princess, Bistek's longtime girlfriend.
In the interview, the doctor revealed that the whole fiasco began when Princess revealed to him that she had a short-lived affair with Hayden.
"Mixed emotions ako nun, e, na-shock ako kasi this was a guy [Hayden] that I really trust and then ah... Siyempre, I got angry din," Bistek said.
It was Bistek and Erik who revealed to Vicki that Hayden owned several sex videos with other women. Bistek said that Vicki, fearing that her boyfriend also taped their sexual encounters, instructed them to retrieve Hayden's laptop computers.
Bistek also confirmed Hayden's foiled suicide attempt. He said that after he and Erik gave Vicki the computers they retrieved from Hayden's condo unit, he was told that Hayden attempted suicide. It was Bistek who first checked on his friend.
ADVERTISEMENT - CONTINUE READING BELOW
"I found Hayden there lying down and siyempre as a doctor, I checked if he was still breathing. We immediately brought him to Makati Med," he said.
After this incident, however, Bistek claimed he never saw the laptop again because he was already busy being a resident pediatrician in a well-known hospital.
In a sworn affidavit submitted to the National Bureau of Investigation last May 26, Vicki confirmed that she instructed Bistek and Erik to retrieve three computers and one hard drive from Hayden's place, which she owns.
She also confirmed that only Erik, not Bistek, had copies of the sex videos. She added that Erik gave her a DVD copy, which she promptly destroyed after viewing.
In a court affidavit he submitted on June 4, Erik denied "having a hand in the proliferation of Dr. Kho's sex videos."
"Dr. Belo handed a recordable digital video disk (DVD-R) and asked me to make a copy of the video recordings. In her presence, I made a copy of the video recordings, and turned over the DVD-R to Dr. Belo upon its completion. On Dr. Belo's instructions and likewise in her presence, I deleted all the video recordings in the laptop, and thereafter left her residence. Dr. Belo likewise left her residence for another meeting," Erik explained.