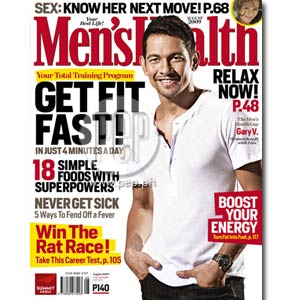 IMAGE 0
---
If you find yourself stuck in traffic one day and think that you just saw Gary Valencianowhiz by on a bicycle, your eyes aren't playing tricks on you-Mr. Pure Energy really does ride his bike around the metro.
His love affair with biking started when he was around 10 or 11 years old, as he tells Men's Health Philippines this August, "If it's not my wife beside me, it could be my bike Fifi. I don't think there'll ever come a time that I'll stop [riding]... I still see myself riding 'til I'm 65. I just love it."
Men's Health captures Gary as he rides the rough terrain in Sta. Elena, Laguna. After pedaling through the muddy trails, he smiles and says, "Ang sarap, I haven't ridden on the trail in four or five months. I'm on knee therapy kasi I got injured while performing onstage and napabayaan ko for some time."
In between his thrice-a-week gym sessions, he rides his bike and commutes to his tapings and recordings and back home, where he takes the Marikina riverside route.
ADVERTISEMENT - CONTINUE READING BELOW
For his fellow city bicycle riders, Gary has this tip: "Stick to the right side of the road... All it takes is one hit from the side mirror or wherever, and you end up on the ground on the fast lane. On the right, you can jump up a sidewalk."
He tells Men's Health, "I tried riding on the left, it's scary. You're going fast and you see this huge truck going vroom 'Okay I think I'm going on the right side now.'"
Gary shares more riding tips in the August issue of Men's Health, available in newsstands, bookstores, and supermarkets nationwide. For more of Men's Health online, visit www.menshealth.com.ph.