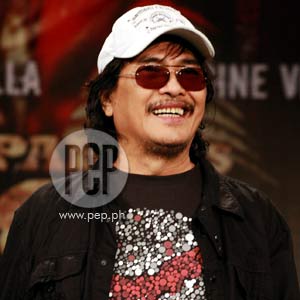 IMAGE 0
---
Distinguished Filipino artists are not just mourning the loss of former president and democracy icon Corazon "Cory" Aquino.
Disappointed with the last-minute inclusion of komiks novelist turned director Carlo J. Caparas and Philippine Educational Theater Association (PETA) founder Cecile Guidote-Alvarez in this year's list of National Artists awardees, big names in the local art and literary scene will reportedly stage a protest this weekend to denounce the selection.
In a text message received by PEP (Philippine Entertainment Portal) yesterday, August 2, from director Dale Custodio, he revealed that the protest—to be held on August 7 at 2:00 p.m. at the Cultural Center of the Philippines in Pasay City—will symbolize the "death" of the prestigious award.
The message reads:
"Lamay at prusisyon: F. Sionil Jose, Arturo Luz, Bienvenido Lumbera, Virgilio Almario, BenCab will lead artists and community in a Necrological Service and Funeral March for the National Artists Awards... Makiramay tayo!"
ADVERTISEMENT - CONTINUE READING BELOW
QUESTIONING THE SYSTEM. The controversy erupted after the official list, as approved by Pres. Gloria Macapagal-Arroyo, was released a few days back. Those who were monitoring the entire deliberation and selection process were said to be stunned by the sudden addition of certain names not previously submitted for consideration.
While the President does not hold any power to bar or exempt any name submitted by the National Commission for Culture and the Arts (NCAA) and the Cultural Center of the Philippines (CCP), he or she enjoys the special privilege of adding names to the list.
Last year, President Arroyo added Mindanao visual artist Abdulmari Imao to complete the final roster of recipients.
This year, she added four: Francisco "Bobby" Manoza (architecture), Jose "Pitoy" Moreno (fashion design), Magno Jose Carlo Caparas (visual arts and Film), and Cecile Guidote-Alvarez (theater).
The move instantly irked a number of Filipino artists and personalities. Some felt that by adding four individuals instead of the usual practice of just one, President Arroyo in effect derided the system, loosening the supposed strict qualifications based on credentials required in naming an awardee.
ADVERTISEMENT - CONTINUE READING BELOW
Speaking last week to Spot.ph through phone, National Artist for Visual Arts Ben Cabrera (BenCab) openly lambasted this year's list, saying, "I feel bad. It's a mockery of the system. They might as well just appoint [their own choices] and not go through the entire process. I will boycott the awards. I will not march. I will not mention any names, but we heard that there was one very influential person who helped manipulate the results."
Among the mentioned names personally chosen by the president, Caparas and Alvarez earned most of the heat.
Caparas—despite of his iconic stature as one of the popular graphic novelists in Pinoy pop culture—critics argued, is "unworthy" of the honor. Comic book writer and illustrator Gerry Alanguilan commented that Caparas "has never drawn any of his comic book stories... How can someone who is not a visual artist get the National Artist title for Visual Arts?"
ADVERTISEMENT - CONTINUE READING BELOW
Caparas's credentials as a director is considered "sub par" by film critics, who cringed and made fun of his pito-pito movies (low-budget projects done haphazardly) .
"They cannot take the award from me anymore," the beleaguered director retorted in a conversation with ABS-CBN. "Ganyan talaga kung may something for grabs. E, iisa lang ang pipiliin. Sana, maghintay na lang sila ng tamang panahon sa gusto nilang manalo. Hindi naman ito palakasan."
As for Guidote-Alvarez's selection, critics condemned the "lack of delicadeza." She is currently serving as executive director of the National Commission for Culture and the Arts (NCAA)—the same organizational body tasked to administer the award in partnership with the CCP.
The PETA founder, however, fired back at her detractors in a recent interview with GMA News: "Before you make a judgment, read my achievements first as an artist. Was I an idiot before I became a National Artist?"