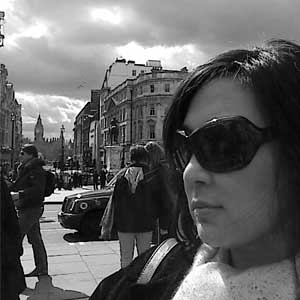 IMAGE 0
---
The Megastar, Sharon Cuneta, left for London on April 4, 2008 to shoot the major scenes of her new film, Caregiver, which is slated to open in Manila theaters on May 28, 2008.

Megged by blockbuster director Chito Roño from a screenplay by Mel del Rosario, Caregiver is Sharon's gift to her fans, collectively known as Sharonians, who are all eager to see her on the big screen after an absence of more than four years. Her last film, Crying Ladies, was shown in the December 2003 Metro Manila Film Festival.

Sharon is also celebrating her 30th anniversary as an ace multimedia performer this year, and she calls this movie her 30th-showbiz-anniversary gift to Pinoy moviegoers.

In Caregiver, Sharon plays a schoolteacher waiting for the official approval of the immigration petition that will allow her to join her husband (played by John Estrada) in London, the United Kingdom, where he is working as a nurse. While waiting for the approval of her husband's petition, she takes a course in caregiving. When she gets to London, she easily finds work as a caregiver, taking care of an elderly British couple.
Trouble sets in when Sharon and John find themselves constantly in the grip of emotional conflicts, weighing the benefits and drawbacks of caring for strangers for money, while providing for the financial needs but neglecting the psychological and emotional needs of their loved ones back home.
ADVERTISEMENT - CONTINUE READING BELOW

The film's production company, Star Cinema, is likewise celebrating a milestone this year—its 15th anniversary—making Caregiver an extra special film project.

And that is why YES!, together with our online affiliate, the Philippine Entertainment Portal (PEP, www.pep.ph), went directly to Sharon to request exclusive photos and updates of her three-week London shoot.
Despite her punishing schedule there, the Megastar managed to accommodate our request. A certified techie, she started sending YES! and PEP behind-the-scenes and "pasyal" photos, along with detailed reports, from April 16 up until the 20th, using the Internet or her mobile phone's multimedia messaging service (MMS) and short message service (SMS) features.

Later, we learned that she was sending most of the photos and messages using her BlackBerry Wireless handheld phone, which allows the sending and receiving of email, in addition to the standard cellphone features.
From London, she sent us some 30 photos with lengthy-and funny-text and email messages. Then she stopped sending any more messages, so we thought she was done. But on April 29, just five days after she came back to Manila, we found a bigger batch of photos and even more detailed stories in our email inbox. She also texted to let us know that she had sent email. How's that for efficiency?
ADVERTISEMENT - CONTINUE READING BELOW

This was the text message she sent us:

"I counted, sent you four emails with kwento and 49 picture-attachments! Yippee! :-)

"Sana napa-smile kayo kahit na you're ngarag. Hahaha! Remember, an apple a day is seven apples a week!

"And more importantly, since you're puyat pa in the coming days: Di bale nang walang tulog, huwag lang walang gising. Nyahahaha!

"Jetlag lang ito, lilipas din. Makatulog na nga! God bless!"

This show of thoughtfulness proved to us that Sharon is also a Megastar when it comes to keeping her promises.

In fact, she even took the trouble of sending corrections to some names and to the timeline. For instance, when she sent us the biggest batch of photos via email on April 19, while she was still in the UK, she also sent us this lengthy text message:

"Just sent you pictures via email. [We're] leaving kasi later for Gloucestershire [a county in South West England] and I realized baka wala lalong Internet connection there so nagpa-charge na ako kay Penny [Diamzon, her assistant] sa room namin tonight.
"Di ako makatulog kasi nag-promise ako [that I'll send you photos]. :-)
"Gotta sleep now. Am sick and dokleng na! I'm just thankful for the importance you are giving me and our project! Much love and God bless. :-)
ADVERTISEMENT - CONTINUE READING BELOW

"Thanks again and will update you soonest. Please remember to say a prayer for us.
"I'm really feeling my throat is acting up now. Shucks. Can't afford to get sick. So much yet to do and I want to go home na. Umiiyak na naman ako! :-(
"Mwah! God bless and a big hug! :-) "

In this piece, we hardly edited or changed her words-except to spell out the abbreviated words commonly used in text messaging, and to italicize and punctuate in accordance with this magazine's house style. We also kept all her emoticons. That's because we wanted to preserve the flavor of Sharon's storytelling.

The next several pages will show you how good a documentalist, both in words and in photos, the Megastar is.

Needless to say, she delivered more than we expected. But more than the funny sidelights, we love more the insights that she shared with us.
For instance, Sharon says she's honored that Star Cinema gave her its "biggest and most expensive movie ever." You sure need a lot of money to mount a film production in one of the world's most expensive destinations.
ADVERTISEMENT - CONTINUE READING BELOW
In one of her email messages to YES!, Sharon noted: "E, last nga I checked sa cnn.com, #2 sa list ng World's Most Expensive Cities ang London!-next to Moscow. I found Paris so expensive na nga while KC [Concepcion, her eldest daughter] was there and it's #13! Ngek!"

YES! Magazine's own online research revealed, in the words of the January 2008 report on the Global Property Guide website, that "London is presently the most expensive city in the world in terms of real estate."
Bottom line is, whether it's the second or first in the rank, London is expensive. Just three weeks of filming there must have required a huge amount of money from Star Cinema.

But since the Caregiver cast and crew went there to work and not to play, they were forced to be stringent in the use of their resources. In fact, Sharon says, it was a skeleton crew that went to London—which means two to five times leaner than the typical film crew shooting in Manila. Everyone, including the Megastar, was obliged to multitask.
ADVERTISEMENT - CONTINUE READING BELOW

Sharon says she was not just impressed with the Caregiver production staff, but remains deeply grateful to and mighty proud of each and every one of its members. She fondly called them "my boys"—even if some of them were girls.

In her April 29 email to YES!, she paid lavish tribute to the members of the production staff:

"Compared to us artistas, they were the first ones on the set and the last ones to leave—after cleaning up and packing precious equipment.
"We looked after each other there and I will always hold fondly in my heart, each of my boys. Kung di pa kasali [sa dictionary] ang definition namin—na hindi ma-put into words ng 'bonding' sa salitang 'yon-dapat isali, as a tribute man lang to our friendship and hirap and coming together throughout the three weeks, na ONCE lang kami nag-day-off! Hats off to them!

"'Tapos, lahat kami malayo sa kanya-kanyang pamilya. Tuwing magrereklamo kami nina Peachy [Mariano, her make-up artist] among ourselves, I'd remind myself that if we were puyat and hirap, lalo naman my boys.
ADVERTISEMENT - CONTINUE READING BELOW

"Minsan nakikita ko lahat sila, halos babagsak na sa pagod, pero sige pa rin."

From here, Sharon segues to a related topic—the plight of movie workers in local cinema.

"I pray talaga that lahat ng problema ng industriya namin—ang pelikula—na minamahal, ma-solve na.

"So many workers in need of jobs. Such few movies being produced. So much piracy, so many jobs stolen as a result. Plus, other problems pa. And working conditions could be much better for movie workers.

"Kami, so-called 'stars,' though nakakainis minsan na akala ng ibang tao, puro kami pampering at glamour at walang hirap (naku poooooo!! Sarap sakalin ng mga nagdudunung-dunungan na mga 'yan na di naman nakakaintindi sa trabaho naming mga artista!), when hirap din kami sa ginagawa namin at di birong trabaho ito!

"Hirap na rin kami sa kalagayan ng Industriya ngayon. So what more the other workers? Ang mga kasama namin sa set na di lang nagpapagaang sa trabaho namin, pero who actually make us 'look good'?
ADVERTISEMENT - CONTINUE READING BELOW

"Pati mga utility men—sa London, kami-kami din 'yon!—sa set na nagsisilbi ng kape, juice, water, food, etc., sasaludo ka talaga pag naintindihan mo kung gaano sila kahalaga sa set."

As for Caregivers, Sharon believes this film project came to her at the proper time, and she's grateful for it.

"Such a labor of love. Such a blessing. Timely, too. Came when I needed it and was feeling so low.

"God has blessed the filming of this movie with great people we met along the way and/or worked with.

"I think the snow on my very first full day in England—first shooting day, day after I arrived—and which we were able to capture on film, was a clear-as-day sign of God's hand in this project. That much I know for sure. :-)

"But we have not and will not stop praying-not only for the film's commercial success but also for appreciation, at least, from the critics; and most of all, from my audiences everywhere."
ADVERTISEMENT - CONTINUE READING BELOW

Sharon is equally grateful to the British film crew, as well as her British co-stars. Lastly, she thanks her Sharonians:

"You have no idea how very grateful I am for the never-ending show of such strong support and love—in the real sense of the word—that I am showered with by all Sharonians, and friends, and of course, family.... For 30 years on.

"I saw the 'sneak peek' [of the film] and I tear up. Tears well up in my eyes and I am not even aware of them... that it surprises me once I realize they're there!

"[I'm] praying for strength and a child-like sense of gratitude for the rest of my life!