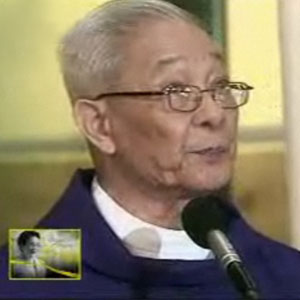 IMAGE 0
---
Father Catalino Arevalo—of the order of the Society of Jesus, who was friend and spiritual adviser to the late Corazon "Cory" Aquino since August 21, 1983—will be recognized and awarded by the Federation of Asian Bishops' Conferences (FABC) for his services to the federation.
The awarding takes place today, August 16, 2009, at the 11:00 a.m. closing Mass of the 9th Plenary Assembly of the FABC, at the Pope Pius XII Catholic Center, in Paco, Manila.
He is best known nowadays as the Jesuit priest who gave a moving homily at Cory's funeral Mass last August 5, 2009. (You can view the homily in video thru this link.)
WHO IS FR. CATALINO AREVALO? Fr. Arevalo has played a pivotal role in the expansion of the FABC since the 1970s, and he was, in fact, the main author of the concluding document of the 1st Plenary Assembly held in Taipei, Taiwan, in 1974.
Aside from being the chair of the Theological Advisory Commission (TAC) from 1985 to 1995, the Jesuit priest was also at the time serving as theological counselor to the FABC.
ADVERTISEMENT - CONTINUE READING BELOW
He is currently Professor Emeritus at the Loyola School of Theology at the Ateneo de Manila University's Katipunan campus in Quezon City.
The late Manila Archbishop Jaime Cardinal Sin, who named Fr. Arevalo "Dean of all Filipino Theologians," facilitated in 1997 the awarding of Fr. Arevalo with the Vatican's "Pro Ecclesia et Pontifice (For Church and Pope)," which is given by the papacy to the laity and the clergy for distinguished service to the church.