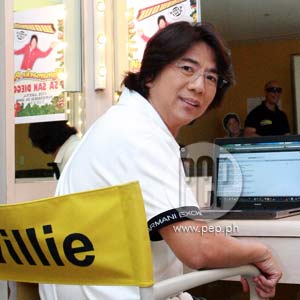 IMAGE 0
---
If events follow their present course, loyal viewers of Wowowee may not get to see main host Willie Revillame on the globally popular noontime show again.
There were earlier reports that Willie would return to his highly successful daily show on ABS-CBN, Wowowee, this Saturday, August 29—three weeks after what has been called his "voluntary indefinite leave." But a very recent development may prevent this from happening.
PEP (Philippine Entertainment Portal) received a text message late afternoon today, August 27, from someone who wants to be identified only as "a source close to Willie." PEP has verified that the source is in a position to know the developments of the complaint lodged by the Movie Television Review Classification Board against Willie. The message said that Willie Revillame may not return to his show—and to ABS-CBN—at all.
Here is the text message received by PEP, in full:
"ABS-CBN and MTRCB are coming up with a statement saying that ABS will suspend Willie until the 29th of September. This is unacceptable to Willie because it implies he was guilty of something. His Kapamilya did not take care of a member of the family. So Willie is now inclined to tell ABS that he won't be back at all and is ready to leave ABS."
ADVERTISEMENT - CONTINUE READING BELOW
UP IN THE AIR. However, when PEP checked further, the story of Willie's suspension and his leaving the network were said to still be up in the air.
For one, said the ABS-CBN source, "walang suspension" and that the MTRCB "was still deliberating" as of press time. But the source admitted that there was a possibility that Willie's "voluntary indefinite leave" may actually be "forcibly extended beyond August 29" to appease the censors body.
The source, quoting someone from Willie's camp, also said that Willie seemed to be unusually calm, although he feels that he is being made the "scapegoat" in this scenario. That is, the more likely event is that there will be a "suspension" or an "extension of Willie's indefinite leave"—since the MTRCB was deliberating on a complaint it had itself launched, even if others joined in after.
Following this, said the source, Willie's camp suspects that the more acceptable scenario for the network is to have the show's host suspended instead of having the entire Wowowee show suspended. In other words, said the source, "isasakripisyo si Willie."
ADVERTISEMENT - CONTINUE READING BELOW
Meantime, an industry insider noted that ABS-CBN top management doesn't seem unduly bothered by these developments or how these have affected the noontime host. Word is that Willie has told top management how hurt he is by all this and how he feels abandoned by his bosses. It's also said that he has actually asked them to free him from his contract.
Yet—except for one letter to the MTRCB, signed by ABS-CBN manager Cory Vidanes, stating that the network did not believe Willie had violated the broadcasters' Code of ethics—the top bosses have not been seen to make dramatic moves to woo Willie back. Should an MTRCB and ABS-CBN joint statement conclude that the host must be punished with a suspension, said the insider, then it will be taken by Willie as a sign that his bosses have indeed "sacrificed" him.
BACK STORY. It will be recalled that Willie hit the headlines again when he demanded, on the air, that the live-feed inset of President Corazon Aquino's cortege last August 3 be removed while Wowowee was on the air. His statement on the show irked many, including Movie and Television Review & Classification Board (MTRCB) Chair Consoliza Laguardia.
ADVERTISEMENT - CONTINUE READING BELOW
Laguardia argued that Willie violated the broadcast code of ethics of the Kapisanan ng mga Brodkaster ng Pilipinas (KBP). She said that the TV host violated Sec. 3 of Presidential Decree 1986, which is "being objectionable and contrary to good customs and tradition."
Although Willie has long apologized—more importantly to the Aquino family, which accepted his apology—the MTRCB still filed a formal complaint to the KBP last August 10 with the intention of punishing Willie for his actions. This complaint was answered by the Kapamilya network, through its head, Ms. Cory Vidanes, last August 14. (Click here to read related story.)
Since that time, there have been meetings involving MTRCB, ABS-CBN, Willie, and their lawyers. Willie is quietly awaiting a resolution of the case, but the text message PEP received is probably on the mark when it said that the host would not take a suspension calmly.
Should the suspension push through, the question now becomes: Will Willie return to Wowowee?
ADVERTISEMENT - CONTINUE READING BELOW