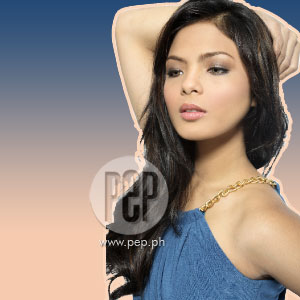 IMAGE 0
---
In showbiz, thin is in, and thin is beautiful. That's what Lovi Poe noticed when she went to 2006 anniversary party of YES! Magazine. "I saw all of the artistas, and they were skinny," she recalls. "Oh, my God! Pressure!"
She felt the need to fit in. "That's when I realized that I need to lose weight."

For a girl who loved to eat, losing weight was a difficult thing to do. "As in, I could eat two quarter-pounders with sundae chocolate, with large fries, with Coke, in one sitting lang. So I had to give up that."

But in giving up the weight-boosters, she found herself going overboard. The realization hit her when she woke up one early morning and found herself almost collapsing from hunger.

"I was walking towards my room. and then babagsak-bagsak ako. I thought, 'I can't do this anymore.' I had to go downstairs, and I had to eat. So I went downstairs, I ate this wheat bread—pagsubo ko, hindi ko ma-swallow. So nagpa-panic ako. When I drank water, hirap din ako mag-swallow."

It was a scary episode, but she couldn't help but giggle when she recalls: "A few steps before my bedroom, bumagsak ako. Pero na-save ko 'yong glass!"
When she recovered, she finally made it to her bedroom, where her younger sister was then hanging out. "She said, 'Ate, are you okay?' I said, 'Yeah, hug me.' That's when I realized I have to stop, it's too much na."
ACTING AND SINGING. The then 19-year-old college student says she has learned to love acting, although she started in the business simply wanting to become singer.

"Acting is like therapy for me, because I don't get to release my emotions in real life. I rarely get angry. I don't show emotions. I don't cry. But then, in acting, doon ko nari-release lahat ng galit ko, lahat ng pain ko."
ADVERTISEMENT - CONTINUE READING BELOW
The daughter of the late movie icon Fernando Poe Jr. grew up controlling her actions and her emotions.

"My dad was loved by everyone. So, it's like in my head na I have to be a nice girl, I have to be the perfect daughter. Since I was a kid, I was pressured to do these things. Sometimes you get tired of it—people controlling you. Sometimes you become pasaway din."
The pasaway tag had been attached to Lovi after her name got romantically linked to young actor Jolo Revilla, then, politician Ronald Singson.
Lovi maintains she is not what the tabloids have pictured her to be: "I'm not pasaway. I'm not pasaway talaga. I don't know why. I cannot judge people naman. It's their opinion naman."

The very first controversy thrown at her was her relationship with Bong Revilla's son. At the time of this interview with YES! magazine, she said, she and Jolo are just close friends. "I feel so bad na nabibigyan ng ibang meaning ng ibang tao."

She also found it unfair that some people disapprove of Jolo, who fathered a child by his ex-girlfriend, Grace Adriano, the daughter of Rosanna Roces. Lovi didn't mention Grace's name, but she was aware that some people are worried that what happened to Grace may happen to her as well.

"I appreciate the concern of everybody na nagko-comment. Pero naawa ako kay Jolo. Kumbaga, tinatakan na siyang gano'n. I'm not the type lang na agad-agad nag-a-assume na he'd do this, he'd do that."

Fast forward to 2010, Lovi has learned to adjust to showbiz intriga. Despite the bad press, she displays graciousness toward her detractors: "It's their job. I really understand them. I actually have respect for them."