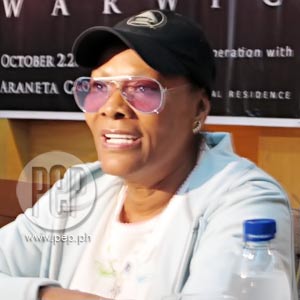 IMAGE 0
---
Dionne Warwick's arrival in Manila last October 1 came in the aftermath of typhoon Ondoy that left most of Metro Manila submerged under floodwaters. A day before her concert at the Araneta Coliseum, the entire country was bracing for imminent Pepeng, another "super typhoon" that threatened to punish northern Luzon.
The devastating stories that greeted the legendary American singer did not dampen her spirits. She told the local press, "At this time of crisis, I certainly hope to bring a little bit of joy to you through my music. I hope that it would somehow ease some of the pain that we've all been going through."
SURVIVING THE ODDS. Back in the '60s, a cultural storm originating from England was brewing and fast making its way to American soil, threatening to wipe out solo-act singers. Leading the way were four young men from Liverpool, England who collectively called themselves The Beatles.
At the advent of the so-called British Invasion, Warwick—who honed her chops by singing backup to The Drifters, Ben E. King, Chuck Jackson, Dinah Washington, Ronnie Hawkins and The Hawks, and Solomon Burke, among others—was already being groomed as a solo singing sensation. She inked the deal with Scepter Records under the guidance of hit songwriters Burt Bacharach and Hal David.
The massive rock n' roll phenomenon created by young bands did not put off Dionne's burgeoning solo career. The New Jersey native scored her first chart hit in 1962 with "Don't Make Me Over."
It was a sign of things to come as Warwick went on to churn out hits one after the other consistently, even scoring three hit singles in a year like "Walk on By," "You'll Never Get to Heaven (If You Break My Heart)," "Reach Out for Me" (1964); "Message to Michael," Trains and Boats and Planes," "I Just Don't Know What To Do with Myself" (1966); "Alfie," "The Windows of the World," "I Say A Little Prayer" (1967).
ADVERTISEMENT - CONTINUE READING BELOW
In 1969, Warwick entered the charts with four hit singles "This Girl's in Love with You," "The April's Fool," "You've Lost That Loving Feeling," and "I'll Never Fall in Love Again."
Dionne continued to figure strongly on the charts as proven by the songs "Let Me Go To Him" (1970), "Make It Easy on Yourself" (1970), "Then Came You" (1974), "I'll Never Love This Way Again" (1979), "Déjà Vu" (1979), "No Night So Long" (1980), "Friends in Love" (1982), "Heartbreaker" (1982), "All The Love in the World" (1982), "How Many Times Can We Say Goodbye" (1983), "That's What Friends Are For" (1985), and "Love Power" (1987).
OWNING HER SONGS. Other than being a certified hit-making celebrity, Dionne has gained a reputation in the business as no mere pushover, particularly when it comes to her business affairs.
It was said that Warwick—dubious of the accounting practice and policy of the record label—became the first artist under Scepter Records to demand full audit of her recordings. The professional breakup of the songwriting duo of Bacharach and Hal consequently left Warwick vulnerable to a lawsuit from her new label, Warner Bros. In response, Dionne filed a $5.5 million court case against her former songwriters for breach of contract.
The issue was settled in 1979 with Warwick receiving $5 million. But more than the immediate sum, Dionne scored big when the court granted her all the rights to her recordings previously produced by Bacharach and Hal.
"Yes, I do," Warwick confirmed when the Filipino reporters verified if she owns the rights to her songs.
Looking back on her relationship with Bacharach and Hal, Dionne said that they all benefited from one another during the time they collaborated smoothly inside the studio.
"There's no lesson to learn," she offered, pertaining to the fallout and the legal case that followed.
"We probably learned a lot about each other," continued Warwick, who added that she is presently on good terms with both Bacharach and Hal.
ADVERTISEMENT - CONTINUE READING BELOW
TAKING THINGS IN STRIDE. The passage of time did nothing to diminish Dione's passion for live performing.
Dionne never stopped touring and performing before an audience in and outside the U.S. Unverified reports said that she is planning to embark on a big tour next year which will include Asian countries.
"This is my 48th year in the business and it's wonderful to know that I am still very active in concerts, and that people still want to hear the songs that I had the pleasure of recording over the years," Warwick announced with both pride and humility.
But for an icon who still averages 200 shows a year, being constantly on the road can be tiring. Dionne admitted that even her two children want her to slow down and start enjoying the fruits of her legacy.
"I'm still enjoying what I do," she said. "But I'm at a point where I need to slow down a bit. Forty-eight years is a long time to be consistently on the road."
Asked to described the Filipino audience, she replied, "Very receptive and also, they know the music, which is very, very nice."
Shopping is one of Dionne's fondest memories of her previous Manila visits.
"I bought a chair here that is probably the most gorgeous piece of art that I've ever seen," she said in closing.