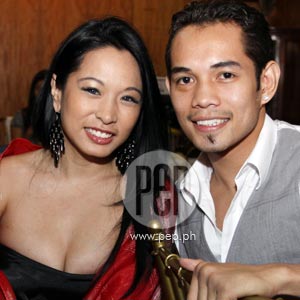 IMAGE 0
---
Since winning the WBA Super Flyweight belt, Nonito Donaire Jr. has become more visible on local television. And wherever he goes, there's a lady who's always behind him.
She's young and lovely, but she's not being referred to as, simply, Nonito's wife. The lady is "Knockout Queen" herself in the field of Taekwondo, and has been an active athlete in California since she was 12.
Her name is Rachel Marcial, who became Mrs. Nonito Donaire Jr. last year—August 8, 2008, to be exact—and has been acting as the boxer's manager.
WHEN TWO FIGHTERS MEET. Nonito and Rachel first met at a party that she hosted. He was invited by one of Rachel's friends.
There was no spark.
The Filipino-American Taekwondo champ told PEP (Philippine Entertainment Portal), "I didn't like him, e, because he was masyadong mayabang. Oo, he's cute but he's mayabang. So I was like, 'whatever!' I just brushed him off because I don't like him very much."
Instead, there was an explosion.
Both have a "fighter persona," so initially, they "fought" endlessly.
Nonito related, "Suplada 'yan, e. She thinks that suplado din ako, and we pretty much didn't like each other in the beginning. I guess we both have the fighter persona siguro. Parang, we're both fighters, e...I think that's one thing that really...Parang 'I don't like you,' 'You don't like me.'"
But when he started getting to know her, Nonito decided to pursue Rachel.
"He wouldn't leave me alone, for like, god, every single day," she recounted. "He will come to my house and take me out for dinner. And even there's one day that I am sick, he'll come over and kasi, di ba, when you're sick, wala kang make-up? I didn't want him to come over but he was like super insistent.
ADVERTISEMENT - CONTINUE READING BELOW
"So he still came over, brought me Ramen, and, I don't know, Ramen and orange juice, and you know, try to nurse me back home. Every single day he would come to my house."
Eventually, the persistence of the "Flash" paid off.
"He was the first one to say 'I love you.' And then, he was the one to ask me out to be his girlfriend," said Rachel with a smile.
MARRIED LIFE. Last year, in a private ceremony in Carmel, California, the two tied the knot.
More than a year after their wedding, Nonito would describe his married life as "incredible."
He elaborated, "There's a lot of things in life that will take you down, but both of us, we've been really strong. Talagang I enjoyed...It's one of my pride na I got married to that girl over there. And it's good to be loved. It's good to feel na, you know, she's your best friend, parang ganun. So, you don't need anything, just smile for each other, [the] comfort of each other."
Nonito's a tough fighter in the ring, but as far as arguing with his wife is concerned, "talo ako palagi in terms of argument," he said with a laugh.
He added, "She's very smart. If she wasn't going out with me, stuff like that, she would probably be a lawyer. Talo ako nun, so, I don't even argue with her. Ako na yung magtatampo."
Who has the jealous streak?
"Ako," was the quick answer of Nonito. "Mas jealous ako, although I don't show it to her. She thinks that she's more jealous, but I'm a very jealous guy. But I just trust my wife. So everything, you know, I'm a man. So parang, it's my pride, it's my territory. Parang ganun...So, I'm definitely more jealous when it comes to it."
ADVERTISEMENT - CONTINUE READING BELOW
The admission made Rachel's chinita eyes smile. That did not escape Nonito so he quipped: "She's happy to hear that, too, na mas jealous ako kesa sa kanya. But I just trust her 100 percent."
For her part, the 27-year-old lady who enjoys singing and playing the piano said, "He rarely ever, ever, ever, ever, ever, ever gets jealous. We're always secure in our relationship. He reads FHM, and then it was like, 'O, is she pretty?' I mean, we're so comfortable with each other. Even, you know, Ms. Universe, I'm not gonna be threatened by her because I know he picks me for a reason."
Fame is packaged with the successful bouts of Nonito, doesn't she feel threatened?
Pensively she mused, "I see them all the time, running up to him, like they grab on him, they try to kiss him, pero I don't get mad at him. Because that's not something he can control, di ba? It's the women. I have to only have my trust on him. You don't have to trust the women, ligawan him all the time and flirt. I just have to trust him that he won't cross any boundaries because of our relationship. He respects our relationship."
RACHEL FOR FHM? Rachel has a petite frame with curves in the right places. She got featured in FHM last year. "I was like page 8 or something," she recalled.
For that pictorial, Nonito became her manager. She said, "He picked out all the things that I wore."
But in case she poses again, she'd aim for the cover and, of course, get the approval of her husband, "If it's okay with him, then maybe..."
To stay fit, she tries to watch what she eats.
Rachel shared how she eats her KFC meal, "I take out all the skin, then I roll it in napkins, and take out all the oil..."
ADVERTISEMENT - CONTINUE READING BELOW
Though she grew up in the U.S., she's used to eating rice, but now limits her intake to "once a week."
Talking more about her diet, "I'm very conscious about what I eat. Maybe, once a week I eat rice. Just to satisfy that craving of being a Filipino? Because you're like, 'I need rice!' It's okay, once a week lang. And then after that I usually try to stay away from it."
NONITO'S TRAINING. When Nonito's training for boxing, Rachel describes him as "tired and grumpy."
She narrated Nonito's routine, "I remember before, he's still very grumpy because he couldn't eat and then lagi siyang tired. Like he would wake up at 5:30 a.m., still running to 6:00 a.m. to 7:00 a.m., and he comes home and eat. He would play some video games, go back to sleep, and then train for like four hours.
"And then after that, he would eat again, and then he was like--if you ask him--he'll close the door, he'll get mad. 'I'm tired.'
"But you know I have to understand that it was his job. So I was like, 'Why do you give me that attitude?' like that..."
Being a boxer's wife is no simple role. Aside from getting nervous each time Nonito has a fight, she has to put up with him during his training. It helps that she used to be an athlete.
"Before, I competed in Taekwondo, so I know how it sucks when you can't eat when every one else is eating. When you're still tired, you don't wanna get out of bed. You know, you just wanna sit there because you can't eat," Rachel explained.
But that was before. "Lately, he's been doing better," she stressed.
So next time a Pinoy boxer would wave his belt, cheer for him...but don't forget to clap for the lady on the bench who almost had a heart attack praying for her husband.
ADVERTISEMENT - CONTINUE READING BELOW