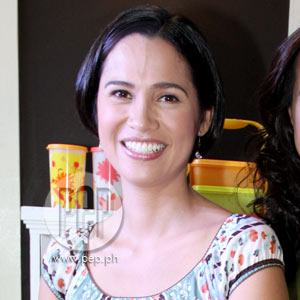 IMAGE 0
---
Maricel-Laxa Pangilinan is keeping mum about her own family's efforts to help the victims of typhoon Ondoy.
PEP (Philippine Entertainment Portal) talked to the actress yesterday, October 7, during the celebration of the 43rd anniversary of Tupperware at Madison, Greenbelt 5, in Makati City. Although her family was not directly affected by the disaster, she said they still want to be involved because it is a "national concern."
But when we asked her to elaborate on the volunteer work her family is doing, she politely declined to do so.
"It's not something kasi I like to talk about. But you know, relief and efforts to help people who are in need, especially ngayon nga sa Ondoy, is something that helps us be aware of what else we can share every day," Maricel said.
The mom to four young kids explained that for her, helping the victims of Ondoy, particularly the poor, should happen "daily" and not "only during relief work." Neither should it be "self-serving."
ADVERTISEMENT - CONTINUE READING BELOW
"I don't need to gain anything from it. And if I'm doing something, it's the people who are getting anything out of it that appreciate it, and that's why we do it anyway. It's not for us to come out with a press release," she said.
NO POLITICAL PLANS. Maricel also expressed her and husband Anthony Pangilinan's lack of political plans for next year.
Anthony is the brother of Sen. Kiko Pangilinan, who recently backed out of his plan to run for vice president next year, choosing instead to support the tandem of Senators Noynoy Aquino and Mar Roxas.
"My husband feels that one in the family is enough, and all of us can rally behind Kiko, you know. Now that he's [Kiko] rallying behind Noynoy, we're just going to rally behind all of them," Maricel said.
Although Maricel is not a vocal supporter of Sen. Aquino, she said she's willing to follow the advice of her brother-in-law.
ADVERTISEMENT - CONTINUE READING BELOW
"We will go and take one step at a time. Our priority is whatever Kiko's plans are. So, whatever he tells us, and we're right behind him, that is where we'll go," she said.
But would she have preferred Kiko running instead of Noynoy? Was she saddened by Pangilinan's decision to back out of the VP race?
"Hindi ako nalulungkot kasi alam ko naman na yung desisyon niya, pinag-iisipan niya, e. 'Saka he is not one who will run for himself," Maricel explained. "The reason why he was running is for a better society. It's very consistent who he is. And I would actually doubt him if he had done otherwise because it's very inconsistent for him. But because he is doing exactly what we believe his foundations are all about, then we are at peace."
PARENTING ADVOCACY. What Maricel champions the most is parenting.
"Parenting. That's what my advocacy is. I want 10 out of 10 children looking up to their parents as role models. I'm investing my life to these children so that they will change our nation," she said.
ADVERTISEMENT - CONTINUE READING BELOW
Maricel and Anthony head The Parenting Company, Inc., an Ortigas-based company that offers parenting and family training programs and services "to educate and equip parents in strengthening families."
The organization keeps Maricel busy, going around the country to teach parents the basics and complexities of good parenting, as well as big concepts such as nationalism, environmental concerns, and compassion for the less fortunate.
To teach these lessons, Maricel says parents must "take charge" of their children.
"It's okay to get assistance. But you must really take responsibility for your children, kasi how they will grow up is a reflection of the time and effort that you put to nurture them," she said.
FAMILY AFFAIR. Despite her busy schedule, Maricel said she makes an effort to stay at home with her kids whenever she can. She does not teach the concepts in her seminars without testing them in her home.
"My laboratory at home is where I draw my inspiration from. So I'm not just talking about 'Oh, you know this works...' I have to make sure that it works in my home first before I advise you with something," she said.
ADVERTISEMENT - CONTINUE READING BELOW
Nationalism, for instance, is widely taught and pledged by her family. In fact, they chose not to leave the Philippines even though they would've easily migrated to "greener pastures."
"Because if we leave so that we could have a better life for ourselves, then we are not of any significance to our country. And then all our success would amount to nothing. Kasi we grew up thinking that we are successful if we are able to be of significance to others. And what better way to do that than to stay in the country, where help is needed the most," Maricel explained.
To make things easier, Maricel said she tries to discern the purpose of all of these overwhelming tasks and concerns by turning to God.
"So okay, if you ask this recorder, what its purpose is, will the recorder know? No. You will only find the purpose of the thing if you ask the creator of the thing. And that's where I turn to. Because my Creator has provided me a manual, then I read my manual, so that I know my purpose. That's my basis for who I am and how I want my children to be," Maricel said.
ADVERTISEMENT - CONTINUE READING BELOW