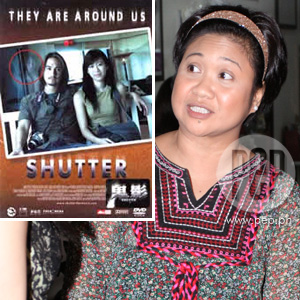 IMAGE 0
---
We loved Julia Roberts when she said, "I am just a girl, standing in front of a boy. Asking him to love her," to Hugh Grant in Notting Hill (1999). We were amazed when Keanu Reeves bent his body backwards to evade the bullets fired at him in, er, "bullet-time" action in Matrix (1999).
We all have our favorite scenes from our favorite romance, action, comedy and drama movies. And these unforgettable scenes—as the D'Sound song goes—have been "tattooed in our mind," thanks to our mind's ability to record scenes and experiences, especially those that appeal to our emotions and feelings.
But this ability of our mind to remember is also a bane when it comes to watching horror-thriller movies. The feeling of shock and fear while watching Sadako crawl out of a TV screen in Ring or Ringu (1998), or watching Cary Elwes as Dr. Lawrence in Saw (2004), as he cuts his leg off with a saw to be free from killer Jigsaw's chains, is like being tattooed in your softest, most delicate part—excruciating and traumatic!
ADVERTISEMENT - CONTINUE READING BELOW
And just like us, regular joes and janes, our favorite celebs also experienced being scared the bejibbers out of themselves watching horror and thriller movies. PEP (Philippine Entertainment Portal) lists the scariest movies according to the celebrities and what made these movies the scariest for them. PEP also asked them if they can bear watching again the scary films they mentioned.
SHUTTER (Thai version, 2004). New comedy box-office queen Eugene Domingo said she'll just keep to herself why Shutter is the scariest movie for her, so as not to spoil the film for those who haven't seen it yet. But she leaves a piece of advice that she picked up from watching this Thai horror flick.
"Just remember the one who has loved you so much and whom you have ignored or wronged might still be INTO YOU even after his or her death! Masakit ba ang likod mo?!! Eeeeh!!! No, I cannot watch it again. Okay na ako!"
ADVERTISEMENT - CONTINUE READING BELOW

THE GRUDGE 4 (straight-to-DVD release in 2009 and titled The Grudge 3 in the U.S.) Drama actress Dimples Romana did not give her reason either about why this third American remake of a Japanese horror original (Ju-on, 2004) is the scariest movie she has ever seen. She just laughs when asked if she wants to watch it again.
"Kuya, he-he-he-he! Ayoko na. Magkaka-heart attack ako!"
THE OMEN (1976). The Philippines' late King of Rap's wife Pia Arroyo-Magalona said she really felt the lead character in the movie was looking directly straight at her.
"The antagonist was the lead character in the movie, Damien, a boy of five. Many people died within the course of the movie and in the end, Damien is orphaned and ends up being adopted by what seems to be the President of the U.S. The final shot is of him looking evilly into the lens—as if directly at me!
ADVERTISEMENT - CONTINUE READING BELOW
"I saw this in 1976 and I was 12. It was the trend back then for children to be portrayed as possessed because of the irony that, you know, they are innocent. But this one was so well-made that it seemed so real.
"The original version of Amityville Horror [1979] is a close second because I loved the book!"
THE EYE (the original Hong Kong-Singaporean-Thai version, released in 2002). Unang Hirit host and "Reyna ng Kalsada" Love Anover shared two scary movies that left her feeling paranoid.
"Whenever I ride an elevator... Yung scene ng elevator, naaalala ko lagi. Ito yung may matandang multo sa likod nung bidang girl!
"Kaya tuloy I always make sure na nakadikit ang likod ko sa isa sa mga corner ng elevator, para makita ko yung kabuuan ng elevator. Waaa-ha-ha-ha-ha! Now, that's paranoia!
"'Tapos yung Shake Rattle and Roll [part and year unsure] where Manilyn Reynes and Ana Roces yung bida. 'Aswang' yata title nun. Ito yung dahilan bakit nakakapraning, magsasama kung kani-kanino at baka ikaw na ang susunod na alay!" Love said then laughed out loud.
ADVERTISEMENT - CONTINUE READING BELOW
"Will I watch them again? Sure, will. But not alone. He-he-he! I love it when I scream pag takot na. Pinagtatawanan ko ang sarili ko. Ha-ha-ha! Lalo na pag meron kang mga kasama. Riot ang feeling! Parang di ka mapakali sa kinauupuan mo, and sometimes, di ka na humihinga at naninigas ang buong katauhan mo sa kaba! Lovely! Ha-ha-ha!"
PA-SIYAM (2004). MYX VJ Search 2009 finalist and actress Andi Eigenmann said this local horror flick is the scariest movie for her. She said the story was so real.
"It stars Cherie Pie Picache and Cristine Reyes, et cetera. Kasi mostly yung nagpatakot ay yung story niya and yung cinematography. Lumabas yung pelikula na very real, so, nakakakilabot po talaga. Walang mga effects-effects or things na hindi nag-e-exist in real life."
Would she watch it again?
"Hinding-hindi ko na po ito papanoorin sa buong buhay ko. Okey na po yung isang beses," Andi said, then laughed.
ADVERTISEMENT - CONTINUE READING BELOW
ONE MISSED CALL (original Japanese version, 2004). Ikaw Sanastar Pauleen Luna had nightmares after watching this movie.
"The ring tone that was playing in the movie was stuck in my head for weeks and I'd get nightmares because of that!" Pauleen related about the Japanese horror movie that, like most Asian horror movies, had a Hollywood version in 2008.
"Maybe there are scarier ones [movies], but I really can't get over the melody that was playing in my head."
Would she watch it again?
"Never! Ha-ha-ha!"
THE SHINING (1980). Actress and bookworm Chynna Ortaleza has more appreciation than fear for her choice of the scariest movie.
"The Shiningwritten by Stephen King and directed by Stanley Kubrick is scary because it's not about haunting or ghosts. It deals with the evil that dwells inside a person.
"I cannot imagine anyone who can kill a loved one, especially, your immediate family. Jack Nicholson did an amazing job in this movie. Stanley Kubrick's shots and treatments are astounding."
ADVERTISEMENT - CONTINUE READING BELOW
Chynna said she liked the psychological-horror movie so much that she bought a DVD copy.
THE ORPHAN (2009). Mocha Uson, the sexy lead singer of the girl band Mocha said this movie is creepy and intense. But unlike the others who chose not to watch their scariest movie again, Mocha wants a second serving and probably more.
"I was on the edge of my seat the whole time! Am I gonna watch it again? Yes. I will watch it again. Because I love the twist in the story!" Brave girl.
THE FLY (1986). The Philippines' Prince of RnB Jay-R said this is the scariest movie for him.
"The reason why it's so scary for me is because I was just a young, little boy when I watched it with my parents. I think I was only about six years of age. I remember going home and not wanting to sleep alone because I thought the fly was going to jump out of my closet."
ADVERTISEMENT - CONTINUE READING BELOW
THE EXORCISM OF EMILY ROSE (2005). Survivor Philippines' first Pinoy Sole Survivor JC Tiuseco and Entertainment Live! host Bianca Gonzalez both agree that this horror-courtroom drama movie that was based on a true story is the scariest movie they have ever seen.
"Everything seems so real and it happened around 3 a.m., which is the witching hour daw... Scary, ha-ha-ha-ha! I'll watch it again, because I love the fact that it got me scared. I'm a fan of scary movies," said JC about the movie.
"I wouldn't say I'm a big horror-movie buff, and I don't get scared or terrified easily with films about ghosts, or monsters. But this movie was just sooo scary! 'Cause it's as if it can really happen in real life!" Bianca said.
"I wouldn't watch it again. Once is enough! Ha-ha-ha! Not 'cause its not good, but because its just too scary!"
THE EXORCIST (1973). Hellphone star Jackie Rice, model-turned-actor Christian Vazquez and controversial actor Baron Geisler all agree that this movie about the exorcism of young girl possessed by a demon is the scariest movie of all.
ADVERTISEMENT - CONTINUE READING BELOW
Jackie said, after watching the movie for the first time, she wouldn't want to watch it again alone.
"Sobrang parang totoo. Hindi ko kaya panoorin mag-isa, ha-ha-ha!"
Jackie also shared an experience she, her co-stars and crew of their movie Hellphone had while doing their movie.
"Isa pang nakakatakot talaga, siyempre yung Hellphone. Nung ginawa namin siya, may nagpaparamdam! Nakakaloka! Ha-ha-ha! Sobrang nakakatakot at nakakapangilabot!"
On the other hand, after watching The Exorcist in the '80s, Christian banned watching another horror movie again.
"I think it [The Exorcist] scared me so much that after watching, hindi lang na ayoko ko na panoorin yun, but ayoko ko na manood ng horror! Serious 'yan. I never watch horror films on my own free will."
Baron watched the director's cut version of the movie and after watching it, said he will never watch this movie again.
"It's the scariest movie! I won't watch it alone! I can't. I might pee myself," Baron said and then laughed.
ADVERTISEMENT - CONTINUE READING BELOW