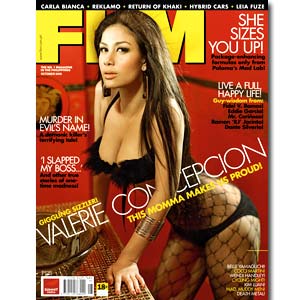 IMAGE 0
---
No one could have guessed that former teeny-bopper Valerie Concepcion could actually get an entire nation dancing via the hit noontime show Wowowee. In fact, many had predicted that her career would fizzle out after her unexpected pregnancy at age sixteen. But Valerie, who appears on the cover of FHM for the second time this October, has proven everyone wrong. She was able to bounce back and what critics thought would destroy her career ended up being the fuel she needed to accelerate her life to full speed.
It wasn't easy to bounce back into showbiz after her pregnancy. Valerie is thankful that Wowowee came along. But, although hosting may have paved the way for a new career, she admits that acting, her first love, has undeniably taken a backseat.
"For the longest time nagho-host ako kaya ang feeling ko, nakalimutan ko nang umarte," she tells FHM.
Val got the opportunity of a lifetime when she bagged a starring role in an afternoon soap, but the project was shelved, "I'm sad about it but I'm not dwelling on it, maybe it was not meant for me."
The soap may not have been meant for her, but perhaps Mr. Right is just waiting in the wings. Valerie who charms millions of viewers daily also seems to attract athletes and musicians in the dating scene.
"Parang feeling ko, sa showbiz, ang malapit sa world mo, bands," Valerie says, revealing that she has a crush on singer Richard Poon. "Dahil ba single mom akoI can't have crushes anymore?" she points out, "I don't care what other people say as long as I know I'm not doing anything wrong."
Valerie reveals more skin and exudes way more confidence in her second appearance on FHM compared to her first back in 2006. She is such a hot momma that FHM staffjokes she could still grace their cover once her daughter Fiona turns 18. Would she be open to a mother-daughter cover? She laughs and says, "Naku, malayo pa yun, hindi ko pa iniisip na tatanda na siya... Now I'm just enjoying her as a child."
ADVERTISEMENT - CONTINUE READING BELOW
The October issue of FHM featuring Valerie Concepcion on the cover is now available in newsstands, bookstores, and supermarkets nationwide at only P125 per copy. For more of FHM online, visit www.FHM.com.ph.