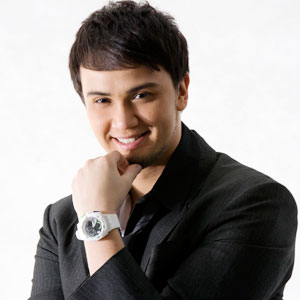 IMAGE 0
---
"I think it really was the first time I saw her. Yes, it was love at first sight,'" Billy Crawford replies when asked by Cosmopolitan magazine about how he discovered his special feelings for singer-actress Nikki Gil.
He may be a chart-topping international R&B star with a list of accolades that other Filipino recording artists can only dream of, but he remains down-to-earth, and refreshingly candid about love and career.
Billy is Cosmopolitan's Man on Fire for the month of November. In this issue, the Pilipinas Got Talent host (CLICK HERE to read related article) admits that one challenge of going public with his relationship is having to deal with gossip that bears no resemblance to the truth.
He said, "You know, showbiz is a dirty job. There will always be people who will go and try to put things in your mouth and create problems between you and that special someone, whether it's true or not. But Nikki and me, we have this understanding, that no matter what comes out in the press, we'll always discuss it. We'll have to be open to each other. Like, 'yeah, I made that mistake before,' or 'I won't do that again.'"
Billy has learned to take rumors with a grain of salt. "One minute [Nikki and I] are just hanging out, and then we read in the papers we've split up the next. It's kind of funny sometimes."
Before getting serious with Nikki, he was linked to actress KC Concepcion and some international celebs he met while working abroad.
In an exclusive interview on Cosmo.ph , the recording artist sheds light on speculations about him and American pop singer Mandy Moore, whom he used to date back when he was a teenager. "Me and Mandy? Well, that was a long, long, long, long, long time ago! It just didn't work out! Just like any other relationship that doesn't work," he says. "I was seventeen at that time, or sixteen."
ADVERTISEMENT - CONTINUE READING BELOW
Despite all his success abroad, Billy is quick to give credit to That's Entertainment, the now-defunct youth-oriented variety show where he made his showbiz debut. "Of course, I'm proud of those days. That's where I got my basic training, that's where I based my relationships and friends in the industry now. Most of the people I know are from That's Entertainment."
In fact, a lot of people still call him"Billy Joe," the name he used to go by on That's Entertainment. "I was born Billy Joe and I'll always be known as Billy Joe, especially over here. Nobody knows that outside of the Philippines," he says with a laugh.
The November Issue of Cosmopolitan Philippines is out now, with Jennifer's Body star Megan Fox on the cover (click here to see the link).
SHARE THIS STORY Cosmopolitan Philippines this month" data-url="https://www.pep.ph/lifestyle/20443/billy-crawford-is-man-on-fire-in-cosmopolitan-philippines-this-month" data-desc="Billy is this month's "Man on Fire" in Cosmopolitan Philippines." data-image="https://contents.pep.ph/images2/writeups/8bb597971.jpg"> Cosmopolitan Philippines this month" data-url="https://www.pep.ph/lifestyle/20443/billy-crawford-is-man-on-fire-in-cosmopolitan-philippines-this-month" data-desc="Billy is this month's "Man on Fire" in Cosmopolitan Philippines." data-image="https://contents.pep.ph/images2/writeups/8bb597971.jpg"> Cosmopolitan Philippines this month" data-url="https://www.pep.ph/lifestyle/20443/billy-crawford-is-man-on-fire-in-cosmopolitan-philippines-this-month" data-desc="Billy is this month's "Man on Fire" in Cosmopolitan Philippines." data-image="https://contents.pep.ph/images2/writeups/8bb597971.jpg">
SHARE THIS STORY
Cosmopolitan Philippines this month" data-url="https://www.pep.ph/lifestyle/20443/billy-crawford-is-man-on-fire-in-cosmopolitan-philippines-this-month" data-desc="Billy is this month's "Man on Fire" in Cosmopolitan Philippines." data-image="https://contents.pep.ph/images2/writeups/8bb597971.jpg"> Cosmopolitan Philippines this month" data-url="https://www.pep.ph/lifestyle/20443/billy-crawford-is-man-on-fire-in-cosmopolitan-philippines-this-month" data-desc="Billy is this month's "Man on Fire" in Cosmopolitan Philippines." data-image="https://contents.pep.ph/images2/writeups/8bb597971.jpg"> Cosmopolitan Philippines this month" data-url="https://www.pep.ph/lifestyle/20443/billy-crawford-is-man-on-fire-in-cosmopolitan-philippines-this-month" data-desc="Billy is this month's "Man on Fire" in Cosmopolitan Philippines." data-image="https://contents.pep.ph/images2/writeups/8bb597971.jpg"> Cosmopolitan Philippines this month" data-url="https://www.pep.ph/lifestyle/20443/billy-crawford-is-man-on-fire-in-cosmopolitan-philippines-this-month" data-desc="Billy is this month's "Man on Fire" in Cosmopolitan Philippines." data-image="https://contents.pep.ph/images2/writeups/8bb597971.jpg">