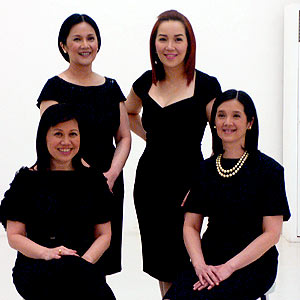 IMAGE 0
---
Corazon "Cory" Aquino was a symbol of freedom and hope to the Filipino people who suffered Martial Law under the Marcos regime in the '70s and '80s. After her husband Sen. Benigno "Ninoy" Aquino was assassinated in 1983, Cory had to take care of her four daughters Pinky, Ballsy, Viel, and Kris, and son Noynoy, all by herself. Hers was the heavy responsibility of being mother to her own and, as the country's first woman president, to the people, at the same time.
After her presidency, Cory enjoyed quality time fully with her family, at last. But on March 11, 2008 she was diagnosed with cancer of the colon, stage 4. On August 1, 2009, at age 76, the world-renowned icon of democracy and mother of five died peacefully at the Makati Medical Center.
Cory once again united Filipinos from all walks of life as they mourned her passing. Thus her children, except for showbiz celebrity Kris Aquino, found themselves in the center of media and public attention. Eventually, Kris's three publicity-shy sisters agreed to be featured in Town & Country's November 2009 issue. They faced the bright lights of a studio packed with makeup artists, designer clothes and photographers.
So here they finally were: The serene and gentle Ballsy Aquino-Cruz, straightforward Pinky Aquino-Abellada, and reserved Viel Aquino-Dee taking cues from Kris who, feeling at home behind and in front of the camera, knew how to set up the perfect pose for her sisters.
PERSONAL STORIES. The four sisters talked about Martial Law and their father Ninoy Aquino's sacrifice. Their father's assassination gave them all a sense of maturity and responsibility for one another. But, according to Kris, it was their mother's illness and death that brought her even closer to her sisters.
"The hospital experience," said Kris, "and the cancer experience.... totally changed me."
Ballsy said, "Mom was mom and dad to us, not even just during Martial Law but all our lives."
ADVERTISEMENT - CONTINUE READING BELOW
Viel's story of the time she spent with her mom while visiting her father in his Fort Bonifacio prison was moving. Cory could not get much sleep inside the Fort, so Viel promised that she'd blow balloons for her so that when her mom woke up, the cold room would be filled with colorful balloons.
SISTERS. Kris reminisced that as a kid, Ballsy and Pinky would buy her Gift Gate items every payday. "All of them," she said, "took it upon themselves to nurture me."
As dad Ninoy would say, Pinky should have been a boy. "When she sets her mind to do something," Ballsy said, "she gives it 1,000 percent."
Ballsy, on the other hand, is the person all her siblings look up to. Pinky said that all of them were reminded to always "obey Ate."
Though the sisters each has her own personality—thanks to their parents' nurturance—they have all felt close to each other. It was during their toughest times that they strengthened their bonds. Their parents may be gone, but the values they instilled will never waver, say the sisters.
For the complete story on the Aquino sisters and more, get a copy of Town & Country this November.