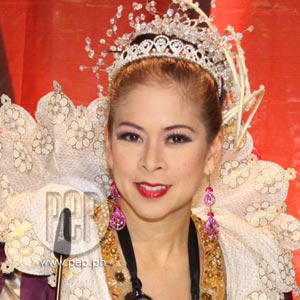 IMAGE 0
---
TV personality Tessa Prieto-Valdes is very excited for the upcoming finale of Celebrity Duets 3. As one of the show's judges, she told PEP (Philippine Entertainment Portal) that being a part of the show entertained her "from beginning to end."
But according to the society columnist, she felt this season was very different from the first two ones, because it felt more competitive.
"It feels more like a contest. They're not having fun. I could see it that it's less exciting," she said after hosting the launch of Alo Youth health drink, held at Manila Polo Club in Makati last Tuesday, November 10.
Tessa said that in the first season, where she eventually emerged as the winner, her group—composed of Tessa, beauty queen Anna Theresa Licaros, fashion designer Frederick Peralta, self-proclaimed eventologist Tim Yap, talent manager Wyngard Tracy, cosmetic surgeon Dr. Manny Calayan, ramp model Dr. Hayden Kho, and actress Jessica Rodriguez—truly bonded with each other.
"In season one, we're very close. We would all sing, we were all drunk... You know, it's more of a fun experience," she said.
And when Tessa judged season two—composed of beauty queen Melanie Marquez, beauty columnist Cory Quirino, TV chef JL Cang, sportsman-model Phil Younghusband, beauty queen Carlene Aguilar, comedian and politician Joey Marquez, fashion designer JC Buendia, and eventual winner Metropolitan Manila Development Authority Chairman Bayani Fernando—she felt the same atmosphere.
"And then the second season, they got the hang of it na rin," Tessa observed.
But according to her, season three was more of a contest than a fun experience.
"There's really no camarederie among the contestants. Before, it was more of 'we don't go to work'. Pero this time, bakbakan na agad," Tessa said.
FINAL THREE. PEP asked Tessa to sum up the final three contestants: actor and concert producer Jomari Yllana, model-actor Akihiro Sato, and perfume entrepreneur Joel Cruz.
ADVERTISEMENT - CONTINUE READING BELOW
"Akihiro, he's so charming and I think he will get both the votes of the women and the gay men. Jomari is popular, he's also charming na rin. Joel naman, I think he has a lot of friends. He has the most fans when he performs on the stage," she said.
But who will win?
"I think it's going to be between Joel and Jomari, because from the start, they're always consistently in the top three. Akihiro has been in the bottom at the beginning."
But Tessa said she's rooting more for the Japanese-Brazilian model.
"It's amazing that he lasted and maybe his voters are gonna go ra-ra-ra. I'm really rooting for him. I can tell among all, he's having the most fun."
TESSA ON TESSA. Since Tessa had been a part of the show, it's overall feel has evolved to absorb her flamboyant personality. She said this made the show more fun to follow.
"I think people have associated me [with] Celebrity Duets. I guess they wanted to brighten the look. So even now, the set, the audience, lahat naka-costume na. They want to hype up the audience, keeping the energy more exciting," she said.
PEP asked Tessa where she gets her inspiration for her one-of-a-kind dresses and accessories.
"Everywhere. I'm friends with all my bading designers, and I really just love dressing up. And I love accessorizing. I believe more is more," she said.
To maintain her inspiration and composure, Tessa said she keeps a "balanced life."
"I do Bikram Yoga. I don't eat chicken and beef. It's really a balance... family life, social life. I do some charity as well... make a difference and it goes back to you."
To keep herself "sane and grounded," Tessa also practices her Catholic faith.
"I go to Mass every day. I go to Baclaran every week for my Wednesday novena," she said.
ADVERTISEMENT - CONTINUE READING BELOW
Is there anything the public does not know about her?
"I eat chocolate every night," she laughed.