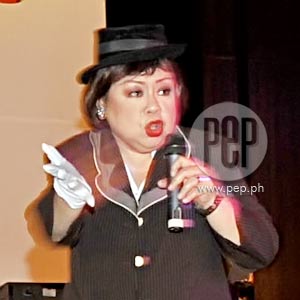 IMAGE 0
---
Jet lag sets apart the professionals from the wannabes.
Nanette Inventor was still trying to shake off severe jet lag after a recent tour in the U.S. and Canada when she hosted Pista, the second Philippine charity ball in Beijing, held November 7 at Doubletree by Hilton. If she were still groggy, she managed to hide it like a real trouper.
She wowed her audience of more than 300 people—Filipinos, Chinese and other expatriates in the Chinese capital—who gathered for the dinner-dance.
The artist cracked up her audience with jokes on love and lust, and amazed them with her inimitable rendition of Frank Sinatra's "My Way," sung a la Michael Jackson. Dressed in an MJ trademark attire, with a hat to boot, Inventor trotted and performed like The Prince.
"It was a tribute to two great artists, two great singers," she explained later. "I have a few repertoires but I chose it because I knew it has a universal appeal."
"That was ingenious and totally hilarious," said Vlad Reyes, general manager of Doubletree and co-chairman of the ball, adding that, for him, the number was the most unforgettable part of the event.
Agatha Chan, general manager of Beijing Tatler magazine and one of Inventor's newfound fans, approached the singer-comedienne after the affair ended at around 2:00 a.m. the following day. "I loved your singing." the Hong Kong native said. "Beautiful. It was a really great performance."
Inventor had the audience's rapt attention the moment she took the stage, wearing a violet, red, gold and green emsemble that matched the event's theme, pista.
RAVE REVIEWS. Foreign guests complimented Inventor all evening. She got a standing ovation after singing several songs, mostly those popular in the 1970s and '80s. After Inventor's 40-minute performance, a male German guest walked up to her and asked: "When we go to Manila, where do we see your show?"
ADVERTISEMENT - CONTINUE READING BELOW
Inventor, who celebrated 26 years in showbiz last November 14, said she is flattered by such compliments but would rather give credit to Filipino ingenuity and talent.
"It is not my honor, it is the honor of being a Filipino," she says. "God gave me this opportunity to perform before them, to let foreigners know that we have performers who could be world-class."
Born and bred a Protestant, Inventor derives the inspiration and guidance she needs as an artist from her faith. "I've always been given the impression by God that I have a purpose, and that my mission is to use my talent, my gifts to make the Lord's name shine, because my comedy is not naman bastos," she says.
In an age when sex has become the default punch line, Inventor has created a niche as a comedienne who "can still make people laugh by being wholesome."
Her Beijing performance definitely hit the mark: it accomplished the ball organizers' wish "to showcase Filipino talents and give our Chinese and expat friends a glimpse of our proud Philippine culture," as Jaime FlorCruz, co-chairman of the ball and CNN's Beijing bureau chief, put it.
OTHER HIGHLIGHTS. The event surpassed expectations by raising around 150,000 yuan, or a million pesos, which has gone to the survivors of typhoons Ondoy and Pepeng, Philippine General Hospital's CHILD Foundation and the Beijing International Committee for Chinese Orphans.
Besides Inventor, who first came to Beijing with the UP Concert Chorus in 1981 , the ball also featured Beijing-based entertainers, like The Sound Page, a four-person band which performs in Beijing's Nashville Bar, and the Sound Forge, a mainstay duo at The Westin Beijing Financial Street . Their high-energy music had the guests dancing until past midnight.
During the dinner, recognition was also given to four Filipino-Chinese retirees for their contributions to Philippine-China relations. Between 1950s and 60s, they came to Beijing from the Philippines and founded the Filipino-language section at Radio Peking.
ADVERTISEMENT - CONTINUE READING BELOW
The eating, drinking, singing and dancing was punctuated by a series of lucky draws. The grand prize winner went home with two PAL tickets to Manila and accommodations at ESDA Shangri-La and Shangri-La's Mactan Resort and Spa. Main sponsors were PAL, SM and Oishi.
The charity event was organized by a group of Filipino professionals who live and work in Beijing.