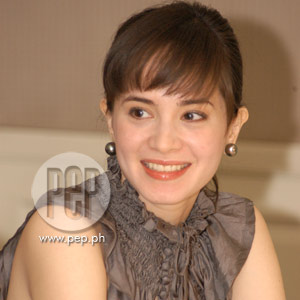 IMAGE 0
---
Lucy Torres-Gomez recalls attending a fashion show in Cebu years back, and instantly falling in love with the rose more than the actual dance number happening in front of her.
She relates, "Part of the intermission number was this girl dancing a dance that I did not recognize, and she had a beautiful big rose on her head. I said, 'Gusto kong isuot 'yang rose na 'yan,' but I'm too shy to wear it naman 'pag no occasion. So, I asked, 'Do you really wear a rose or a big flower on your head when you dance the flamenco?' And she said, 'Yes, it's part of the uniform even in dance classes just for the flamenco.'"
When she returned to Manila, Lucy immediately enrolled in a flamenco dance class. And then, that idea of wearing a rose while dancing opened a bigger door she herself never imagined.
The wife of Richard Gomez is now a dance show host, and has also embraced other dance forms.
"I really like ballroom dancing more. When I discovered naman ballroom dancing, it was faster in terms of gratification. In flamenco, you'd go for years just working on the footwork, wala pa 'yong kamay; while in ballroom, one day nakakabuo ka na ng sayaw," the soft-spoken celebrity says.
FACING HER FEARS. Lucy's acquired passion for ballroom dancing has been paying her great dividends.
Aside from hosting the TV5 dance reality program Shall We Dance, she's in the process of becoming the famous face of ballroom dancing here in the country.
Lucy confesses though that she still gets nervous every time she steps in the middle of the dance floor with rolling cameras stationed at every angle to document her every move.
"I never thought I'll be dancing on TV in the first place," she laughs during the press conference of her debut album Best Dance 100 Ballroom Hits.
ADVERTISEMENT - CONTINUE READING BELOW
"Every time I have to perform, even to this day, I really feel nasusuka. And then I always say, 'Why do I do this to myself?' Right before I step out, I'm malamig."
A member of the press commends her for being so courageous in battling stage fright, but Lucy quips that she remains the shy probinsyana who would rather stay in the background than solicit attention.
"I'm not brave. I'm so scared. But then I do it because I already signed up for it. I see it na lang as one way of stretching myself because I'm always in this little box that I put for myself and everything has to fit in to that box."
She further adds: "But I realized through many other instances in my life that there's more to life than the little box you've set up for yourself. And if I don't conquer my fears, when will I do it? When my knees are too wrinkled? When I'm too old? I'll just enjoy the journey. Sinasakyan ko na lang talaga."
But, for Lucy, dancing is more than just an obligation and a career. For someone who had tried various fitness activities—ranging from badminton to boxing—she says grooving her body to the music offers physical rewards not found in other forms of workout.
"Dancing is the one I really enjoyed," she beams. "Parang I look forward to it even on tamad days because we all have tamad days when you don't feel like moving. Once I start [dancing], nakakatamad lang the first five minutes pero once you sweat, it's ok na."
DANCING AND AGING GRACEFULLY. PEP (Philippine Entertainment Portal) also asks Lucy about Mommy Dionisia Pacquiao, the mother of Filipino boxing sensation Manny Pacquiao who is also big fan of ballroom dancing.
ADVERTISEMENT - CONTINUE READING BELOW
"Nag-guest na siya sa show," informs Lucy, "and she is such a joy."
Lucy admires Mommy Dionisia's passion and enthusiasm.
"You know, one irony with all these matrons who dance, they attend parties with nannies and they could hardly walk. Put them on a dance floor and they'll dance for an hour nang walang yaya, ikot lang nang ikot and when they leave they're really tired. But you can see that dance is really therapeutic."
The sight of older women enjoying themselves despite limited mobility must have truly inspired Lucy. She remarked, "I'd want to grow old and still be dancing."